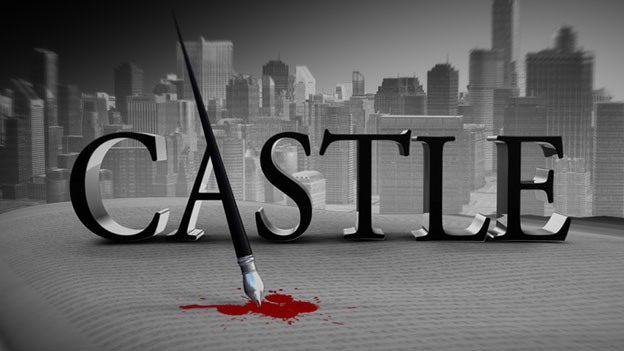 We asked Castle Music Supervisor Tricia Halloran to pick her favorite songs from Castle.
"The songs selections are vaguely in increasing order of my love for them, with my most favorite at the end."
~Tricia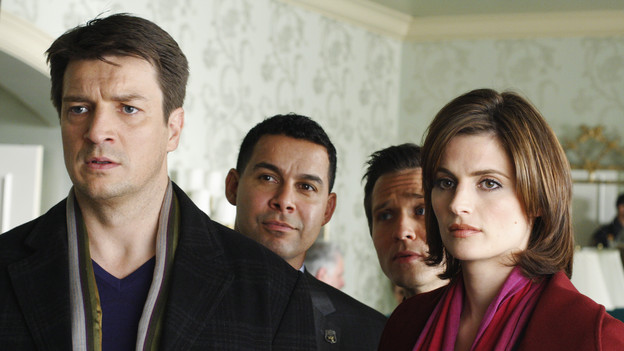 The Magic Numbers "Take A Chance On Me"

(ep 212) "A Rose for Everafter"

This song played at the beginning of the episode when the bride (played by Alyssa Milano) is knocking on the door of a hotel room seeking a missing bridesmaid. It has plenty of energy to start the show, and I liked how the opening lyrics 'What you gonna do when it all breaks down' and the idea of the song 'take a chance on me' can be a message from the missing bridesmaid to the bride to take a closer look at everything involved in this murder even if their relationship was on the rocks.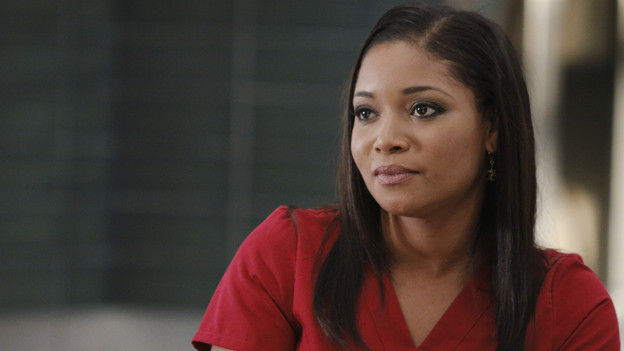 Alec Ounsworth "Me & You Watson"

(ep 304) "Punked"

This episode was all about the steampunk culture, so I did a big search to find bands that reflected the concept of retro ideals with futuristic technology. Which basically meant anything that had a funky, offbeat, retro sound to it! I'm a big fan of Alec Ounsworth both as a solo artist and with his band "Clap Your Hands Say Yeah", so I was very pleased to use him in this episode for the scene when Castle & Beckett discover the steampunk society in all its glory. His vocals have that 'from another era' vibe and the instrumentation on this song is so quirky and odd that it could definitely be from a different era than 2010.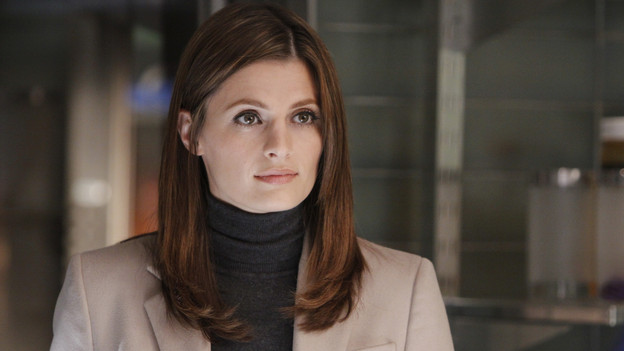 Nitzer Ebb "Kiss Kiss Bang"

(ep 304) "Punked"

This episode was all about the steampunk culture, so I did a big search to find bands that reflected the concept of retro ideals with futuristic technology. The Nitzer Ebb song was perfect for the shooting range scene when Beckett & Castle are testing centuries-old pistols. Not only did the lyrics match the action, but their industrial sound fit well with the steampunk episode theme.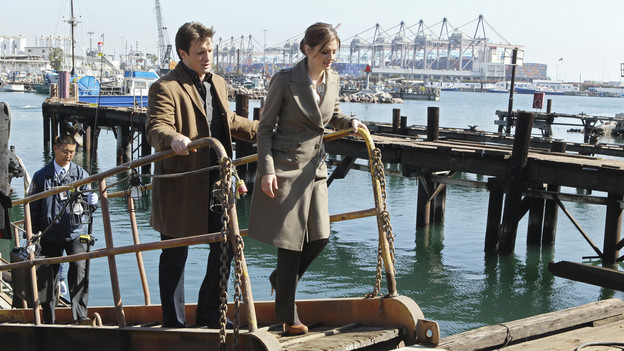 The Ditty Bops "Sister Kate"

(ep 310) "Last Call"

This song accompanied a fun montage of Castle whipping up some delectable cocktails as he gets into the bar culture of New York City. The producers wanted something that sounded modern but had a vintage flavor to it, so naturally I thought of The Ditty Bops with their charming harmonies and peppy music that is a modern take on early jazz.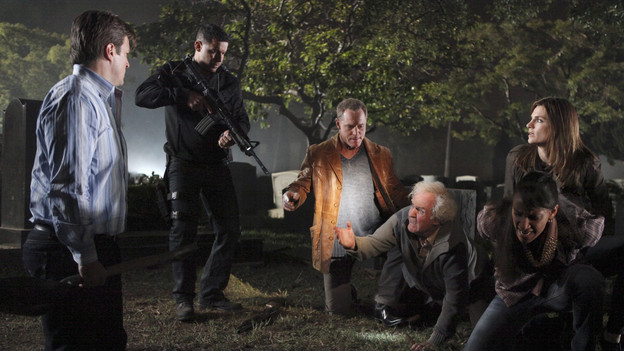 Laura Jane Scott "The Librarian"

(ep 302) "He's Dead, She's Dead"

In this scene, Castle and his mother share an unusually intimate moment as they return from her boyfriend Chet's funeral. It was a little tricky to get the right song in here but this finally won the day with its delicate instrumentation and philosophical lyrics about the changing tides of life. As a funny side note, I realized only after finalizing this deal that I knew the artist through her work with another, much more rock-oriented band and I never caught on that it was the same person!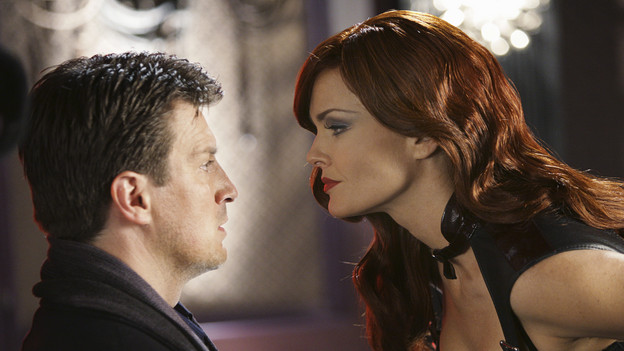 The Come-On's "Red Lips & Fingertips"

(ep 216) "The Mistress Always Spanks Twice"

We had fun in this episode with a cast of sexy flirty dominatrix so we needed some music to reflect that while still keeping it lighthearted and fun! The Come-On's were the perfect fit - all growly sultry vocals about feeling hot and bothered!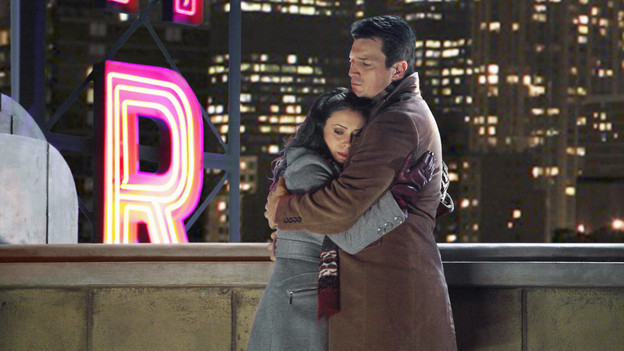 Golden State "Love Song"

(ep 212) "A Rose for Everafter"

Of course we're all still waiting for the big love scene between Castle & Beckett, but so far they've lived vicariously through some great love songs as other couples are united. We heard Golden State "Love Song" when the bride played by Alyssa Milano got married on the second try. This song was perfect for Alyssa's character because she was casting doubt aside and choosing love, as the song says 'I want to love love love love love!".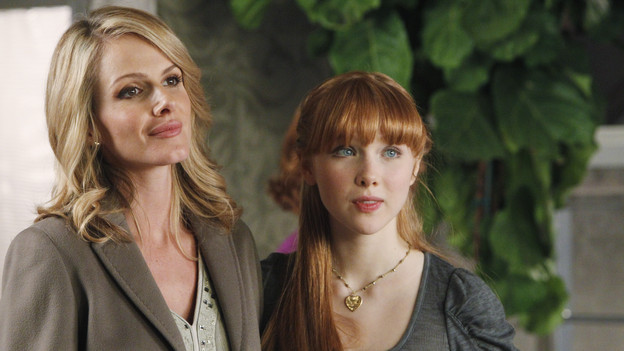 Jules Larson "You Know Its True"

(ep 305) "Anatomy of a Murder"

Jules Larson "You Know Its True" played when jailbreakers Greg & Amy were given the good news that they would probably both legitmately get out of jail and be together at last. This song has a beautiful instrumental opening that signals things are changing for the better, and then the lyrics that echoed the misunderstandings of the episode and their rosy future: "... it's not a lie, you know its true, it all works out, days go by when we're apart, well it all works out ..."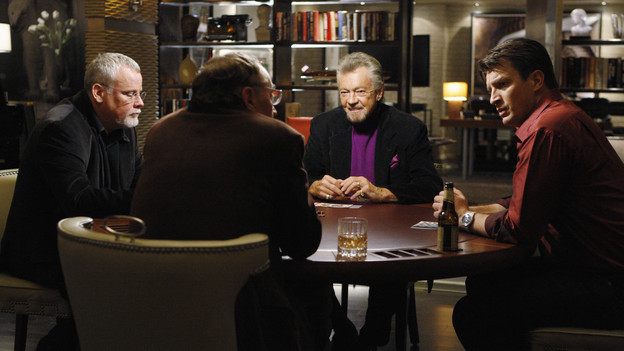 Sara Jackson-Holman "Into The Blue"

(ep 224) "A Deadly Game"

This was a heartbreaker of a season closing episode - Beckett is finally ready to reveal her true feelings to Castle but he, thinking she doesn't care, has invited his ex-wife to spend the summer with him instead. Sara's voice is heartbreaking from the moment you first hear it, and the lyrics are all about regret " ... if only, if only I could have been yours ...". The strings and piano convey the emotion of the piece very well. I was so relieved that this piece stayed in, there was debate until the last moment about favoring score for this scene!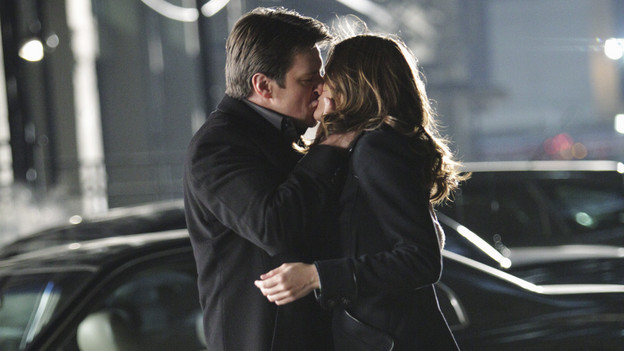 The Frames "Rise"

(ep 313) "Knockdown"

This is hands-down my favorite placement of my music supervising career, mostly because I admire this band so much that I am on a continual mission to turn people on to them, and what better way than to put it on TV? I was so convinced that their music would work in this unusally dark episode that I went so far as to take the editor to a Frames show to get her on board. It's really the tone and delivery of the vocals that get across the intense emotion that Beckett is feeling as she confronts, in prison, the man involved in her mother's death. Glen Hansard's vocals somehow encompass all the despair and all the beauty that is life at the same time.