Household Manual for Alan Thicke's family.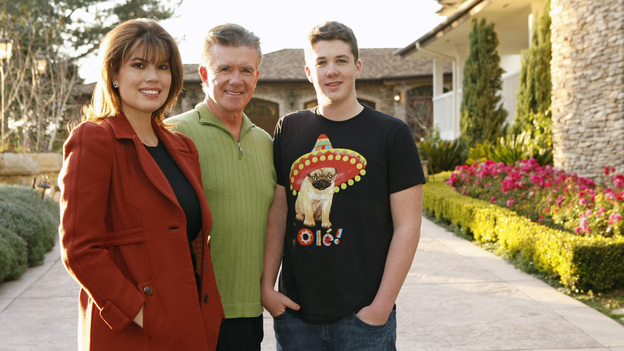 Wondering how Alan Thicke's family operates? Take a look at the Thicke household manual below to find out.
WELCOME TO OUR HOME
Welcome to our comfortable Thicke Family Lifestyle at Greer Valley Ranch...named after my husband's beloved grandparents, even tho' they didn't live long enough to visit. My husband is Alan Thicke, who is best known for his role as the father, Jason Seaver on "Growing Pains." I am his third wife and although Alan is 26 years my senior, he points out that he's quite immature in many ways so it balances out. My stepson Carter, 15, lives with us half the time and I have been helping to raise him since he was 2-years-old.

We have created a warm, personal, active, sometimes even exquisite lifestyle. We have built our own resort up here in Carpinteria and couldn't be happier to spend most of our time in this sanctuary away from the outside world. Alan has a busy schedule, so when we are home we love to disappear in our own backyard and we have a fine staff on hand to make sure that happens.

Alan and I spend a lot of time together as a couple. If he is traveling I will try to go along with him. We make each other a priority. I love taking care of him; he does the same and we try to be a 24/7 couple.

We enjoy travel, charity events, movie premieres, concerts, comedy nights, the Polo Club and Kings' hockey games, but we are equally happy being in our home, hosting a dinner party or just spending time together. We are all very active and like to keep our days filled with different activities. I will be with my trainer or Pilates instructor and when he's not on the phone or in meetings, Alan can be found out on the tennis court or playing golf or hockey every day.

I run a tight ship in this household and expect that nothing should be left out of place. This is made easier with the large staff we keep at the ranch. Alan calls me "the sheriff' because although I don't do a lot of hands on work, I make sure our staff is paying attention to detail.

When it comes to appearances, I think it is important to represent yourself and your family well...to be well groomed and respectfully dressed. Alan will tell you that I never look casual – I hope he'll say 'stunning'- but that I do it effortlessly. I feel great when I look good, so I always try to put myself together for the day...and a quick cute change for the evening.

I love to entertain and host elegant dinner parties. I am very involved, going over the menu with our personal chef, buying and arranging the flowers myself, and setting the table for the perfect atmosphere. Then I'll let myself get pampered. I'll have my hair and makeup done and put on a gown. Our family loves our home and I think you will, too. Please keep on top of our staff because I'll be checking up on them when I get home!
HOUSEHOLD ROLES
Alan has worked very hard to give us the good life and I have hired some great people to make this happen. We are very proud of our home and like to make sure it represents who we are as a family. Alan is away a lot for work so you'll find me in charge of running the household. Our main staff includes the ranch manager Lindsey, the housekeeper Jessica (one) and the personal assistant, Jessica (two)...that's chronological, not a ranking...they'd be jealous. (Alan likes that he has his own Jessica...I've been known to channel Jessica Rabbit on Halloween and that has become his favorite outfit.) These two (three!) Jessica's make sure things are working out as they should daily.

Alan is not involved with the everyday household duties. He's the breadwinner so I don't feel he needs to think about menial tasks...he's also technologically challenged and domestically useless. That is why I take care of the household and make sure he has everything he needs. As the Sheriff , it's my full time job taking care of this ranch. The truth is I don't do a lot of hands on work, but I keep my eye on the property. I keep everyone in line and if I see a thing out of place, I'll make sure it gets fixed on the spot.

Lindsey is our ranch manager. She is in charge of everything that has to do with the grounds and the home. I rely on her to make sure her staff takes care of every detail. Whether it be grooming and feeding the horses, tending to the lawn and garden, keeping the house spotless or anything else that is needed to keep this property running. She will also take Carter to the school bus in the morning and Alan or I will pick him up after school.

Jessica (one) is our Housekeeper. She only speaks Spanish, so hopefully you're fluent! We speak every morning so she knows what needs to be done for the day. If I see something isn't dusted or that anything's out of order, I'll let Jessica know to get it done right away. I'm constantly spot-checking the house so it is always immaculate.

Jessica (two) not only works as my personal assistant but also styles my hair. That's actually how I met her. She helps me when my schedule gets too busy. She does everything from returning emails to scheduling house repairs and organizing my closet. She is truly a blessing...She will make it happen!
OUR CHILDREN
Carter William is our 15-year-old. I have helped to raise my stepson since he was 2-years-old. He's a mini-Alan. He loves to play hockey and just started football this season. He is a very well behaved kid, a peacemaker, and has a huge heart. Carter is very social and has developed a healthy appreciation of the opposite sex...that seems to be a family trait!

He has guy-friends for sleepovers some weekends and we like his crowd. He goes to a private school 40 minutes from home and works hard because he knows grades are the most important thing in this house. He is learning to drive, but really could use a lot more practice! Just kidding. He is going to be a great driver! He is constantly reminding me of my own driving flaws and accuses Alan of being a closet 'road-rager'.
COOKING AND CLEANING
Most evenings you can find me in the kitchen cooking for Alan and Carter. I like to buy my food fresh everyday and try to keep it as healthy as I possibly can. Without me I'm not sure Alan could actually survive -- Carter would have a better chance. Right now I'm on a diet, trying to get back to my model weight! I attempt to stay away from red meat, dairy and wheat.

I love to throw dinner parties and IF I could, I would throw one everyday, doing all I can to make it elegant and grand. I will sometimes do all the cooking myself -- I'm proud of being able to do it from scratch and without help. I enjoy the compliments about my cooking from my friends. On those days where I have too much on my plate to prepare what goes on theirs, I have a chef who knows my tastes. I personally take care of every detail that goes into the meal, the flowers and the place settings. The day of the party, I will go over the menu with the chef. I will go out and buy the flowers and arrange them myself. I will pick out the plates and napkins and set the table to fit the theme that I am working on for that evening. I make sure the bartender has the drinks on hand that each guest prefers. Every detail is thought out and executed to assure my guests have a fabulous time.

The secret to being a good hostess is to make it look effortless so I am determined, no matter how busy the day, to show up at my own party looking my best so Jessica (two) knows to leave time to do my hair and makeup and help me dress.

The housekeeper, Jessica (one), does all the cleaning in the house. I'll delegate the responsibilities for the day so she knows what to focus on. Just so you know she does not speak English so I hope you can speak Spanish to make sure the cleaning is kept up to par while I'm gone! Carter is responsible for keeping his room tidy and if he doesn't, then I'll leave a note for Jessica that she is not allowed to clean it until he tidies up.
APPEARANCES
As I write this, I'm becoming aware of my emphasis on respecting others in how you present yourself to the outside world. Appropriate dress, grooming, and manners were valued in the Latin culture of my grandparents and I'm happy they taught me accordingly. I never look casual. I strive to look effortless but well groomed. I believe when you look good you feel confident. When I feel good and confident, everything else falls into place.

Although both my stepson and husband have great taste in dressing themselves, I like to think I have been a positive influence, including the fact that I keep up to date with fashion magazines and trends and am usually a step ahead of what's coming.

I can often be found in Alan's closet, picking out the outfits whose time is up! Nearly-new wardrobe from one of his old television shows goes to charity. Joan Rivers has nothing on me. I can be very colorful with my comments on fashion. I'm always shopping for new clothes for Alan. He hates me spending the money, but he loves that our family always looks contemporary and stylish.

I am on a diet to get back to my model weight. I'll let Alan know if I think he needs to lose some weight, but he is lucky he doesn't have to do much beyond his sports activity to be in shape.
DAILY ROUTINE
Alan's day starts a lot earlier than mine. He's up around 6:30am and will have breakfast with Carter before he leaves for school. Then he goes to his upstairs office and writes or makes calls for a couple hours- his company has 3 pilots in development this year but he can do much of his work from home. Around 9am, I am happily awakened by Alan, with a fresh cup of coffee. We spend some time in bed with Alan reading the paper and me reading my magazine. Alan will then go back to his office and I get myself ready for the day. I take pride that I care about always being groomed and dressed appropriately, according to what I have planned that day.

Then I'll walk the property and through the house. I check to make sure everything is running smoothly. I'll check the house to make sure each room is pristine and the garden to make sure there are no weeds or brown patches. If anything is askew I'll speak with the gardener, who only speaks Spanish, and make sure it is tended to right away. I'll make sure the pool is clean and free of leaves and debris.

In the afternoon, Alan and I will have lunch together. I'll make what Alan, calls the "Tanya Salad." We'll eat and chat until it is time for Alan to watch his favorite ESPN show. Then we'll take a nap together for an hour. I'll get up to go workout with my trainer or Pilates, which I take three times a week. Alan is usually off to play tennis or golf at this time. I also love to shop and you'll find me out at the mall in the late afternoon, buying things for the house or my family. My afternoon often includes 'catching up' lunches with friends and winds down at the local grocery store getting the ingredients for that night's dinner.

I love to cook so once Carter gets home from school after football or hockey practice, we'll sit down in the kitchen for a family dinner. The help goes home around dinnertime, so dinner is a family affair. We talk about Carter's sports and school day and Alan's upcoming schedule of travel or filming…or what appearance I've committed us to in support of a charity we love.

Carter will go do his homework, take a break and jam on guitar, then when he's finished, he'll play video games or socialize on his computer before his 9:30pm bedtime. And Alan and I will take our nightly dip in the hot tub.
DISCIPLINE/RULES
Carter is a fine young man so we don't have to be too concerned with discipline. His only chore in the house is getting good grades. It is very important that he does well in school so he gets into a good college and sets his sights on a satisfying career.

Alan and I sometimes disagree about Carter's computer usage so I will monitor his purpose on the computer and set limits for the time he's online.

I am also a stickler on table manners; otherwise, both of my boys will get too casual and possibly forget about utensil technique, elbows-on-table, and reaching across for more bread.
OUR RELATIONSHIP
Alan and I have been together for 13 years and although I'm his third wife, I will be his last! I think a lot of women don't put enough value into taking care of their husband, but that is not true for me. My passion is my family and my husband. I make sure Alan's every need is taken care of every day. Sex is very important between a husband and wife and I joke to my friends that it only takes 2 minutes a day- it's like a commercial break- so what's the big deal?! Keeping my man happy makes me happy, too. Alan travels a lot for work and I'll always be with him as long as my schedule allows.

I hope you enjoy the private personal paradise we have established here in Santa Barbara. I think you will enjoy my family and I know they will treat you as I have taught them to treat any guest in our home, welcoming you with open arms and impeccable manners.

--Tanya Thicke