Household Manual for Antonio Sabato Jr.'s family.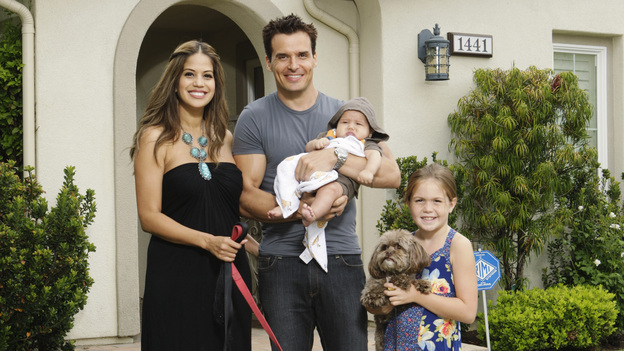 Wondering how Antonio's family operates? Take a look at his fiancee's household manual below to find out.
WELCOME TO OUR HOME
Although, you may think we live a very Hollywood lifestyle, that couldn't be farther from the truth. Our home is a clean environment where love and hard work rule, over fame and money. Our lifestyle revolves around our family and health. We are proud of the home we have created together.

Sadly, God doesn't exist in Hollywood anymore, so we make it a point to make HIM a priority in our lives. Before dinner, we make sure to bless our food and daily prayers thanking God for what we have. I believe it is very important for family to create memories together, so we are always spending precious time together, as much as possible.

Antonio and I have been together for 2 years and have been engaged for 13 months. While planning the wedding we were blessed to find out that we were expecting and have yet to get married. We're waiting until we can gather the whole family together from Italy & Hawaii. I moved into Antonio's home that included a daughter from a previous relationship, and although blending two families together can be a struggle, our situation has been very positive. Antonio's daughter Mina (9) lives with us along with the newest addition to our family, our precious son; baby Antonio (3 months). I hope you can balance a baby on your hip and run a business at the same time because that is what my life is right now.

As you can imagine, our lives have completely changed since having the baby. While taking on all the responsibilities of being a new mother, I have continued my career as a singer. I also own my own record label and I am the COO of a new acting school that Antonio and I opened. My life is a constant juggling act between wife/motherly duties and keeping my many careers running smoothly. Even though Antonio is a celebrity, he and I share almost all the family responsibilities. I am fortunate that he is a very hands-on Dad. He's always willing to help and can even change a diaper in 3 seconds flat!

I have to admit, Antonio and I have a bit of OCD. We want our home to be clean and we are both very anal about making sure everything stays in its place. We do have a housekeeper that comes twice a month, but she will tell you that I always clean before she comes. I love to cook and clean and believe it is an important role for the wife of the house.

With such a busy home and work life, everyone under our roof is on a schedule or we would never get it all done. Even though the baby is only a few months old he already sticks to his eating and sleeping schedule. Mina may only be 9 years old but she has her fair share of responsibilities around the house, too. In our house everyone pitches in and quitting is not an option. We don't associate ourselves with lazy people. I think you will enjoy my family, but I hope you are prepared for all of these responsibilities with a newborn in your arms!

~Cheryl
HOUSEHOLD ROLES
When Antonio and I met, it was love at first sight. As we got to know each other, we realized how similar our morals and beliefs are. It was true love because we really got to know and accept one another. It wasn't about being a celebrity or what we did for a living. We take the worst and the best from each other and that is what makes our household work.

Communication is a big part of our life. We try to respect each other and we know how to work through a situation instead of having a fight. We share almost all responsibilities. This goes for housework and the raising of the children. If something needs to be put together, I may start the project, but if I can't do it I'll let Antonio know and he'll finish it for me. I am still breastfeeding the baby, so Antonio can't help much in that area, but if I need to take a nap, take a business call, or go to record at the studio, he'll make sure he is there to take baby Antonio. Although, it is very common to find me with baby Antonio on my lap while conducting business or in his stroller while I operate my Record Label and record in the studio.

I want to be able to go to work and keep the home together. I am a very strong and successful woman, but I am also very traditional. I enjoy cleaning and cooking and taking care of my husband and children. I am definitely very strict with the rules of the home, whereas Antonio is much more lenient. He wants his children to stick to their goals, but if they are there 15 minutes late after curfew he doesn't care.

How we raise baby Antonio is very important to us. I want to make sure that he grows up to be the best man he can be. So we have a few things that Antonio and I have done since the day he was born to make sure this happens. Always praying over him and his future. His room is filled with praise & worship music. When the baby sneezes, we say 'God forever Bless the baby'. Anytime the baby cries, spits up, or poops, we always reinforce him with something beautiful and positive such as "I think you're wonderful" or "you are magnificent." Constant warm hugs & sweet kisses are shown to the little angel. I love you's are always said to him. Powerful & positive words spoken to the baby throughout the day are seeds of love, peace, and compassion. Planting that positivity is a must in our family.
OUR KIDS
Mina is our 9 year old. She is Antonio's daughter from another relationship. She's a tough little cookie. She knows what she wants and she goes after it. She keeps very busy and has a great work ethic. I think she gets this from her father.

When Antonio and I got serious and Mina and I finally met, we just clicked. We became best friends. Mina participates in gymnastics 9 hours a week. She takes horseback riding lessons once a week. She also practices the piano 30 minutes a day and has a lesson once a week - all while being a straight A student. We keep her very busy and focused so she is successful when she grows up.

Baby Antonio is our 3 month old. He's such a happy baby and has such a vibrant soul. He's always in a good mood. He doesn't like to be dirty and only cries when he is hungry or needs changing. He is always sporting a new outfit whenever he soils his clothes. He sleeps throughout the night. He is a loving little boy, intrigued with all that surrounds him, and you can feel his beautiful soul when in his presence.
COOKING AND EATING HABITS
As the wife, I do the cooking in the house, unless Antonio is whipping up some of his pasta. He's from Italy so I don't touch that! We eat a lot of white rice and Asian meals, because that is my background. We try to eat healthy, portion conscious meals. I might not workout like Antonio, but I do make sure to eat correctly and watch my portions.

I think it is very important that our family always sits down to eat dinner together with out the TV being on. I want us to have memories of the family sitting at the table, talking about our day.
CLEANING
We live in an extremely clean house. Antonio and I are very OCD. We have a maid that comes a couple times a month, but I do a lot of cleaning, probably more than she does. We like things in their place. As a matter of fact, everyday I come downstairs and I put the teakettle in the same place and later that day, Antonio will move it to another spot. This goes on everyday and demonstrates our compulsive personalities. I can be found downstairs in the middle of the night organizing or putting things away because I can't sleep with the house in disarray. We also have a gardener and a pool man that come in once a week.
APPEARANCES
Appearance is pretty important in our household, but we can be pretty casual as well. You will never find me without my hair and makeup done, and I'm always happy to be in a nice sundress. Antonio keeps it pretty simple, wearing jeans or shorts and a tee-shirt. We aren't very strict with what Mina wears, but we want it to be appropriate for her age. You won't find her in short skirts or low cut tops! Baby Antonio likes to wear his onesies in all assorted colors & prints. We want to present our family in a respectful way, but everyone dresses to show their personality.
DAILY ROUTINE
Our family runs smoothly if we keep to a schedule. Even the baby has a schedule! A typical day for us isn't going to sound typical.

The day starts at 7am. By then I have already been up once to feed the baby, but I have to get up to feed him again. After the 2nd feeding, Antonio will get up and take the baby so that I can get a little more sleep. I stay in bed until about 8:15am. Then I start my day making phone calls for the Acting Academy and I check my personal emails.

Antonio trains with his gymnastics trainer from 9am-10am, 5 days a week. I am home with the baby during this time and doing my chores around the house. I will do laundry for the baby. Let the dogs out. Make a huge pot of coffee. Feed all animals (3 dogs and 2 cats). Put all the dishes away from dishwasher and dish rack. All counters must be wiped down and the sink must be scrubbed. We have a small refrigerator, so I will clear out old food and wipe shelves. I then wipe down the trashcans and empty them into the appropriate bins in the garage. I will straighten and organize the pantry. The baby usually needs changing at this point. Then I vacuum the floor and dust the staircase. I'll spot clean tiles where needed and fix the pillows on the couch and chair, they must be perfect! I then pickup both kitty litter and the dogs poop outside. Fill-up both bowls with fresh water. I spot clean the staircase rug as I take baby Antonio upstairs for a feeding and nap. All that and it's only about 9:15am!

While baby Antonio is napping this frees me up to do the family laundry. I will also make our bed, and the other bedroom bed; Mina makes her own bed. I empty all 3 trashcans upstairs and replace the liners in our bathroom. By this time baby Antonio is up from his nap and Mina is awake and ready to eat breakfast. Depending on her mood she'll want cereal or I'll make her my famous Macadamia nut pancakes, with scrambled eggs and bacon. I always clean up as I go or it just becomes too much of a mess. Mina will help by putting away the dishes in dishwasher and wiping down the table.

We just opened up an acting academy in our town where we teach commercial acting, voiceover, and modeling. I will need to make business calls, organize auditions, remind parents about payment, schedule meetings with advertisers and update the website. By this time, Antonio is home and is watching the baby. I'll change clothes from the washer to dryer and restock the diapers and wipes located in three places of the home; bedroom, nursery and living room.

Mina will practice piano for 30 minutes and then go upstairs because she MUST clean her room, brush her teeth, comb her hair and change into her clothes for the day. While the baby is with Antonio and Mina is taking care of herself, I will sit down to make a "To Do" list for myself for the day. I will also pay bills and balance my checkbook. I am making new music all the time, so I will sit and write lyrics for about an hour for an upcoming session. Baby Antonio is up by then and Antonio is off to take Mina to her different activities before he goes to Acting Academy to teach. Mina takes gymnastics 3 hours a day, three days a week. Antonio will usually stay for the entire 3 hours to see how she does. Once a week, she takes horseback riding lessons for four hours and an hour-long piano lesson.

I'll feed and change baby Antonio before we are off to the Acting Academy. I usually grab lunch on the way. Once at the Acting Academy, I will meet and greet the parents and students, making sure they are all satisfied and doing well. As classes start, I'll make credit card transactions, check emails and phone messages. I manage the expense report and budget. I'll return any others calls that I didn't get to in the morning and make copies of the monologues for the students. I teach a modeling class three times a week, as well.

Antonio is at the Academy until 3pm. I'll head out a bit before that and go grocery shopping so I can come home and prepare dinner. We all come home just before dinner and take our family walks with the dogs in tow. Mina will help me with dinner, we call our kitchen Mina and Cheryl's Bistro and she gets really into it, making menus, place cards and taking orders. We sit around the table everyday holding hands as we say grace and thank the Lord for our day, the abundant table set before us and anything else that we'd like to give praise to that day. The TV and cell phones are turned off during this time.

We all help clean up and then I might make a nice dessert for everyone. Antonio will relax and retreat upstairs and put him down for the night. By then, baby Antonio is already asleep; I wake him for a late feeding and warm bath. I then say prayers to baby out loud and play his praise & worship CD. Once the baby is asleep, I make my to do list for the early morning and note what needs to be done for the week ahead. Mina goes to bed at 9:30pm. She will read before bed and Antonio will always make a point to spend time with her before she falls asleep.

Then there is finally down time for Antonio and I to talk and cuddle with each other and ask each other about our day and plans for the week, career goals and aspirations and then we say our prayers and go to bed.

This may seem like a lot, but with a baby and an 9 year old, we have to keep on top of everything or it will all pile up. Good luck, I'm sure you'll do great!
DISCIPLINE
Being the stepmother that moved into the house, I do tend to let Antonio do the disciplining. I do not feel it is my place to step in and change the way he has done things with Mina for the 6 years before I was a part of her life. She is his baby and if he wants to treat her like that, I can't protest…well maybe just a little!

I am very strict and Antonio is much more easygoing. This is one place where we differ in our beliefs; I think it all stems from our different backgrounds. When I came into the home I really set the rules and schedules for everyone to follow. If it were up to Antonio he would let it go every once and a while but I think it is important to stick to a routine to guarantee success.
POLITICS and RELIGION
Antonio and I are Republicans. We tend to lean towards the right. We listen to what the politicians have to say, and see what is best for our family. Our views have changed dramatically since the last election. We don't agree with the fact that you can't talk about God anymore. He's the first President in history who didn't hold a prayer in the White House on National Prayer Day. We aren't sure what Obama believes in and that doesn't sit well with us. We need a new leader, man or woman, any race, but someone who can fix the problems.
OUR RELATIONSHIP
We may not be married, but we feel like we are. Antonio and I love each other very much and enjoy spending time together. It is great that we not only get to spend time at home together, but also at work. Our relationship has changed a lot since the baby came along. We used to go out on dates a lot more, but when you have a newborn, your life revolves around the baby's needs. We still try to find alone time together. We love the environment that we created in our home, so now our alone time consists of watching a classic film on the couch, rather than going out to the movies. It doesn't really matter to us what we do as long as we spend a lot of time together. When we are apart, we text all the time and Skype to keep in touch. Sometimes Antonio will be on a set out of town for a long period of time, but we will never go more than a couple weeks before he will fly myself and the kids to see him. Family is very important to us and we want to instill that idea in our children as well.

I have left a copy of our daily routine and the baby's schedule on the refrigerator so you can follow along and you don't miss anything! Please enjoy my family, and take care of my little boo boo!

Cheryl Moana Marie
BABY ROUTINE
7am: Change diaper, feed & burp

7:30am: Playtime, massage & exercise

8:15-8:30am: Start putting baby back down to sleep by playing Praise & Worship CD, and singing to him

9:30am: Baby should be sleeping by then

10:45am: Baby wakes up on his own. Change diaper, feed & burp, then change clothes

11:15am: Read to him prayers out of Praying Parent book

11:30-12:00: Start getting baby ready such as hair brushed, face clean, bottle filled with breast milk, fresh diaper, outfit clean, spit up & blanket packed in diaper bag along with green pacifier

12:15pm: Baby in car seat

12:30pm: Get to school, check diaper, feed, and burp

12:45: Baby goes down for his nap

2:20pm: Baby wakes up, change diaper, cradle, feed and burp. Change his outfit if dirty from the feed

2:45pm: Play with baby by singing and showing him the world while carrying him in seated position. Start packing up baby bag

3:10pm: Baby in car seat

3:25pm: Baby home. Check diaper and unpack baby spit up & blanket. If dirty from the day throw in wash basket and grab a new one

3:40pm: Prepare baby & dogs for a walk. Bring bottle, pacifier, spit up cloth and blanket.

4:05pm: Baby is sleeping from walk. Take him out and lay him upstairs in bassinet.

4:30pm: Baby will awake to be fed. Feed, burp, and change diaper.

6pm: Baby wakes up wants to be held & played with. Change diaper.

7pm: Give baby his bath.

7:10pm: Clothe baby, lightly sprinkle baby powder all over baby. Apply heavy layer of DESITIN on baby's area.

7:30pm: Start putting baby to sleep. Feed, burp, sing, read prayer from Praying Parent book and say prayers with baby. When done play praise & worship.

9:30pm: Delicately change diaper not to wake up baby.

11:30pm: Change diaper, feed baby & burp.

4:20am: Change diaper, feed baby & burp.

5:20am: Change diaper if needed, feed & burp.

7am Good Morning, start day all over again!


DAILY SCHEDULE
7AM:

Feed, change diaper and clothes on baby. Prepare warm washcloth, squeeze dry apply to baby's face and neck. Do this calmly and with ease. Make lots of eye contact, sing, smile and speak to baby lovingly and peacefully. Then wipe dry.

7:15AM-8:15AM:

Sleep while Antonio takes care of baby.

8:15AM-10:15AM:

Do baby laundry with baby laundry soap, no softener.

Check Acting Academy and personal emails.

Empty Nursery trashcan, re-line and bring downstairs.

Let the dogs out to use the restroom.

Make a huge pot of coffee

Fill water bowl inside

Then feed all five animals-

- Both cats: 1oz dry food. Sensai (all black cat) sprinkle Parmesan cheese on food.

- Three dogs: Line mark noted on container

- Blacky the Rottweiler: 1 1/2 scoops to line mark

- Schumy the Labrador: 1 scoop to line mark

- Stella the Cockapoo: 1/4 food in her bowl

Wash cat plates and dog bowls.

Let the dogs out once again.

Put all dishes away inside dishwasher and dish rack.

Wipe all counters, stove, oven, microwave, with Clorox wipes. Stainless steel appliances wiped down with Stainless steel wipes

Scrub sink with Comet, rinse, spray sink with Lysol w/bleach (kills bacteria and necessary since I cook a lot). Rinse and wipe down.

Clear refrigerator of old food. Wipe shelves and straighten inside.

Wipe down and empty trashcans and out in designated bins

Straighten and organize pantry.

Change baby. Feed and put baby to sleep in his little lamb bouncer

Then vacuum floor, dust entire downstairs

Spot clean tile where needed.

Fix pillows on couch and chair, these must be perfect!

Spot clean staircase rug.

Then take baby Antonio upstairs. He may need to be fed. Then put him down for his nap.

10:15AM-12:15AM

Antonio returns home.

Put baby clothes in dryer.

Spot clean upstairs rug.

Do family laundry.

All beds on the second floor must be made. Mina makes her bed, but I'll do the nursery and mine.

Empty 3 trashcans and replace with liners in our bathroom

Bring baby downstairs and start breakfast, Mina will be awake by then. Depending on Mina's mood she'll want cereal, or I'll make Mac-nut pancakes with scrambled eggs and bacon. When cooking clean up as you go.

After breakfast Mina puts away dishes in dishwasher and wipes down table.

Change baby if needed, even if he's still sleeping.

(Antonio is around at this point if you need him to watch baby)

Make business calls, organize audition, remind parents regarding payment, schedule meeting with Advertisers, update website, print more forms if needed.

Go upstairs, take clothes and put in dryer.

Restock diapers and wipes. Set aside extra diapers and wipes to bring downstairs later.

Mina practices 30 minutes of her piano then goes upstairs and MUST clean her room, brush her teeth, comb her hair, and change clothes for the day.

While baby is with Antonio I do a "To Do" list for myself for the day.

I then write lyrics for upcoming studio session.

I do my personal bills and balance my checkbook.

12:15PM-12:45PM

Baby is up by now. Feed and change him. If his clothes are wet from spit up, change his clothes.

12:45PM-2:15PM

Leave house to go to the Acting Academy.

Get into office. Meet and greet parents and students.

Feed and change baby and keep him entertained by reading a book, singing and introducing a new toy. Have him reach for toy and showing him how they each function.

Make credit card transactions, check emails and phone messages. Manage expense report and budget outline along with Company Financial projections. Return additional calls that were not made in the morning. Make copies of Monologues for students. Teach modeling class.

2:15PM-5:00PM

Start prepping for dinner

Take baby, family and dogs out for daily walk.

Take baby upstairs and give him his bath.

5:15PM-10:00PM

Make dinner. Mina gets involved as the kitchen is our Mina & Cheryl's Bistro. She sets the table however she likes. She designs menus, napkins, place cards and plates. She will also assist with cooking.

We sit around the table holding hands and we say grace and thank the Lord for our day, the abundant table set before us and anything else that we'd like to give praise to.

TV and cell phones are turned off or put away. We sit at the table and discuss our day spending time with one another.

We clean up the table and kitchen. Antonio takes the little one and Mina and I then make dessert. Strawberry vanilla ice cream shakes, Cinnabons, almond cookies, whatever we feel like.

When the Baby is asleep, I make my "To Do" list for the early morning & note what needs to be done for the week ahead.

Mina reads before bed and Antonio spends time with her before bedtime.

We say goodnight with a hug and kiss and tell each other I love you and retreat to our rooms for the night.

Then we spend our private time together talking & cuddling with each other and asking about each other about our day, plans for the week, career goals & aspirations then we say our prayers and go to bed.

REPEAT the next day!