Household Manual for Carnie Wilson's family.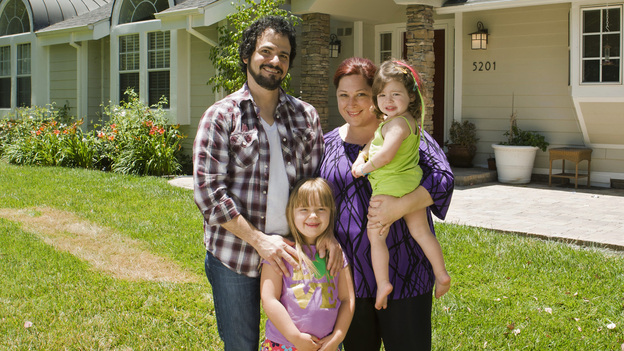 Wondering how Carnie's family operates? Take a look at her household manual below to find out.
WELCOME TO OUR HOME
All I can say is "Hold On" because you have just entered a household that is one big roller coaster ride! My husband and I are like ships passing in the night, trying our best to juggle busy careers and be the best parents to our beautiful daughters.

Our family consists of my husband, Rob, and our girls Lola (age 6) and Luci (age 2). But in reality, Aunt Dee Dee is like a third parent -- we rely on her to keep the family running. She wears many hats around here --part nanny, part personal assistant, part housekeeper, part art teacher, and part lifeguard. We couldn't do it without her!

Rob is a songwriter, producer and musician. He works from home and our schedules are very different. He usually works late into the night composing music in our home-studio and sleeps until late in the morning. When I'm not on the road, I'm usually up early and out of the house with a full schedule.

Romance is basically non-existent in our relationship and this is becoming a huge problem. In my opinion, that's just one of the many sacrifices we make because of our busy lifestyles. My husband disagrees. He wishes that our love life could be more of a priority.

As for parenting, our girls are basically well behaved but we are not exactly the poster couple for perfect parenting (but who is???). We don't consider ourselves overly strict parents. Our household motto is "Love First, Rules Second." Basically, we have tons of love and very few rules.

Food is another huge issue in our household. Over the years, I have had my struggles with weight and do not want to pass on my bad habits to the girls. As parents, we are trying to get better about eating junk food and teaching our girls about healthy eating.

We also rely heavily on Tish (our full time nanny) and Morena (our part time housekeeper) as well as our groundskeeper and pool man. To be honest, I don't even know how to work the washing machine in my own house! None of us are neat freaks. I don't want Luci and Lola to feel like they are growing up in a museum. We would rather spend more time with our kids and careers then cleaning the house.

Bottom line, our home is all about happiness, creativity, and lots of spontaneity. I know you are going to love spending time with Rob and the girls. My advice is to just "Hold On For One More Day" and enjoy the ride!
OUR FAMILY
Carnie (43), Rob (43), Lola (6), Luci (2)
OUR STAFF
Aunt Dee Dee (assistant), Tish (nanny), Morena (housekeeper)
HOUSEHOLD ROLES
When it comes to our household roles, I would say Rob is the "handyman" and I'm the "frenzied housewife." He is great at fixing stuff and being the man of the house -- but that's where his role ends and mine begins. From early in the morning to late at night, it feels like I'm a one-woman army getting everything done. But I do have some help.

I have a full time nanny and a housekeeper, who comes twice a week. But even though I have hired help, it's still a full time job running our household. I really wish Rob and I had more of a "partnership" when it comes to household roles.

I do know my way around the kitchen so I'm much better about doing dishes and keeping the kitchen clean. I love food and love to cook but, because of my schedule, I never get around to planning and preparing meals as much as I'd like to. I try my best to make dinner 2-3 times a week.
OUR KIDS
Our philosophy on parenting is "Love First, Rules Second." The children have no chores and no real punishments that seem to stick. Our house operates with virtually no weekly schedule. This makes each day a new adventure (and usually ends with me being completely overwhelmed). I know my parents did the best they could but growing up in a celebrity home in Bel-Aire was a unique experience. My parents were very creative and free in their approach to raising me. I think that plays a major role in how I parent my two daughters today. For the most part, our girls are very well behaved. But kids will be kids and they do act up sometimes. We never use the words "bad girls." We prefer "behaving badly" and think this help builds self-esteem.
COOKING AND EATING HABITS
We NEVER eat together!!!!! I think this is a huge problem in our family. Rob is always working during mealtime and it's very frustrating eating without him.

My husband and I argue about the girl's diets a lot, particularly when it comes to fast food. I think that it's okay, within reason, if we make the right choices (like chicken nuggets instead of burgers). Rob strongly disagrees and hates when I get any kind of fast food takeout

THIS IS IMPORTANT!

As for prepared meals, you will need to make "Lola's Favorite Pasta." It's her version of "fettuccini Alfredo." I left the receipt in the kitchen. If you are not a cook just ask Aunt Dee Dee or Tish to help you.
CLEANING
We don't have any chores around the house. I know we need help in this area. It has not been a problem so far (because the girls are so young) but as Luci gets older, I want to finally give her some responsibility around the house. Having assigned chores is something we are going to need addressed sooner than later.

Dishes are the one thing I do by myself without the housekeeper (but not always). On the days the housekeeper is here, I will have her help out with cleanup after dinner.
APPEARANCES
Clearly, appearance is a big deal for me, considering my weight issues. I spend a lot of time and energy thinking about clothes. I wish appearance were not such a big deal. I'm trying to teach my girls that it matters most what you look like on the inside, not the outside.

Recently, I have been paying attention to Lola's weight. She is not overweight but I have noticed she is starting to have some behaviors around food that concern me. She recently saw pictures of me after my gastric bypass surgery so she is aware that the more you eat, the bigger you get.

My husband is very handsome. (I think you will agree.) But he is all mine so hands off! (Just kidding) There has always been a strong physical attraction between us. I think he is such a cutie! I don't think Rob thinks about appearance nearly as much as I do. When we first met, I was living large --almost 300lbs.

I have a picture of him looking up at me on stage the day we met. He has this great big accepting smile on his face. I don't think he cared that I was overweight. He asked to take a picture with me and when he put his arm around me, he was so nervous his arm was shaking. How cute is that! He always told me I was beautiful. What I know for certain is that Rob wants me and the girls to be happy and healthy.
DAILY ROUTINE - MORNING
Our morning routine can best be described as lopsided. As I said, I'm up early dealing with the girls while Rob is asleep.

I am up by 6am most mornings. Now that school is out, Lola needs to be at camp by 9am. (Monday- Friday) So I'm up dealing with both the girls, getting them breakfast and getting Lola on the road by 8:30. I can usually drive her, but I have Tish around to help if my schedule gets too crazy.

Rob likes to work late at night in our music studio. (He claims this is his most creative time.) Most nights, he doesn't come to bed until 2am and sleeps in most mornings until late. His workday begins late in the afternoon. Sometimes he works out of the house but most days he works from home.

Sometime Rob and I actually work together on projects and our daily schedules are more in sync. Other times we are on the road together and that's when our routine gets really crazy.
DAILY ROUTINE - AFTERNOON
The afternoons are all about my career. I am usually working on a television show or running to different production studios to do voice-over sessions. I feel like a shark -- always in motion and always on the go. I try my best to be back at the house by 6pm for dinner.

Lola gets home from summer camp around 3:30pm. If I'm working, Tish and Dee Dee will watch the girls until I get home.

Lola likes to have play dates with her friends after camp. The girls really enjoy doing arts and crafts in their play area. This can get very hectic, especially if I have a business meeting in the house.

My work schedule is all over the map but I try to schedule my day so I'm home for dinner. That means I usually have to double and triple book my day, just to get all of it done in half the time. Double booking is a huge problem for me.

I usually make dinner 2-3 nights a week. On the nights I'm busy I will coordinate with Tish and Dee Dee to have dinner ready by 6pm. Rob is usually in the studio and rarely eats with us.

After dinner is really the best quality time I have with Lola and Luci. On a typical night, I will play with the girls, singing songs and acting silly while Rob works in the studio until the girl's are ready for sleep (the time varies). Sometimes he helps me put them to bed. But on most nights I do it by myself and it's really frustrating.
DAILY ROUTINE - BEDTIME
Bedtime really depends on what is going on in our lives. The downside of not having a set bedtime for the girls is that Rob and I never have anytime to ourselves at night. Unfortunately, this has affected our love life. It would be great to figure out a way to schedule some "adult time" for us.

Bedtime is all about singing and silliness. I make up bedtime songs and give Lola lines to harmonize. Its like a mini "Wilson Phillips" group before bedtime. So if there was only one rule in this house, its THERE MUST BE SINGING AT BEDTIME. So please don't forget to sing at least one song before the girls go to bed. Her favorite songs are standards like B-I-N-G-O and Rock-a-bye Baby.
DISCIPLINE
We are very liberal about disciplining our girls. You may hear some bad language around the house, but the one thing we insist on is "no disrespectful backtalk" from the girls.

The other import rule-- have fun! We always have "Wacky Wednesdays" when we dress funky and let loose. I like to dress the girls with colored hair extensions and fun jewelry. PLEASE make sure that one day is "Wacky and Wild!"
LEISURE AND LIFESTYLE
Music is a big part of our family. Our best family time is at night when we create a mini "Wilson Philips" trio, with Rob on guitar and all the girls harmonizing. We do our best to exercise as a family but Rob is usually not into it. He would rather be in the music studio playing his guitar.
OUR RELATIONSHIP
As I have said many times, we are two ships passing in the night. I love Rob with all my heart and I know we will get through this phase. But its gotten to the point where we need help! We had such an amazing relationship before we had kids. He is a hopeless romantic and we need to get that spark again.

The best things in our relationship are our love for our two girls and our love of music. The fact that he is a musician is a real total turn on for me.

The most annoying thing about Rob is that he works from home but doesn't help out with the household responsibilities.
FINANCES
Money has been a huge issue for me over the years. I was blessed growing up in a family with money. The problem is I continue to live "The Bel-Aire lifestyle" and I can't afford it! Overspending is a huge issue, even today. Thanks to my business manager, I'm much better -- but there is a lot of work to do in this area