Household Manual for Dee Snider's family.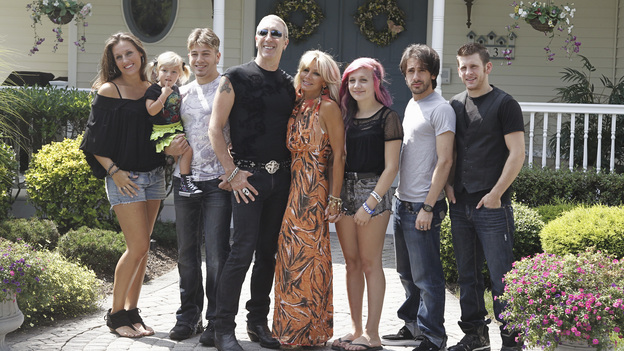 Wondering how Dee's family operates? Take a look at his wife's household manual below to find out.
WELCOME TO OUR HOME
Prepare to leave your assumptions and preconceived notions about the rock 'n' roll lifestyle at the door. My family is a prime example of the saying "Don't judge a book by its cover." While we're certainly no shrinking violets, and we definitely "wanna rock," the Sniders are the definition of family values. I hope you have a good sense of humor, because this is a funny, irreverent family and we love to laugh. Your life is definitely going to get a little "twisted."

My family consists of, Dee and I, our three sons and a daughter, but we can't leave out our daughter in law, and two year old grand daughter. That's right, we're grandparents.

Jesse Blaze has a family of his own and lives just minutes away. He, his wife Patty (who has another "bun in the oven") and their daughter Logan Lane are always dropping by. Jesse is a rocker, comic book writer. Shane is a young comedian, actor and comedy writer. Cody Blue is a award winning, indie film maker and Cheyenne (almost 15) sings in a hardcore metal band and is as heavy--or heavier--than her father ever was.

I know you're thinking it--yes, all four children are mine. Dee and I have been married for 30 years and together for 35. Not an easy accomplishment in the crazy world of entertainment. We met when I was 15 (he was 21) and I went to a club to see the new girl group "Twisted Sister." They turned out not to be woman, there was nobody there to see them and I made the mistake of going to the front of the stage and smiling at Dee--he was wearing hot pants and stockings! Dee took that as a "go sign" and stalked me (his words, not mine) until I fell in love with him and, I'm happy to say, I never looked back. I've been making costumes for Twisted Sister ever since. Dee's a great, thoughtful, loving husband, and the father I always dreamed my kids would have.

While Dee is known for his aggressive performing style and over the top, in your face persona, our home is "my stage" and I run the show. I am a professional makeup artist, costume designer and stylist (I've been Twisted Sister's costume designer and stylist since I was 16) and I bring these talents--and more--to every aspect of our home life. I'm a hands-on kind of person, who likes things done just right. Sure we have plenty of hired help, and Dee tackles what he can, but nobody does things quite the way I like them done. There is nothing I like less then to wait for something to be done right, so if the deck needs power washing or there's a leaky faucet that needs tightening, I'll try to take care of it myself. Case in point: I single handedly designed, painted, wallpapered and did the window treatments for every inch of our 6,000 square foot home. Having put so much into getting our home just the way I like it, I'm all about keeping the house clean--except for the kids rooms. I believe their rooms are their responsibilities. There are times Cody and Cheyenne's rooms look like a bomb went off in them!

These days Dee wears a lot of creative hats and I hold down the fort so he can do his thing, but family comes first to both of us is being the best parents we can be. While our kids have been raised to be outspoken, individuals, who are strong willed and think for themselves, the most important traits we instill in them is to be good people, respectful and polite. We know from personal experience how far those two things alone can take you in this world.

When I decided to have children, I didn't want our kids being raised by somebody else. I gave up my aspirations to be a business professional and made my children my career. I use all of my talents to help them be the best they can be. I'm always there to do for them, from little things around the house to big things like doing hair, makeup, wardrobe and whatever else needs to be done on all of their different creative projects. Dee says they don't really appreciate it, but I do it for me, not them.

When it comes to parenting, my husband and I definitely believe in "choosing our battles". There are so many really important things to worry about in the world, we don't waste our time on little things, especially if they're just outward forms of expression. Would you rather your child have pink hair...or do drugs. The choice is obvious. We believe if you don't give your kids a way to express themselves...they will find a way to do it.

When it comes to disciplining our children, we try to let the punishment fit the crime. If they repeatedly take something without asking, we take away something of theirs without asking. If they continuously leave something laying around without putting it away, we take it away for awhile. When all else fails, my fall back is to take away their cell phone or computer. In this day and age, that's worst than grounding them. The only one who really gets punished anymore is Cheyenne; the boys are just too old. That said, as long as they are living under my roof....

I can promise you two things this week: you won't get bored and life in the Snider household will be a hell of a lot different than what you are used to. So prepare to "let your hair down" and hang onto your sense of humor; you're gonna need it!
OUR FAMILY
Dee (56) Suzette (50), Jess (28), Shane (23), Cody (21), Cheyenne (15)
HOUSEHOLD ROLES
In his world, Dee is clearly in charge; but, when he is at home, it's a different story. I don't cater to my husband like he is a celebrity; he is a big boy and can do for himself. He may be larger than life on stage, but at home you will find him to be quiet and down to earth. Since Dee is so busy, he can be disconnected from the day to day running of the household. He knows and respects that this is my world and is more than happy to play by my rules. As a result, I take care of everything in the house, from the cooking and cleaning to the manual labor. I am constantly working on some kind of household project, from small repairs like spackling a hole in a wall to major remodeling projects, like building a 20 foot fireplace mantel. I'm not one to sit back and let others wait on me.
OUR KIDS
Our children are our world; nothing is more important to us than their happiness and well-being ...possibly to a fault.

Jesse Blaze is our oldest and has his own family now. I'm proud to say, he is a great husband and father, and an attentive, loving son and brother. He puts family above all else and is incredibly supportive of what we all do--as we all are of what he does. Jesse has strong opinions and is not afraid to express them or confront people with them if the need arises. I have spoiled him a bit with my cooking, mothering and styling--but that's okay--he'll always be my baby boy.

Shane is our second oldest and the most stubbornly independent child we have. Since he was born, he has always been the one I could depend on to be responsible and take care of things for me. Comedy is his life and he loves to laugh and make people laugh, but Shane has got a sharp wit and a sarcastic tongue, so whatever you do, don't screw up around him. Oh--and heads up. He play his drums. A lot.

Cody Blue is the youngest of the Snider boys, and possibly the wisest. This said, his ADD personality can make him, at times wildly unpredictable. Between his film making, video shoots, Jiu Jitsu bouts, basketball games, hanging with his girlfriend and late nights around the fire pit with "The Ocho" (his crew), Cody always has something going on...that needs looking after and needs a mother's support and love.

Cheyenne is the baby daughter I always wanted--but not quite. At almost 15 years old, she thinks she knows it all (what 15 year old doesn't) and lives up to her "cowgirl" name. Growing up with three older brothers has made her tough, smart, sharp, funny and really sarcastic. Careful you don't get cut on her sharp tongue. The soul focus of Cheyenne's life is her music and her band. They rehearse at our house and their heavy sound puts her father's to shame. Hardcore metal does take some getting used to...so good luck.

I should probably mention Logan Lane, our two year old grand daughter. I am the classic Italian grandmother who always tries to be available to take care of "my little angel" whenever I'm needed...and than some. I spoil her with her favorite food, snacks, toys, love and by constantly entertaining her. Be ready to jump on the trampoline and go down the slide on the play set. Dee calls me "Mozo the Clown" because I drop everything to show my adorable grand daughter a good time. Partly because it is my nature, and partly because I am experiencing a bit of an empty nest syndrome with all my babies growing up.
COOKING and EATING HABITS
The heart of our/my world is the kitchen. It's where everyone gathers and most things involving the family happen. Dee and I insist on everyone who is home having dinner together each night. We think it's an important part of family unity and staying in touch with each another. This said, the time we eat depends on everyone's availability.

Each night I make two, different, healthy, balanced meals; one low-fat for Dee and I (usually a light, pasta dish), and one for the kids. I feel kids should enjoy the foods they like and not suffer because we eat low fat. You will find my sure-toplease the kids "Brown Sugar Chicken" recipe at the end of the manual.

Prepare yourself for some wild dinner conversations. Meal time is when we have the most laughs and the most arguments...all sometimes "R" rated. As long as our children are respectful of each other, we encourage them to speak their minds.
CLEANING and HOUSE MAINTENANCE
I like a clean house and want everything to be in its place, but even with a housekeeper who helps out, sometimes it's hard to keep things just the way I want them when I'm focused on other things. While the kids don't really have "official" chores (they do have to set and clean the table off each night, and they are supposed to clean their rooms), I do expect them to pick up after themselves. Good luck with that.

Even though Dee is "Star Boy," in our house he's just another member of the family. His business workload limits his contributions, but he still manages to help out quite a bit.

As far as the kid's rooms go, while I would like them to be clean like the rest of the house, this is their world and if they want to live like complete slobs, they can. I try not to even glance in Cheyenne's room or open her closet, because it makes me nuts.

While the kids don't have official jobs in the house, on the occasion I do ask them to do something I EXPECT IT TO BE DONE or else there will be consequences...especially if they give me crap. I might take away Cheyenne's computer or tell Cody and Shane they can't have any friends over the house. That usually gets their attention.
APPEARANCES
There are two sayings that define my belief system when it comes to style: "It's better to look good than to feel good." and "Beauty is pain." How you look does not ultimately define who you are, but it does send a message of how you want to be perceived, and I want to help everyone in my house to send their message the best they can.

While Dee is known for looking outrageous when he performs, at home and on the street he is "the man in black" (that's how he got his nickname "Demon")--you will never see him wear anything but...and that's how I like him.

When it comes to my personal style, to quote Dee, "Suzette still puts a smile on my face." This said, there are still times I shock Dee with what I wear. I believe a woman should be her husbands wife...and his mistress. I live up to those words.

Each of our kids have their own style, even if I don't agree with it. They are all fussy about what they wear...even our resident "dumpster" Shane's "dressing down" has to be just right. That's okay, but I've got to admit, I'm a little disappointed with Cheyenne. I dreamed of having a daughter that I could dress and makeup. At a very young age Chey made it clear that she's not interested in how I want her to look or my sense of style. Bummer! It's all I can do to fight the tide and keep her from getting more and more piercings and tattoos.

The one place where the kids welcome my input is on their many projects. Whether it's a film, video, a photo shoot...or even a school project, being a stylist and costumer, all of my kids depend on me to help them out...I couldn't be happier. It's practically become a full time job for me; there's always something going on.

Dee and I feel dress and style is one of those "choose your battles" areas of parenting. There are more important issues to focus on than their hair and clothes, and a child with definite thoughts on how they want to present themselves, is a child with a strong self-image...especially if they are not going along with the trends. Clothes and hair are an opportunity for kids to explore their individuality, so we say, as long as your choices aren't hurting anybody, do your thing!
DAILY ROUTINE - MORNING
The Snider family absolutely does not have anything close to "a routine, daily schedule." It is constantly changing. Since Dee and I go to bed anywhere from midnight to 2 AM, we get up when we've slept enough. Usually we're up around 8 or 9 o'clock and we ease into our day, drinking our morning coffee (a must for us both), talking about the schedule for that day and watching a little television before our crazy day starts.

Since it's summer and school is out, our kids pretty much go to bed and get up when they please...within reason. Cody's usually up by 10 or 10:30, Cheyenne by 11 or 12 and Shane our true vampire, goes to bed when the sun rises and isn't usually out of bed until after 2pm. I'm not a morning person myself, so the last thing I'm going to be is a drill sergeant blowing a bugle and waking them up early. Besides, I like my quiet time in the morning.
DAILY ROUTINE - LATE MORNING
From about 10 - Noon, Dee and I putter around the house and get in our daily workout. Dee likes to jog and go to the gym; I'm a P90X user. We have always embraced a healthy lifestyle.

My morning "puttering" and working out, rolls right into addressing whatever exterior house issues need to be addressed. The harsh winter did a number on things outside this year. I'm currently doing a lot of caulking, power washing, detail work in the yard and giving our family Cockerpoo "Chase" a bad ass mohawk hairdo (this is a bigger deal than you would think). He needs a little bit of hot pink on top of his head, so I'll leave you my dye kit.
DAILY ROUTINE - WORK SCHEDULE
Working as a stylist and makeup artist for my entire family has become a full time job. They all have various creative projects going on and want my help. This week, Jesse has a photo shoot for his new single "When You Love Someone," and Cody is preparing to shoot a rock video for a band called "Motionless In White." They will be stopping by to check out a special makeup effect for the video, so you will need to help Cody show it to them. I will leave you my recipe for blood.

Dee always has a lot of different things going on. Right now he is writing his memoirs and recording a new album called "Dee Does Broadway." He'll also be taping a special "webisode" for his weekly, nationally syndicated radio show, "The House of Hair." He is going to need your help choosing his clothes and dealing with his guest.
DAILY ROUTINE - NIGHTTIME
The Snider house is all of our children's friend's favorite place to hang out, for reasons that are probably obvious. Pretty much every night, there's a small crowd hanging in the backyard (usually Cody's crew "The Ocho"), playing video games or just listening to music and watching TV. Our kids and their friends are respectful, trustworthy and usually well behaved...though we still keep an open eye and ear, just in case.
DISCIPLINE and RULES
Being the best person you can be and respect, respect, respect; they are the cornerstone of our parenting and the one thing we expect above all else from our children and others. That and manners. Beyond that, pretty much anything goes. Like I said, our kids are outspoken and more than ready for a debate or argument. Don't be surprised if you hear the occasional four letter word fly. Though we don't encourage it and try to discourage it (I myself am going through "rubber band snapping curse therapy"), it's tough to control 20-something year old men. Cheyenne on the other hand is never allowed to curse...but somehow she manages to find other 'non curses' that are equally as offensive.

Dee is usually the strict one and I'm a lot looser and more fun. That said, I do expect the kids to clean up after themselves, but they definitely have selective hearing (an art they have perfected and share their techniques with each other). Since I ask so little of them, nothing upsets me more than having my requests being ignored, and that's when I lose my temper and punishments are usually dealt out. For the boys its usually banning their use of whatever it is they haven't been picking up from and Cheyenne the use of her computer and phone.
FAMILY VALUES
The most important and surprising thing you will learn about us is how traditional we are when it comes to family values. Many people are shocked to find out that Dee and I have never had a drink or done a drug in our lives!

As far as my "look" goes, Dee used to call me "a sheep in wolf's clothing." I am anything but the groupie some people think I must have been. Dee and I have been together for 35 years and he is the only man I have ever been with. In fact, we are one of the most straight-laced couples you will ever find. That aside, we are very liberal in raising our kids and we don't expect them to as disciplined as we are, though they do tend to follow in our footsteps.
OUR RELATIONSHIP
I can honestly say, Dee and I are more in love today than we've ever been. We are best friends and our different personalities really complement and balance each other. We realize a healthy relationship is important, so we work at it and try to have a "date night" at least once a week. Dee and I really enjoy the occasional "bike night." It's great to just hop on our motorcycles and cruise down to one of the local hangs and grab a bite with our friends.
QUICK CHECKLIST OF THE REALLY IMPORTANT THINGS
- Finishing the deck project is a "MUST DO" while you are here. Power washing and caulking are the final things that need to be done.

- Jesse has a photo shoot for his new single this week and you will need to do his hair. Making a mohawk stand up straight isn't an easy thing and Jesse is very meticulous when it comes to his look, so good luck! Justin Bieber he is not!

- Cody is working on preproduction for the Emotionless In White music video and has brought me in to do special makeup effects. This is a very important project to him, so take this job seriously. Expect to be a little grossed out.

- Don't forget to finish dying our dog Chase's hair.

- With his book on deadline, and recording a new album, Dee's workload is particularly hectic. Like with my kids, I do what I can to help out. You will need to assist him with the webcast for his radio show, "The House of Hair" by booking a guest and making sure he looks good for the filming.

- As always, Cheyenne's band "They All Float" will be rehearsing. Not much you have to do there but "hold on!"

- Every week we have a big family dinner. You will need to prepare two separate meals. Make a healthy pasta for Dee and my famous "Brown Sugar Chicken" for the kids and Jesse's family. You'll find all the recipes at the end of this manual.

- Make time for "Bike Night" with Dee. It's our date night and, if you have a motorcycle license, you can use my bike and ride.