Household Manual for Gary Busey's family.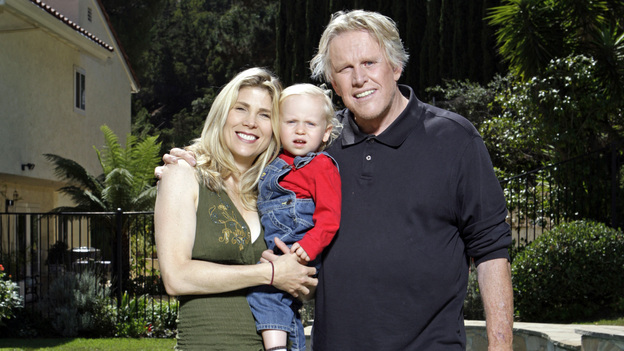 Wondering how Gary's family operates? Take a look at his household manual below to find out.
WELCOME TO OUR HOME
You have just entered one of the most unique households in Hollywood, where spirituality is more than just a few wind chimes and an OM symbol on the welcome mat.

When strangers meet me and find out that I live and raise a son with Gary Busey, they immediately assume that I must be crazy, but that couldn't be farther from the truth! I call myself the "Busey Whisperer." After several years in this lifetime (and 31 past lives) with Gary, I have a way of understanding him like no one else. Your time here will likely be as simple and complex as Gary himself. Please have patience with him and know his heart is always in the right place. It will be beneficial if you have a spiritual outlook on life or if you have known Gary in previous lifetimes, as I have. This is an artistic and expressive home and we are psychically, spiritually, and metaphysically connected.

Gary is an Academy Award-nominated actor who has acted in 147 films, and is also famous for surviving a near-fatal motorcycle accident, two brain surgeries, and cancer in his face. Because he has crossed over, Gary lives with knowledge from the other side that has changed how he views life. Prayer, meditation, and music are important parts of his daily life. When he is not working, he doesn't live by clocks and takes a very creative, spiritual, and childlike approach to life. As a result of my experience as a hypnotherapist, I understand how Gary's mind operates and I see his inner, thoughtful, loving, kind and sensitive self. That being said, I have heard others say he is definitely an acquired taste.

Gary and I started dating many years ago, and now we have a beautiful 19-month-old son named Luke Samson Busey. Although we are only engaged, I wear a wedding ring because Gary and I are already married in spirit and the ceremony will be in Sedona, Arizona when the spirit moves us.

Gary and I are inseparable when he's working since I go to the set to make sure things go smoothly for him. I like to think of myself as his interpreter. He recently got hearing aids, but before that he was partially deaf. (Make sure he wears them so you don't have to repeat yourself over and over.) We work well together and our motto is "Living with Love." We don't live by rules, but this is what we stand for.
You will learn a lot from being around Gary. Conventional wisdom, organized religion, and censorship are NOT a part of his psyche. We believe in acting on impulses, which is a total contrast to how we were raised. This is how we have decided to raise our son as well.

Our home is whacky, but I wouldn't say it's wild. Sometimes Gary can make me a little crazy, but I truly do love him to death. Eccentricities aside, Gary is a great father, an incredibly creative and spiritual being, and I know that if you take the time to get to know him and have some patience, you will fall in love with him like I have. You may even adopt some of his "Buseyisms." If you ask him to define FUN, he will tell you that it is "Finally Understanding Nothing," a "Buseyism" he created for me on our first date.

Let go of your long-ingrained beliefs and try to find the sweetness and innocence of my soul mate because it is there. At the same time, I think because his brain filters were altered after he suffered a traumatic brain injury, he has the best BS detector of anyone I've ever met; but beware, he's a stubborn stallion that can't be tamed. You can get him to the water, but chances are he won't drink it unless he wants to.

I wish you a lot of love and blessings…
OUR FAMILY
Luke (19 months) Alectra (17) Jake (40)

I never wanted a baby until Gary and I fell in love. Our son is precocious, yet a little shy with people he doesn't know. Don't worry; he will warm up quickly once he gets to know you. He loves people and is always waving to them. Luke is very much Gary's son in so many ways.

I am a very hands-on mother. When Luke first came into our lives, I was managing him on my own until he became very ill with Kawasaki Disease. After he recovered from that, I realized I needed help. Gary's career was very busy at the time so I hired a nanny. Monica has been with us ever since and she is my sanity-saver! She will be here to help you as well, but I am still very much number one in Luke's life and I do not hand him off to Monica to raise him. She is just an extra set of hands around the house when it all becomes too much for me.


OUR RELATIONSHIP
Although I briefly met Gary decades before, I didn't get to know him until he was interested in my work as a Hypnotherapist. Our platonic friendship grew for some time before it turned romantic. We became exclusive and planned to have a baby. While Gary has been married two other times, I have never been married before and it was never a priority for me to have a family until I met Gary. He changed the way I looked at life. Although there is a 25 year age difference between us, we both believe that love is ageless.

Although we have not been on a date since my birthday, Gary promises to take me on one soon… hopefully sooner than later. Regardless of how many dates we go on, our love transcends conventional stereotypes. Since it's our 32nd lifetime together, I guess you can say we have had a long time to get to know each other extremely well.


HOUSEHOLD ROLES
Lately, Gary has taken on the morning duty with Luke, and we share bedtime duties at night. Other than that, I do pretty much everything else. Thankfully, I do have help from our nanny, Monica. I am not a neat freak at all; in fact, I HATE cleaning! I will do the laundry, but cleaning… forget it! If Monica leaves before doing the dishes, I leave them for her the next day. My worst nightmare would be to end up in a house that required me to clean, especially the toilets! I grew up with a housekeeper and it was never a responsibility of mine.

My parents love to come by and visit or help.
DAILY ROUTINE
7 – 8 AM: When Luke wakes, Gary changes his diaper, dresses him then Gary feeds Luke breakfast. 9 AM: Play / Learn time with Luke.

10 AM: Feed Luke a cooked tomato and whole wheat crackers.

10:15 - 12PM: Take Luke on a walk (Luke loves to be outdoors) or to the park.

12:00: Give Luke a small lunch: maybe whole wheat pasta, or a sweet potato, or a cheese/turkey sandwich.

12:30 or 1 PM: Give Luke his bottle and put him to bed for "NAP NAP SHUSHI." Luke hopefully takes a 2-4 hour nap and this is my "me time."

4 PM: Feed Luke a snack of either fruits or vegetables.

4:30 – 6:00 PM: Play / Learn time with Luke

6:00 PM: Give Luke a bath.

6:30 – 7:00 PM: Feed Luke dinner in front of the TV (let him watch "Sprout Channel," "Classical Baby" or "Baby Einstein").

7:00 – 8:00 PM: "Boys' Club" with father and son

8 PM: "NIGHT NIGHT SHUSHI" Gary and I get Luke ready for bed, and Gary plays a blanket game with Luke then says the goodnight prayer before putting him to bed with his last bottle.

8:30 PM: Gary and I will eat dinner, which will most likely consist of food that Monica has already prepared. 10:30 PM: I go to bed.

Gary is on morning duty. He gets up early to take care of Luke and I get a little extra sleep. More recently, Gary has required a little more coaxing and reminders that Luke is up and requires tending to.

Luke loves to play and get dirty. On a typical day, I will take him to the tennis courts, but he also loves a simple activity of watching the cars go by. He lives to be outdoors. Some days, I take him for walks or to the beach. We encourage Luke to be creative and in no way squash his impulses. We don't want him to have to edit himself in any way. He loves watching the Rock and Roll Hall of Fame on television and is very musical.

"Boys' Club" is for Gary and Luke only; no mothers allowed, although Gary said that you can join them. They watch ball games together and that is when I get to spend a little more time alone. They share a nice bond and there are certain activities, such as brushing Luke's teeth that he is more willing to allow Gary to do than me.

At night, Gary tucks Luke into his crib and says an evening prayer. He never says the same prayer twice; he just improvises. I have to leave the room at this time because if I stay too long, the baby gets too sad and cries for me to stay.


COOKING AND EATING HABITS
My feeling toward cooking is equal to that of cleaning. It's a pet peeve of mine. Luke's eating schedule was always strict, but it became even more so after his health scare. I have to cook for Gary as well because if left to his own devices, he just wouldn't think to eat.

The baby needs a lot of fruits and vegetables, so I make it a point to feed him every few hours. I also give him chicken, pasta, sandwiches, and his bottle. I am trying to wean him off the nipple and get him to use a sippy cup.

We never eat in the kitchen. In fact, Luke's high chair is in the living room.
APPEARANCE and LIFESTYLE
Gary dresses very relaxed every day and I am far from a diva. I will go to Hollywood events when I have to, but I don't "do lunch" with the girls or have any high maintenance beauty rituals.

On most nights I am in bed by 10 or 10:30 PM. I like to wake up in the morning, feeling fresh, and go for a walk. Gary gives his work 100%, but when he is home, he is totally relaxed in a creative way. When Gary isn't watching TV or spending time with Luke, he prays, sings, plays the guitar, writes music or poems, and drums. Part of his daily routine is meditating by the water with candles.


POLITICS, RELIGION and VALUES
I studied at The Hypnosis Motivation Institute and so my experience as a healer has very much shaped who I am as a person and how I view the world. This, combined with Gary's spiritual path, is what bonds us like a hand in a glove. We both live by the credo of do unto others as you'd have done unto you.

I am Jewish and Gary is Christian. We are both more spiritual in nature; however, we plan to expose our son to both religions and let him choose his own spiritual path. I feel grateful that I am not involved in organized religion. I don't feel that people are sinners in any way and I certainly don't believe God thinks his children are sinners. I also don't believe in Hell, and I have a hard time processing the hypocrisy that is oftentimes associated with extremists of organized religion. One of my biggest pet peeves is people who are closed minded and self-righteous.

Hypnotherapy is all about taking a nonjudgmental approach to life. I have helped many people over the years with addictions to drugs and cigarettes, and even anxiety disorders.

Since Luke's illness, I have started working with Cedars Sinai and I am in the process of creating the Luke Busey Kawasaki Disease Research Fund to help bring awareness about the disease and develop new treatments for it.

I am not as nearly into politics and the news as Gary is. In fact I never watch the news because I don't like to feed my mind or my consciousness with negativity so the only current events that I will read might have to do with animals or a positive topic near to my heart. Gary reads the newspaper every morning and habitually watches his news programs. I grew up in the Beauty Supply Business so I have a very strong love for the homosexual community. I just love gays, and I strongly support gay marriage.
EXPECTATIONS
Gary wanted to be involved in Wife Swap because he is interested in learning another point of view and acclimating to it. He accepts balancing out a difference in opinion as challenge. He is not confrontational and hopes to learn from the experience.

I hope to learn to let go of control in regard to my relationship with my son. Since he has been born, every OCD bone in my body kicked in and I obsess on his safety.

Gary and I are both a mixed bag of nuts. You will find him to be smart, serious, funny, and very intense. There is tremendous potential for you to walk away from this experience with a heightened sense of enlightenment that you never thought possible from Gary Busey. Be patient. Open your heart.

~ With unconditional love,
Steffanie Sampson