Household Manual for Gilbert Gottfried's family.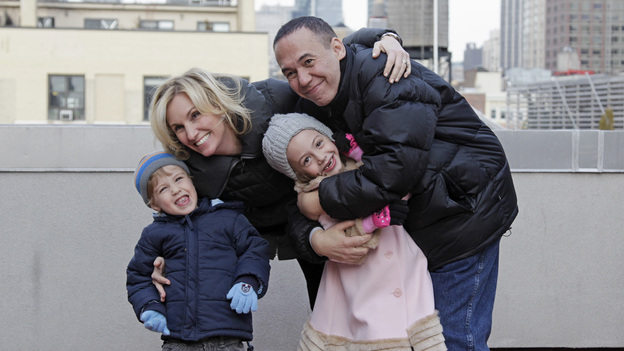 Wondering how Gilbert's family operates? Take a look at the household manual Dara Gottfried prepared below to find out.
WELCOME TO OUR HOME
Welcome to the Gottfried home! Our family is very practical, we don't over indulge, Gilbert in particular is extremely thrifty. We live in a loft style apartment in Chelsea in bustling Manhattan. We love the city and all it has to offer. And it's easy for Gilbert to walk everywhere... which he does!

Gilbert is, to put it nicely, quite frugal. We don't believe in unnecessary extravagance. If you met Gilbert on the street, you would think he was living on food stamps based on his constant search for the ultimate freebie or amazing deal.

We have two kids, Lily (5 1/2 ) and Max (3 1/2 ). It is important that we teach them to appreciate what they have and focus on family and relationships over material things. Gilbert has been hired by a few toy companies in the past, so many of their toys were free gifts from them. He also loves to surprise them with small gifts from the 99 cent store.
HOUSEHOLD ROLES
Gilbert and I are a very unlikely pair, but we work perfectly together. We met in 1997, at a Grammy party. I was there for work and he was there for the free food. We were in line at the buffet and I dropped some food on the table. He picked it up and put it on his plate. Yes, he put it on his plate. An odd start to a slow moving romance, but he won me over with his sweet nature, unmatched intellect, and ability to keep me laughing.

I worked in the music industry for about 17 years. Going from a high power, high stress job, to a mother of two has been an amazing switch. I love it. Kids are the best. I am constantly putting my organizational skills and inability to sit still to good use. Between being a mom, volunteering, throwing benefits, and acting as Gilbert's manager, I have very little downtime.

Gilbert travels quite a bit for work. He is shy and doesn't like to pay for things he deems unnecessary, so anything I can handle for him, I do. I book his travel, go with him to gigs, and work with publicists and agents.

He's the smartest man I know. He's not just a comic genius, but our very own walking encyclopedia. He knows all there is to know about history and movies... specifically old horror films.

Gilbert is a very private person. We moved in together after 10 years and I was still meeting friends of his that didn't even realize he was in a relationship. We have now been together for 16 beautiful years. As private as Gilbert is, I am extremely social. I have lots of girlfriends and like to go out with them when I can.

Even though we couldn't be more different, we very rarely argue. When you're dealing with any type of genius, they are going to have a few quirks.

Neither of us are very jealous people. I've never felt the need to be too concerned about him picking up a new lady at the 99 cent store.
OUR KIDS
Lily is a girly girl. She's five and a half and just adorable. She looks a lot like Gilbert. She loves princesses, Barbies, dressing up and watching movies. If I would let her, she would sit and watch movies all day long. I don't like that, but she does have the ability to focus for a long time. She started taking piano lessons and really enjoys them. She practices daily and just learned to play "Twinkle Twinkle Little Star"

She's just starting to read and loves it. Other than that, she's very social and likes to hang out with her little girlfriends. She just learned how to use the phone and loves calling her Nana, Grandpa and best girlfriends. The conversations are just adorable.

Max is three and a half and is a mini Gilbert, although people say he also looks like me. He is extremely funny and loves superheroes and dancing. He has amazing rhythm. He will follow Gilbert around and copy everything he does. They love to watch old monster movies together. Gilbert will do the voices and Max will mimic him.

Gilbert is an amazing father and I love nothing more than watching him get down on the floor and play with the kids for hours on end -- which he does! I'm the more structured of the family, so I'll often have to give him direction to get us out the door or off to bed in time. Otherwise, Gilbert would let the kids stay up all night with him. Sometimes I feel like I'm taking care of three kids!
COOKING AND EATING HABITS
I try to cook. The kids are a bit fussy with their eating habits, but honestly, I can't blame them. I am not very comfortable in the kitchen and consider myself a terrible cook. Often times I'll try to make a meal and no one will eat it, so Gilbert will end up just making a peanut butter milk shake for dinner.

Make a note, despite Gilbert's peanut butter shakes, Max is allergic to peanuts.

One of Gilbert's many talents is knowing where he can get a free meal around town. I once took the kids on a trip for 10 days and while we were away, he walked half way across the city in the rain to get a free slice a pizza from a guy.

Also, our neighbor is a huge wine collector. Sometimes Gilbert calls them and asks them to put a glass of wine in the elevator and send it up. We have one elevator in the building that opens into all the apartments.

We have our own bottles (mostly gifts), but Gilbert likes to get FREE wine from them.

BTW, Gilbert didn't drink the first 10 years we were together. He really doesn't like the taste of wine, but will drink ONE and only ONE glass of ONLY red because it's supposedly good for your heart. He won't drink any other alcohol. And, when he drinks RED wine, he downs it in less than 10 seconds. Doesn't matter how good it is.
CLEANING & CHORES
Gilbert does the laundry every night and then leaves it on the couch because he doesn't know how to fold clothes. He will also pack Lily's lunch every night for the next day. Turkey sandwiches, PB&J... typical kid lunch stuff.

Gilbert has our family stocked on every toiletry you could imagine from all his hotel trips. He never comes home without a suitcase filled with little shampoos and lotions.

When we moved in together, I got him to get rid of "some" of the boxes of free toiletries he'd collected over the years... but it just about killed him! I felt terrible, but it had to be done.

Friendly tip – if he offers you toothpaste make sure you test it first. Some of it is from the 80s and he's convinced that the fact that it has turned to liquid doesn't mean it has gone bad.
APPEARANCES
Gilbert has no interest in fashion. He pretty much wears the same shirt every day. Unless he's flying, of course. He has a very special shirt for flying. He will only shop somewhere if there is a sale going on. Every once in a while I'll buy him a nice shirt from a higher end store.

I like nice things and like to look presentable, but I try not to spend too much money on clothes. I'm 100 times more put together than Gilbert, but I still have no problem running out in a baseball hat and don't need a full face of makeup to pick up my kids from school.
DAILY ROUTINE
I'm up around 6:30 or 7 a.m. every day with Max and then I'll wake up Lily. I'll make breakfast, normally cereal for Lily and store bought pancakes for Max, then get the kids dressed and ready for the day. At 8:15 a.m. I'll leave to take Lily to school, she needs to be there between 8:30 and 8:40 a.m. From there I'll take Max, he needs to be at school by 9am.

I usually get home around 9:15 a.m. and will find Gilbert in his bathrobe on the couch watching movies and drinking coffee. I make coffee every morning.

While the kids are at school, I'll pay the bills, deal with any of Gilbert's business that needs my attention and then move on to whatever volunteer work I have going on at the moment.

Once a week, Max has soccer at 2:30 p.m. He just started on this indoor kids league and it is adorable to watch. Lily takes piano and gymnastics lessons.

Gilbert works all over town and doesn't drive. He literally doesn't know how to. He walks everywhere. During the week, he'll visit his sisters or head off to jobs doing voice over or comedy work. I often accompany him for moral support or help with whatever he needs.

No matter where he's headed, you will NEVER catch him in a cab. If the weather is really terrible out, he'll take the bus or the subway. If he's not visiting family or working, he is likely at the 99 cent store. He finds it relaxing to stroll the aisles.

Bedtime begins around 6:00 p.m. I will give them baths and/or showers. From there, if Gilbert is in town, he'll usually take Max and I'll take Lily.

Gilbert will get Max some milk, get him into his PJs and help him brush his teeth. Then he will read him a few stories before he goes to sleep. More often than not, I'll come in and find that they'll have gotten in a tickle fight or will be goofing around for an hour and I'll have to tell the boys it's lights out. Again, it's like I have 3 kids!

Lily and I have our own routine. I'll help her with her homework and then Lily will read to me one of her "just right books". We scratch backs, then arms, then head a little, then legs, then head again. There is a whole ritual and it has to be done in order. Don't worry, she'll keep you in line if you do it wrong! Then we say 3 things that made us happy and one nice thing we did for someone else that day. Oh yeah, then I have to tell her a story about when I was a little girl. After that we adjust the lighting scheme. Lily will tell me "A little lighter, a little darker, a little lighter, a little darker" until it's just right. Then bedtime!

Our loving neighbor recently let us adopt their pet Bella Fish. Lily put him next her bed and she's responsible for feeding him 3x a day.
DISCIPLINE
Our kids are pretty well behaved. We don't see much need for discipline in our house, but if it comes down to it and someone can't seem to follow instructions we'll count to three. If that doesn't work, they are sent to time out. The time out chair is in the foyer and it usually only lasts for 2-3 minutes.
Social Life
I am definitely the more social one. I have a large group of friends that I love spending time with. Gilbert has just a handful of friends.

We don't really have date nights that aren't events that we've been invited to where Gilbert knows there will be a free meal. It would be nice to have a normal date night every now and again, but it's just not Gilbert's style.

For our anniversary I wanted to go see a musical and we stood in line with hundreds of people trying to win free tickets in a lottery. We didn't win, so we didn't go. Then, we walked over to the Comedy Club where he usually performs, went right into the kitchen and got two free glasses of red wine. After that, he did take me out for a romantic dinner, but I picked the restaurant and made the reservation. For dessert, along our walk back home, we stopped at another comedy club he frequents for free coffee and dessert. Gilbert's thriftiness used to bother me, but I've gotten over it. It's just who he is and you can't expect someone to be who they're not. He has a heart of gold and is one of the sweetest and most gentle men I've ever met. He may not have spent a ton of money celebrating our Anniversary, but it didn't matter. We had an adventure. The night wasn't planned out. We walked around the city, holding hands, laughing and enjoying each other's company. That makes me 100x happier than if my husband bought me fancy jewelry. Don't get me wrong, I still like fancy jewelry, but I like holding hands and laughing with my husband a lot more.

Our anniversary is the one night of the year that I insist that we go out on a "date" without it being because there's an event we're invited to or one of Gilbert's gigs. The year before last, I made reservations at one of the top restaurants in the city. Gilbert is uncomfortable with spending the money, but he does it once a year because he knows it's important to me. Anyway, it was a VERY nice restaurant. The couple sitting next to us turned to Gilbert at the end of their meal and jokingly said, "Boy, the food was delicious, but we're stuffed. We're not going to finish our steak. Do you want it?" Well, Gilbert took their comment literally and asked this very fancy restaurant for a To-Go box so he could take home the rest of their steak. The restaurant didn't have to-go boxes since people didn't usually request to take home their leftovers, so they had to devise something for Gilbert to take it home. I was laughing uncontrollably and had to wait outside because I was so embarrassed. But hey, he is who he is and that's why I love him.

Gilbert knows all the tricks of the trade around town for where he can get a free glass of wine or even a free meal. He'll let you know. But for the most part, we stay in and watch movies and play as a family. Gilbert also loves to go on merry-go-rounds but go with caution -- last time we went we couldn't get him off of it!

I hope you enjoy a little "big city" life with my family. But don't expect any "big spenders!" Enjoy and take good care of everyone.

Dara