Household Manual for Kate Gosselin's family.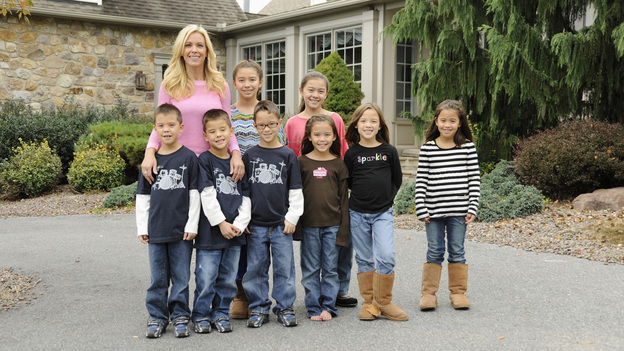 Wondering how Kate's family operates? Take a look at her household manual below to find out.
WELCOME TO OUR HOME
Welcome to Gosselin home... a 20-plus acre 'farm' where the clock is always ticking, the kids are always moving, and a schedule is absolutely necessary. I run a tight ship for my group of eight kids and we love it. It's the only way we can function.

The loves of my life are Cara (12), Mady (12), Alexis (8), Hannah (8), Aaden (8), Collin (8), Leah (8), and Joel (8).

I'm a very private person living a very public life. My kids have spent much of their lives in the spotlight. That being said, we have managed to stay grounded and normal, as you will come to find out.

It's taken a long time but we finally have our routine down pat. And trust me, if you're not exhausted by the end of the day, you're not doing it right. I have very little help around the house and with the kids and I try to do it all myself. I've lost track of how many babysitters can't handle the stress. I often lie awake at night going over all the things I need to do or didn't do, but I try my best and things seem to be working out great around here. There is a lot of noise and commotion here but there is also a lot of love, laughter and teamwork in this home. And my kids will welcome you with open arms.
MY CHILDREN
Obviously, there are eight of them. But they all have very unique and special personalities. Mady and Cara are the oldest and are currently in 6th grade. The 'littles' have just started second grade.

They all go to a very challenging private school. There is lots of homework, especially for Mady and Cara. They don't spend a lot of time watching television and don't do video games. They are very imaginative and creative. They make their own plays and create their own movie trailers.

I don't give my kids a lot of everyday choices, such as seating arrangements or individual meal choices because those types of choices cause fiascos and time consuming drama. However, it is important to me that each child get to develop their own individuality, passions and live their own dreams. For now though, it works best in our home to minimize little choices in order to avoid chaos.

All the kids have specific chores that need to get done. When we're all working together, it's like I have a little army of helpers. Believe it or not, we all enjoy it. The kids thrive on our schedule. (Okay, I thrive on our schedule too!) If you don't stick to it, they will get very loud, very quickly.

Cara and Mady share a bedroom. They are best friends and enjoy hanging out together there. Don't go up there. It's their private space!

The three little girls also share a small bedroom. They squabble about who's stuff is where sometimes but are generally happy about being together in one room. The boys share the final kids bedroom and have the neatest room in the house! I love spending time in their room because its so clutter free and peaceful!

My kids fight as all siblings do..it's just that the number of voices and their need to be heard causes their fights to escalate quickly into out of control situations! Once I get to the bottom of the issue at hand, I try my best to help solve the problem fairly and quickly. As a rule though, I don't get involved in every spat or that's all I'd do all day... and black and white referee stripes don't look particularly good on me! :)
HOUSEHOLD ROLES
As a single mom of eight children, I tend to take on the majority of the household roles. Be prepared to wear many different hats all at the same time. I'm a cook. I'm a housekeeper. I'm a home and property caretaker and manager. I'm a tutor. But most of all, I'm just a mom trying to do her best for eight growing kids. I don't have any full-time help because people tend to get overwhelmed and stressed out. I'm extremely organized and streamlined and like to run my house how I like to run my house. I have lists on top of lists and often stay awake at night going over each and every one.

Mymottois: if I can do it or fix it or haul it myself, I will do it in the most efficient and timely manner.

Whenever she is available, my best friend, Deanna, is a huge help to my kids and me when I'm away. She is very fair and intuitive and knows our schedule and rules like the back of her hand. My kids adore her. She'll be here to support you during your stay with the kids.

Although I tackle most everything around the house, my kids definitely pull their own weight. Knowing what to expect is a comfort to them, and we simply wouldn't get everything accomplished without our routine and our team work approach. They know what to do and when to do it. If you deviate from the plan or things go astray, trust me... they will let you know.
COOKING AND EATING HABITS
One of the ways I show my children love is by cooking for them. I love being in the kitchen and I'm actually finishing up my very own cookbook. This is an all-organic household. We make most everything from scratch, including bread. In fact, I'm already on my third breadmaker. Please don't break it. The kids are very adventurous when it comes to trying new and different foods. Luckily, they have no food allergies and they enjoy eating extremely healthy.

With eight mouths to feed, I have to be very frugal. I'm always clipping coupons and try to be as cost effective as possible. That includes eating our own eggs taken directly from our chickens that we raise right here in our barn.

Going to the grocery store is a task. I don't have an option to simply run to the store for a carton of milk... a carton will only get you so far around here. We buy most everything in bulk and that requires a lot of time and planning to collect and store the large quantities that we need.

Lunch is always a well balanced combination including each and every food group. It typically consists of sandwiches that I prepare the day before, a fruit, a vegetable, a dairy, a 'crunchy', like chips or pretzels, and a dessert. While I'm making breakfast, I'm already thinking about dinner. There is no such thing as just "whipping it up." My grocery list is truly mind-boggling. Just the whole-wheat flour alone for my homemade bread is over 50 lbs.

Eating out is not really something that we do unless we are traveling. It's considered a treat especially when the kids get to choose the restaurant.

I usually plan our whole week's menu in advance. I left you a few suggestions. Hint, hint.... the kids love tacos.
HOUSEHOLD MAINTANENCE and CHORES
Our house has five bedrooms with a bathroom attached to each. Whether it's wiping the table, cleaning the sinks and counters, emptying the dishwasher, feeding the dog, or hanging up coats and putting away shoes, everyone has a part to play. We can't forget about the chicken barn. I must admit, cleaning the chicken barn is disgusting, but we do it together and try to make it fun. And have I forgotten to mention the amount of laundry I do for 8 growing and active children? It piles up fast...

Even if I had the luxury to hire 24/7 help, the work here would never be done. It's a non stop never-ending exhausting cycle.
APPEARANCES
The kids wear a uniform to school. There is a closet on the main floor dedicated just to that. The kids choose their own uniform the night before to help save time in the morning, because trust me, you'll need every second, every morning!

Please don't forget to flat iron all three of the little girls' hair each morning after breakfast! It's important that their hair is neat and presentable.
DAILY ROUTINE - EARLY MORNING
Each morning I get up before the sun does.

At 5:30 a.m. I start preparing breakfast. We're not talking cereal. We're talking the full deal – eggs, pancakes, oatmeal, French toast.

The alarm clock is in the girl's room. At 5:55 a.m. they get up and then they wake up the boys. Hannah will yell down and let me know that everyone is up.

The two oldest, Mady & Cara, wake up on their own at 6:00 a.m. Reminder, please don't go up there, it tends to make them wake up on the wrong side of the bed. They pack their own lunches and choose their own breakfast the night before to avoid the morning arguments of what they will and will not eat. Trust me, it helps.

At 6:03 a.m. the kids start to come downstairs and sit at the table for breakfast. Whoever comes down first puts the icepacks in the lunch boxes. Be prepared, they are very chatty this in the morning. They'll talk about anything from butterflies to airplanes and anything BUT getting dressed and putting socks and shoes on. We're racing that darn clock every day.

At 6:25 a.m. the kids are brushing their teeth at the 'tooth brush sink' in the kitchen. Whoever is done is first with breakfast feeds Shoka, our much loved German shepherd.

Everyone starts to gather by the door around 6:40 a.m. when I yell out, "Time to go out to the BBB." The Big Black Bus. I double-check everything in the house to make sure nothing was left behind. I learned early on to make a seating chart for the school bus. The seating chart is located in the BBB on a ring of index cards. I call out who sits where on the school bus as we arrive at the bus stop. This way we avoid any unnecessary fights so early in the morning. This is only for the little kids.

At 6:50 a.m. we leave for the bus stop. The bus will leave promptly at 7:08 a.m. Under no circumstances can the kids miss the bus. The school is 45 minutes away and this is not an option.


DAILY ROUTINE - LATE MORNING
After the kids are on their way, I sometimes go for a 10-mile run from the bus stop or go home to start my laundry, list of errands and tasks. Whether it's putting a loaf of bread in, doing laundry, checking emails, my work is never done. While the kids are at school, I'm a cooker and a collector. I often feel like a pack mule. I'm always at the grocery store, feed store, or any other store that's on my list. You'll get some serious definition in your arms from lugging so much stuff.

This week, my list includes getting groceries, stocking up on chicken feed, and believe it or not, preparing the barn in order to receive 25 new chickens to our barn. You'll have to be doing all that while prepping dinner for the night and lunch for the next day. Don't forget to thaw the meat.

I'm sorry to tell you, but I never... ever sit down.


DAILY ROUTINE - AFTERNOON
Once dinner is in the oven at 3:30 p.m., I head to the bus stop to pick up the kids by 4 p.m. As soon as everyone walks through the door, they know the routine. Shoes off, change uniforms, wash hands, do chores, pack lunches.

The boys feed the chickens and use walkie-talkies to keep in contact. When the boys are done, it's time for dinner. Please don't forget to wash and store the eggs properly.


DAILY ROUTINE - EVENING
Once everyone is finished eating dinner, and have brushed and rinsed their teeth, it's back to work. There are two chore lists on the fridge. The kids spring into action to complete their chores. One person wipes the table, one person sweeps the floor, one person Windex's the stainless steel, two people clean the basement and family room, and someone feeds the dog. Mady and Cara are on dish and counter duty. It's the boys' job to clean the bathrooms since they're the ones who usually mess them up.

At 6:30 p.m. everyone does their homework. If they don't have homework, it's play time.

At 7:00 p.m. it's time for the littles to get in the shower. This is always a hectic time of day. There is often lots of fighting so be on your toes.

At 7:30 p.m. the six are in bed. Thank goodness. At 8:00 p.m. it's officially lights out for the little kids.

Around the same time, Mady & Cara are finishing up their homework, getting ready for bed, and we hang out together till around 9:30 p.m. They might be watching TV or playing on my iPad, but they have to ask permission first.
DISCIPLINE/RULES
If somebody gets out of hand, the best thing to do is to remove them from the situation via a time out or time spent in their room. They have a long school day so it is not unusual for them to be overtired which sometimes causes over reaction, tears, drama and grouchiness!
SOCIAL LIFE
I'm not the type of girl who lunches. Don't get me wrong, I like to socialize on occasion, but with so many kids my desires are low on the priority list. Once in awhile I go out but it's not often. Any spare time I get I usually spend running. When I travel, I have a babysitter who manages to keep the routine the same.

As you can tell, structure and schedule is the backbone to this family and this household running successfully. My kids are my life and I wouldn't have it any other way. I hope you get the same joy I get every day watching them thrive and grow.

Good luck. Don't forget to count to.... eight! Have a gr8 time! Kate