Household Manual for Kendra Wilkinson's family.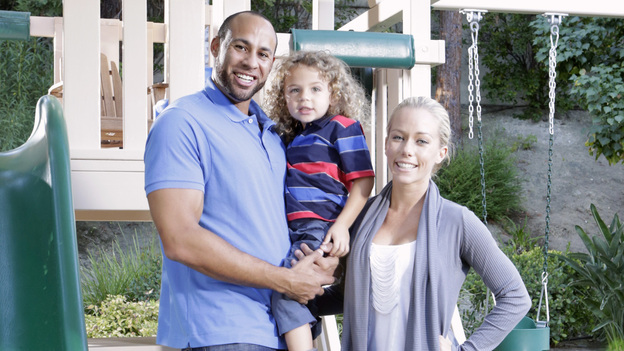 Wondering how Kendra's family operates? Take a look at her household manual below to find out.
WELCOME TO OUR HOME
Welcome to our home… it is much different than living the Playboy Mansion, but still could be considered a bit wild compared to your average household. We believe that life should be fun. We try to avoid filling our days with tedious tasks. We don't like to have too much structure in our lives. We do what we want, when we want.
Our family includes myself, my loving husband Hank, our two-and-a-half year-old son Little Hank and our two dogs, Rascall and Martini. Rosa, our nanny and housekeeper is with us every day but does not live in the house. With Rosa taking care of the house and Little Hank, I'm left with a lot of free time to live my life the way that I want to.
In general, I don't plan. I just live. When I do have a schedule, I'm notoriously late. I believe that tight schedules are a waste of time. In our house, we use our extra energy to go out and have fun with our friends.
I'm a stay at home mom that's rarely home. I love going out with my friends and partying any chance I get. It's a pretty fantastic life.
HOUSEHOLD ROLES
My husband really believes that a happy wife makes for a happy life. He treats me like a princess and caters to my every need. He cooks, runs my bathwater and loves giving me massages. He's pretty much the perfect man and is a huge romantic. He's also a great dad to Little Hank.

My role is to be a princess and enjoy life. Our nanny, Rosa, takes care of everything else. She cooks, cleans, does the grocery shopping and takes care of Little Hank. I don't know what we'd do without her.

My only daily responsibility is to take Little Hank to and from preschool, but sometimes Rosa or Hank will take care of it for me. Outside of those tasks, I spend most of my time doing physical activities and hanging out with my friends.
OUR KIDS
Little Hank needs a lot of attention, but not too much. Even though he's only two- and-a-half, we like to include him in all our decisions. If we want to go out on a date ,we ask his permission -- but he always says yes.

He is a great little human being. We try to teach him to be respectful, but he's still young. Every once in a while, he will throw a bit of a tantrum and can be shy from time to time -- but overall, he is an angel.

We've tried to raise Little Hank to be able to figure things out on his own. He can pick out his own clothes and is very self-sufficient. He knows what he wants and what he doesn't want. When he wants something, he'll ask -- in his own way.

Hank is definitely a more hands-on parent. Hank and Little Hank read and pray together every night. Then, before bed, we tickle Little Hank to sleep.
COOKING AND EATING HABITS
We eat very healthy. I eat salad all day long. Rosa cooks a lot and so does my husband, Hank. He's a great cook. I don't really like cooking, so I don't.

If we're having people over to the house, Hank will barbeque. He knows his way around a grill.

We also love going out to eat.
CLEANING
Rosa takes care of all the cleaning. I don't have to lift a finger around the house.

Little Hank is too young for chores.
APPEARANCES
I'm a tomboy at heart. I'm very active and I'm not one of those girls that get dressed up for the gym. I do love to get dolled up to go out with my girlfriends, but during the day, I'm more of a Hollywood bum.

If I'm going to a red carpet event, I have a team who comes over to do my hair and makeup and a stylist who will bring over wardrobe options for the event.
DAILY ROUTINE
I really don't like to schedule anything. I just go with the flow. I spend most of my day doing physical activities, but nothing is set in stone. My agent will tell me if I need to be somewhere.

I'm not much of a morning person, but my husband Hank is. He gets up every day at 6am to go to work and will be there until about 2:30pm. Our nanny, Rosa, meets Hank at the door and he hands off the baby monitor, then Rosa waits for Little Hank to wake up. She takes over as soon as Hank leaves.

I'll slowly wake up at 7:30am (or later, depending on how late I've been out the night before). I take Little Hank to preschool at 8am then I begin my very physically active day. I'll often go to Hank's work, Athletic Gaines, to work out. It's not rare for me to be training next to Chuck Liddel or T.O. It is a world-renowned athletic facility where a lot of professional athletes come to train. Some people refer to me as a "husband stalker." I'm around the gym quite often.

I find lots of ways to burn off my extra energy; kickboxing, softball, working it on the dance pole at my house or playing softball with my friends. I get frequent massages to relieve stress and keep up with my body -- although I believe that sex is the best way to relieve stress.

Little Hank doesn't have a schedule either. When he's tired, he sleeps. When he's hungry, he eats. We have food prepared, but we don't force him to eat.

My entire day is filled with fun. Our full-time nanny takes care of everything -- the cooking, the cleaning, grocery shopping, etc. The only thing I really need to do is pick up Little Hank from preschool at 3:30pm. Then, Little Hank and I hang out at the house.

Little Hank usually gets tired around 8pm. Once he's asleep, the real fun begins.

I love going out on the town with my wild and crazy friends, usually Jessica Hall and Kristen Renton. We make a scene wherever we end up.
DISCIPLINE
We don't really have any rules for Little Hank, for the most part he's well-behaved. Our only rule is that he cannot be a bully -- no matter what.

We don't really watch TV. We lead by example and believe that he should have an active life. He is allowed to watch one cartoon before he goes to sleep.
Social Life
I spend a lot of time with my friends. It's very important to me to go out and have fun. We go to the hottest clubs, concerts and nice dinners on a regular basis. We live very social lives and I wouldn't have it any other way.

Be prepared for a hectic -- but really fun -- week! I hope you're not the type of person who lives by a schedule -- because there are none here. You'll learn to love it!

Relax and have a drink on me!

Kendra