Household Manual for Mark McGrath's family.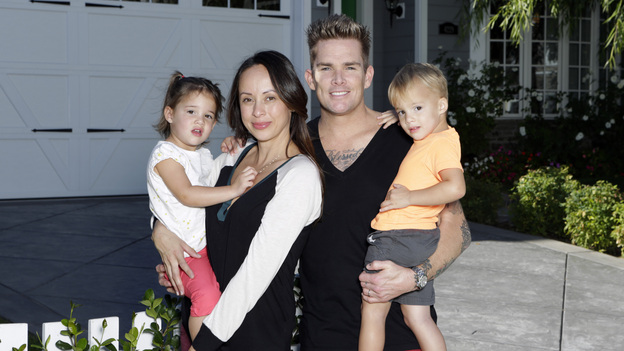 Wondering how Mark's family operates? Take a look at his household manual below to find out.
WELCOME TO OUR HOME
You have just arrived at the loudest home in all of the San Fernando Valley. It's the home of my musician husband, Mark McGrath and I! The noise comes from the several Latinas sharing one roof but also from Mark, who writing his first solo album without his Sugar Ray band mates. The primary reason for all of the commotion is our two and half year old twins, Lydon and Hartley. Around the house you'll hear our bickering housekeeper/ nanny sisters, Lorena and Iris, my very opinionated Panamanian mother and my Gringo father. Finally, we have an eleven-year-old dog, a King Charles Cavalier named Chopper who barks a lot because he is deaf.

Good luck getting a word in edgewise, a nap, or even some privacy in this household. Every Morning there's an alarm clock hanging from the corner of my new husband's bed.... Our fraternal twins... Lydon , our son and Hartley, our daughter. They're up at 6:30AM and that's when the zoo that is our life opens for business. The morning is a series of dancing, jumping, screaming and feeding. Their school starts at 9AM, and if we're lucky we drop them off by 8:30AM so we can get an early start on our day. If he's not on the road, Mark does his daily routine of going to the gym, talking on the phone with his manager, taking meetings with his agent or writing songs on his guitar for his solo record . As for me, I LOVE to have my mornings for "ME" time: meditation, gym or having breakfast with my girlfriends. Most of my day however is spent running what feels like a million errands or being the peace maker between our housekeeper and nanny who are either fighting or joking around too much. My parents "Bill & Brenda" are retired and live with us part-time to be closer to their grandchildren. They come and go as they please. For instance, my Mom goes to the gym, chats with the neighbors, or meddles in our business. Don't be surprised if she clips out an article about how to improve your sex life and hands it to you while you're bringing in bulk toilet paper from the local discount warehouse.

Monday –Friday I pick up Lydon & Hartley from school at 3PM. At 3:30 they have swim lessons with Coach "Roc" who takes the kids for a new age, positive energy-focused aqua lesson in our pool. Meanwhile, Iris, Lorena and myself get the house in order for the 3 next half of the day. I believe in being one step ahead of the game especially when you have twins.

A quick note about my husband, and this is no joke: He is a complete "Helicopter Dad" and a huge worrier. When he is not hovering over our kids, he is hovering over you. He likes to make sure you changed the diaper right, put enough diaper rash cream on, washed their hands or that the water in their bath is not too hot. The list is endless. Just nod and smile.

We've been together eighteen years and just recently got married. What's the secret to our success? Therapy! And Afternoon dates! If you get a chance, see if he'll take you to a nice lunch. Make sure you say "NICE" though because he has been known to take me out to the mall to have his version of a nice lunch at Hot Dog on a Stick. My husband is my soul mate and the love of my life. There's no one I'd rather hang out with. While the kids are at school, we like to catch up and spend quality time together during the day because we are way too tired to go out at night.

One thing that is a little embarrassing (before kids we said we'd never do this) is that Mark and I recently starting sleeping in separate bedrooms. Lydon, since he was born has never been a good sleeper and now that he is no longer in a crib , he has decided that he needs a sleeping partner, so I've started sleeping in the guest room with him. I always try to end up back in bed room with Mark by morning time but that never seems to happen these days.

I know it seems like chaos and a lot of work, but my family is everything to me! A great mind once said, "Someday, when my life has passed me by, I lay around and wonder why you were always there for me." I want our kids to remember that about us.
HOUSEHOLD ROLES
Mark lived the typical rock and roll lifestyle up until we had kids. We had fabulous house parties in our old home in the Hollywood Hills. It also wasn't out of the norm for Mark to come home in the early morning hours- around the same time the kids get up now. Once the twins came along we knew that the steep hills and blind spots along the road were way too dangerous for tandem strollers. That's when we decided to move to the family-friendly suburbs of Studio City to be grown ups.

I always knew Mark would be an amazing father but I had NO IDEA he would become such a safety maniac! He micro-manages every aspect of the kids' lives and is constantly thinking about the most neurotic, worst-case scenario. If he had it his way, they would probably be bubble-wrapped and wearing helmets all day.

I am the "cruise director" of our home, constantly managing every aspect of our home as well as everyone's schedule including the dog.
OUR KIDS
Our kids are hysterical, entertainers, and very LOUD. Hartley loves ballet. She is constantly in a tutu and would spend all day in dance class if she could. She also loves a sip of coffee in the morning. Lydon is strong-willed. He can read people and knows how to get his way. Both are exceptionally skilled at getting what they want, when they want it.

With twins, you have to keep them on the same schedule with meals, naps, and activities or it's a "wrap for your life".
COOKING AND EATING HABITS
Basically, our kids are not real big fans of breakfast. I try and feed them more traditional breakfast foods like cereal, waffles or pancakes- whatever is quick so they have food in their bellies. Mark is fine with giving the kids pickles and cheese sticks for breakfast.

The kids eat dinner every day at 5:30PM. We love to barbeque for dinner. My dad mans the grill when he wakes up from his daily nap. If you're lucky, my mom will cook something AMAZING and Panamanian. We are also known to have Fast Food Fridays.
CLEANING
Meet Iris the housekeeper and Lorena the nanny. They are hysterical and stressful at the same time. Iris is Lorena's little sister. She's very much the prankster. Anytime Lorena cleans something, Iris make sure the kids play in that room so that it's a disaster again. When they fight, it's like a Telenovela, especially if my mom gets involved. Mark is of no help in this department because he speaks no Spanish. He is also a very smart man and knows to stay away from angry Latinas. Even though I have full-time help, I handle all the laundry and ironing and I LOVE to organize.
APPEARANCES
Mark is from Newport Beach and still dresses like a teen-aged surfer. I'm pretty casual at this point, but still enjoy the finer things in life. I can get a nice look put together if I know I'm going somewhere special with Mark. Our kids are known to be stylish but you'll never see them in a pair of Gucci's shoes. They like to be comfy and have taken on Marks semi-chic, OC style—when they're not in tutus.
DAILY ROUTINE
The kids get up at 6:30AM. As soon as they do, they go to Mark's room to watch some cartoons and begin jumping on the bed and causing a riot. Breakfast and picking out clothes is right after that. My mom helps make their lunches and prepares breakfast.

We drop the twins off for school between 8:30AM and 9:00AM. I try to use my days for errands or daytime dates with Mark, depending on his songwriting schedule.

I pick up the kids at 3 PM and swim practice is at 3:30PM. Dinner is served promptly at 5:30PM. While I bathe the kids at 6:30PM, Mark takes Chopper on a walk. I like having Mark out of the house at this time because I don't need anymore added stress. It is already hard enough trying to get 2 toddlers bathed and in bed on time. After I've laid in bed with Lydon until he falls asleep, I come down and enjoy a glass of wine with my husband or mom. By then, we are ALL exhausted.
DISCIPLINE
We don't really have any rules for Little Hank, for the most part he's well-behaved. Our only rule is that he cannot be a bully -- no matter what.

We don't really watch TV. We lead by example and believe that he should have an active life. He is allowed to watch one cartoon before he goes to sleep.
OUR RELATIONSHIP
Mark used to think I was not able to hold my weight in the relationship and didn't have his same intense drive or passion. But after a few mini vacations with my girlfriends, leaving him alone with the kids and his most recent tour, things have started to change. I think he now gets how difficult it is to be a mom. Still, my biggest gripe is the overprotective dad stuff. It's sometimes uncomfortable and undermining. I wish the Helicopter Dad would come in for a landing, but you know him, he just wants to Fly. The key to life in my house is always choosing love (and your battles).

Even as dysfunctional as we might sound to you, this relationship is all about finding those beautiful moments of joy in the little things. It can be pretty remarkable. For example, we were on a plane last week and Mark was freaking out about the kids hyperactivity. He couldn't calm down and it was driving me crazy. I grabbed my Ipad and noticed that I had an email from him telling me: "I'm sitting here on the plane watching you and falling more in love with you...you are the best Mother ever...I love you!" Eighteen years after our first date, I have the children, husband and home of my dreams. I can't wait to show them off to you.