Household Manual for Mick Foley's family.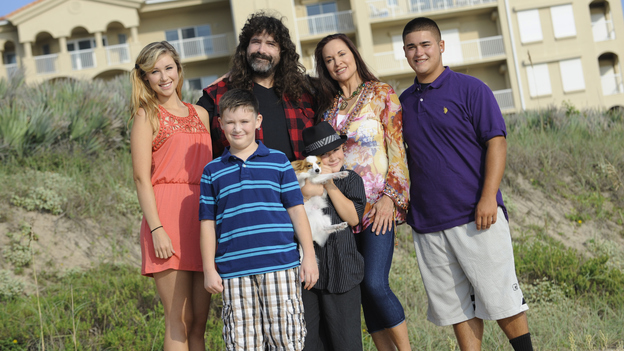 Wondering how Mick's family operates? Take a look at his wife's household manual below to find out.
WELCOME TO OUR HOME
Get ready for a wild week of smack downs in sunny central Florida! What is it like to be the wife of wrestling legend Mick Foley a.k.a "Mankind?" He is as complicated as the surreal world of professional wrestling itself. On the outside, you see an intimidating character; but in reality, it is my husband's pure honesty and steadfast focus that have made him a three-time WWE Champion and five-time New York Times best-selling author.

Over the course of his career, Mick has given life to "Cactus Jack," "Mankind," and "Dude Love." If you're not familiar with these characters all you need to know is they are the most gruesome, bloody, and sadistic creatures ever created!

After years of inflicting great pain on himself and his opponents, he has lost one ear, two teeth, and done irreparable damage to his back and knees. He has also had several head injuries. Every ounce of blood he shed in the ring was his own and he proudly wears his battle scars on his body in a way that most celebrities hang their career memorabilia on the wall.

Underneath all that hair and wrinkled shirt, you will find a gentle giant with a huge heart. Given my husband's career you may be surprised to find that I am a former high fashion model who was under contract with one of the biggest agencies in NYC. I was also one of the Hawaiian Tropic bikini girls back in the day. That said, I really can't stand the male model "pretty boy" types who spend more time getting ready then I do. That is why Mick won this former model's heart over twenty years ago and together we have created the best characters of all, our four children! Add an untrained tiny Papillion puppy named Randall to the mix and that is when things get interesting.

Finding alone time isn't as easy as it used to be. When Mick tries to stumble into bed, he might find any number of our children already asleep there. We are one big, loving, and dysfunctional family.

Mick is on the road most of the year, wrestling, volunteering and working on his new career as a stand-up comedian. Because Mick is away at work a lot of the time, I run the house. This is becoming too much for me to handle and is really damaging our relationship. I hope this experience will help improve our romantic relationship and bring our family closer together.

While we may not share the household responsibilities, we do share the common goal of wanting to raise happy, healthy children. I'm sure you will enjoy spending time with our family. The Foley household does not hold back on life. So get ready to let your inner wrestler out and join in on the happy chaos that is the Foley Family!
OUR FAMILY
Dewey (19), Noelle (17), Mickey (10), Hughie (8)

Because this is a wrestling family, allow me to introduce them in proper wrestling form.

First entering the ring is my oldest Dewey "The Dominator." Weighing in at 201 lbs. he is the junior heavy weight champion of the family.

Dewey (19) is a sophomore in college in Stony Brook, New York and is presently a camp counselor at a prep school in Long Island. He's a real ham! I would describe my eldest son as mature, reliable, short-tempered guy who gets frustrated quickly. He is growing up, though, and learning to be more independent now that he is away at college. Dewey has had a girlfriend for the last two and a half years; she is lovely. I miss having him around so I look forward to moving back to Long Island with the family. We definitely have unique bond and he is the most similar to his mom.

Next on the roster is the lovely and beautiful diva daughter "No Mercy Noelle." Noelle (17) is our stunning daughter with aspirations of following in my footsteps as a model; she is the total package. We are very close and both love to go shopping for clothes, watching a movie in bed until we fall asleep, and most of all, she shares my love for dancing. She really is a good girl and I never had to deal with any of the teen angst years that many mothers go through, which is pretty amazing since she is about to go into her senior year at high school. Besides her beauty, personality and brains she is a wonderful genuine person. We are best friends and I love our relationship.

Now entering the ring is "The Mighty Mickey" weighing in at 112 lbs. At 10 years of age he is a force to be reckoned with! Mickey is our gentle spirit son who sees the world from different perspective then most. He is a dreamer, has some imagination and sees the good in people. He is especially moved when he see's a child with a disability or an illness. I believe Mickey has a god given heart of gold to help people who are not as fortunate as we are. Mickey really loves his mom. How do I know? Well he tells me twenty to thirty times a day and insists on sleeping in my room almost every night (along with the rest of my kids) It feels great to be loved so much by my children!

Our final superstar is "High Flying Hughie." At 8 Years of age and weighing in at 83 lbs he is often leaping off of every piece of furniture in the house. I would describe him as "Mr. Personality." Inquisitive, opinionated, honest, and sweet! When it comes to wrestling, he is definitely the most aggressive of anyone in the family, including my husband. I thought I had mastered everything about toddlers but boy was I wrong. He was very difficult in his early years but I discovered all he needed was his autonomy. He is very bright, witty, and painfully honest. So watch out I think he will be your most challenging.


OUR RELATIONSHIP
I met Mick after my "wild woman" days and during a very anti-social period in my life. He was handing out flyers for a wrestling show in Long Island and I needed to be coerced into going. Someone at the show introduced me to "Cactus Jack," but I didn't know who he was. I turned around and there was this 280-pound man, pigeon-toed like a timid six-year-old boy. I instantly noticed Mick's strong physique and I was captivated by his sweet, gentle eyes. I ended up taking his number, but I waited a week to call him.

I would definitely describe our relationship as a whirlwind romance that heated up very quickly. Mick and I both had very separate plans to leave Long Island and pursue other goals in our lives, but soon after our first date, we both ended up dismissing our commitment issues and moving in together. We lived in a tiny apartment with a mattress on the floor that took up the entire bedroom and ate on the ironing board. We were poor, but we were happy.

Within less than a year, we had our first son and worked together to build Mick's wrestling career. I didn't like the people he had surrounded himself with, but I saw a tremendous amount of potential in him. I gave him confidence and helped him develop his character and gear. Mick got his big break in 1991.

The spark is still there, but with four kids, I guess you could say it's a little dusty. We are getting older, though, and life is short so we would like to find more time to bring back date nights. We used to enjoy going to a movie or a little Japanese restaurant. I think we would both love to go back in time, but we love our children and the chaos they bring so we would not change a thing about our family or Mick's career. He puts a lot of his heart and soul into his work, so there are times when it's hard to even have a conversation with him. Mick always tells me how my eyes light up when I dance; yet, he has only taken me dancing once in twenty years. It's high time he put the effort forth to make me feel special!
HOUSEHOLD ROLES
I am solely responsible for running the household and caring for the kids. Mick is on the road approximately 150 days out of the year and after years of intense wrestling, he is considerably limited because of his injuries. When Mick does come home, he is a very loving, passionate and caring father, but it tends to throw a monkey wrench in my whole system. It's a tricky juggling act at best, so it doesn't take much to throw everything off!

I am hoping that by taking part in this swap that it will be a real eye-opener for him and the kids. I do it all! It would even be nice if the kids respected and appreciated all that I do. I feel like the family maid on most days, but, at the same time, I want them to enjoy being young so I don't make anyone help.
CHORES
I am just starting to get the kids to help out by bribing them with a small allowance. Hughie gets fifty cents per day for walking the dog. I am working them up to making their own beds and taking the garbage out. The daily tasks are done by me. From picking up wet towels left all over the house, to doing the laundry. I get two hours of help per day from a cleaning woman, but the house is already a mess before she leaves. It's a never-ending task to keep up with. I have very active kids so try not to trip over their toy machine guns, musical instruments, or wrestling costumes. No one picks up after themselves.
COOKING AND EATING HABITS
First and foremost, you must know that Hughie has life-threatening food allergies to peanuts, tree nuts, and seeds. Be careful of foods with nut flavoring as well. There is EpiPen and Benadryl in the house in case of emergency. Luckily, we haven't had to use it because we are very careful. Always read the ingredients on packages.

I hope you like to cook because I make a different meal for everyone in the house based on what they want. Growing up, I hated the rule that if you didn't like what was for dinner, you didn't eat. I never want my kids to experience that. Hughie likes steak and a vegetable, while Mickey loves breaded chicken and corn or tofu and spaghetti. We try to eat organic, but my husband is a junk food binger, especially late at night.

Be advised that, for some unknown reason, dinner is the most stressful time of the day in the Foley household. That's when things fall apart.
APPEARANCES
Mick will go down in history as the world's most thrifty and bling-less person in and out of the ring and never was one for the fast lane! What you see is NOT what you get. When I met him, it was the end of my successful modeling career in New York City and he was this rumpled, unkempt guy without a fashion care in the world. As a matter of fact, he still is that same guy today. People take one look at him with his face mostly covered in hair, missing teeth, wrinkled T-shirt, incorrectly buttoned shirt and sweatpants and run in the other direction. But after just a couple of sentences out of Mick's mouth, they're pleasantly surprised by how kind, intelligent, charming, funny, and peaceful he actually is. He often jokes that his whole life has been about exceeding people's low expectations of him.

My daughter and I have tried to talk him into getting a facial, but he isn't having it. I will say that he does clean up well when he needs to go to a professional event that calls for it. But leave him to his own devices and he will go out in public wearing a pajama top or a Hawaiian shirt. He has said, "Some bodies weren't meant to wear slacks." He is the antithesis of style, which, in terms of fashion, has always made us an oddball pairing. But it was his heart that I fell in love with! Sure, I would love to give him a make-over, but I would be turned off by a man who takes more time to get ready than I do. It's just not normal, in my opinion.

I still love to go clothes shopping with my daughter, but I don't have the time to spend on any elaborate, weekly beauty rituals. I have not gotten my hair done in three years and I can't be bothered to get a manicure since it'll just chip from cleaning up after the kids. I would love a girls' day at the spa with massages and pedicures, but it is not a priority. I don't demand that kind of pampering and it doesn't fit into my busy lifestyle with all the commotion that being a stay-at-home-Mom can bring on any given day.

My kids always look good, except when I leave them in their father's care. I will come home to happy and healthy children, but they're a mess, wearing wrinkled clothes with ice cream stains.
DAILY ROUTINE
Hughie gets up first, around 7 AM in the summer. He will feed himself and watch TV, but he likes to come and get me up, too. Mickey is up next and needs breakfast made for him. I will make him pancakes, waffles, eggs with cheese or organic cereal.

At this part of the day, our new puppy Randal is the center of attention. He gets lots of hugs and kisses, but he also needs some cleaning up after. You're on pee and poop patrol since he is not fully trained yet. He's confined to tiled areas so it won't take much to wipe up, if you have the stomach for it. Mickey is grossed out by the dog, so he won't be much help. Afterward, I do some laundry and straighten up the house.

At 11 AM, Noelle gets up, drinks coffee and heads to the computer or TV. She is a typical teenager in that she loves the social networks, music, and texting her friends. She won't give you any trouble, as she's very laid back.

Mick is up as late as 4 AM on his computer, so he sleeps-in until about 1 PM. The kids love to go to the coffee room to make and bring him coffee. Due to his numerous injuries, don't be alarmed if you see my husband shuffle out of bed in his pajama bottoms, hunched over, and head straight to "the office" for the day (the dining room table). Mick conducts his business from the computer for an hour or more. He has found a new calling as a comedian! When it's time for him to get dressed, I have to assist him with putting on his socks and tying his shoes. After performing a trick in the ring hundreds of times, he is unable to cross his legs.

Every afternoon, I have to spend some time getting ready for the big move back to Long Island. This involves a lot of packing, sorting, and lifting. Mick tries to help, but he is physically impaired, which leaves it up to me to get done. I need to figure out what gets donated, shipped, or tossed. It's an arduous task, but worth it because my family and I are very excited to move back home to Long Island after one year in Florida.

The kids go to the beach and the pool to practice their wrestling moves in the water. Hughie likes the beach about as much as Mickey loves being on the computer. The kids LOVE to play and I let them play whatever and wherever they choose. If they want to ride their bikes in the house or jump all over the couches, that is fine with me. I want them to be able to do all the things that we were forbade to do as kids. You will find that their father's love for the sport of wrestling has rubbed off on them.

Mickey is our gentle wrestler, while Hughie is much more of a natural, but a little too rough at times. They are always nagging their Dad to wrestle and I will join in on the fun by videotaping. They have costumes and characters that they love to create. Another activity that Mick and the kids love to do together is scrapbooking. They use family photos and decorate the pages with stickers to tell stories. It's a sweet pastime of my husband's and I'm glad to have so much documentation of our family life.

Dinner in our home is as unstructured as our days. I make individual meals, depending on their cravings. I am glad to do it. It just gets a little overwhelming with so much else going on around me. Things are only slightly less chaotic because it's the summer, but this is also when the boys have their meltdowns and fight. Be on guard for that and be ready to referee. Things always work out in the end as it's just boys being boys.

After dinner, we might go to the beach for a walk. If you go, be aware of the overpass since there are snakes, panthers, and armadillos under there. Around this time, I try to get to the gym and spend some girl time with Noelle. The younger kids demand a lot of my time, which makes me feel guilty.

There is no such thing as a typical day or routine in my home. Our house is more like a zoo than a pretentious museum. My kids have lots of hobbies and interests that they participate in throughout the day so this is usually happening at the same time and with music playing loudly!

We encourage our children when they take an interest in a musical instrument or sport, but we don't spoon-feed them what we think their interests should be. If they want to try out the guitar, they don't take lessons, but they will teach themselves. If they lose interest after one month or one year, we don't force them to stick it out. From modeling to wrestling, some of our children inherited natural abilities and I could see them following in our footsteps. We are proud of them no matter what they choose and never push them in one direction or another.

At night, it is not uncommon for us all to end up sleeping in the same bed. By the time Mick gets around to ending his day, he winds up sleeping in one of the kid's bunk beds. It's quite a sight to see!
RULES
In the summer, we live a no holds barred lifestyle. The kids can go to bed as late as they want and sleep as late as they want. There is always a lot going on at once, but Mick and I don't believe in yelling at our kids. In our home, there is music playing, a flying saucer being thrown across the room, a puppy accident to clean, and a have-it-your-way cooking routine. Who has time for rules?
VALUES
Mick and I both went to church when we met, but over the course of his career, he always worked on Sundays and I had the kids. We may not be by-the-book-Christians, but we believe in treating people fairly. Mick is a strong believer that God wants him to live up to his potential and help others in need.

We both still support President Obama. Mick is much more likely out of the two of us to get into a deep discussion about world events. He considers himself a "centrist" but feels many Republicans have put the good of their party ahead of the good of the country and is prepared to have an intelligent, spirited discussion about his political views. Education is a priority to our family. As the kids get older, it is more of a struggle to make time for reading because it has stopped being fun for them. It would be great if there were more of an interest there, but it is summer and I don't want to overwhelm them on their downtime. I want my children to be happy and healthy so I don't push it.
EXPECTATIONS
I would love to see Mick take better care of himself and his family by eating healthier and going to bed at a decent hour. My greatest hope for this experience is that my family sees just how valuable I am to keeping our household running. It would be nice to get some more help around the house and to be appreciated for my hard work. But at the end of the day, I don't complain about my life because I love every chaotic moment of it.

I hope that you're able to stay strong and have a clean finish!
TO-DO
1. Make individual meals for every family member, based on their requests.

2. Be on "Puppy Poopy Patrol," especially in the morning. Spend some time training Randal.

3. Help Mick put his socks on and tie his shoes.

4. Videotape and help create characters for the family wrestling matches.

5. Try to get Mickey off the computer and enjoy some fresh air.

6. Make special time to spend with Noelle and ask about her dreams of becoming a model.

7. Try giving Mick a fashion make-over. "Repackaging" Mick might be a sore subject for him, but he is so easygoing that he might let you. However, don't be surprised if the moment you turn your back, he "Mickifies" your hard work by messing it all up.

8. Keep up with all of the toys that get left around, as well as the laundry that quickly piles up.

9. Go to one of Mick's comedy shows.

10. Organize and pack for the big move.