Household Manual for Niecy Nash's family.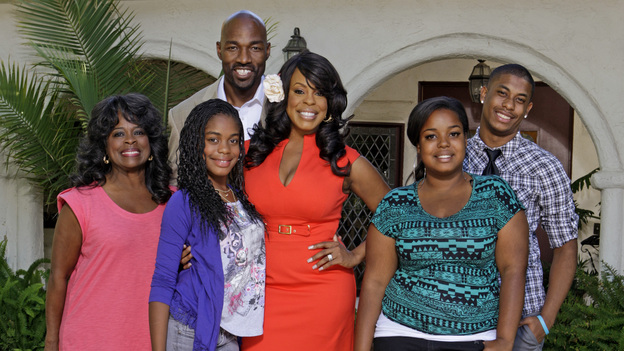 Wondering how Niecy's family operates? Take a look at her household manual below to find out.
WELCOME TO OUR HOME
Welcome to our newly formed household. My husband, Jay and I have only been married for 2 months, so we've all been adjusting to this new family unit. Thankfully, things have been going pretty good so far with no major meltdowns. I am so grateful because Jay is the love of my life. He must really love me, too, because he is taking on the responsibility of caring for not only me and my 3 children, but my mother as well, who, is only a few steps away in our guesthouse.

Our home has a lot of love, but individuality and independence are the heart of this household. My three children, Dominic (19), Donielle (16), and Dia (12) have no problem with keeping themselves busy. Every person has their own space and does their own thing (age appropriate of course). They are well-behaved kids with different personalities; my job is to praise their individuality, respect their desire to be independent, while encouraging them to be nothing less then leaders.

I am a tough city girl. I grew up in LA's South Central area and saw a lot of things as a young girl that no one should ever have to witness. Humor gets me through the tough times, so I want you to know that laughter is a big thing with me. I'm always available for my kids to come to me with their problems, sometimes they need a hug and sometimes they need tough love, whichever is dispensed its always going to come with a little dose of humor on the side.

My kids know that it is their job to help keep a clean house. The kids are in charge of keeping their own room and bathroom clean and doing their laundry. They also take turns doing the dishes everyday. My Mamma, Margaret, is a HUGE source of support around the house. She helps with the kids, she cleans, and she does all the cooking, which is usually fried in grease and dipped in gravy. We eat good in our house, but it's not the healthiest.

Because everyone is always is on a different schedule, we all eat at different times. My husband would love for us to all have meals together, we just haven't figured out a way to keep it consistent.

Please don't confuse lack of "Pleasantville" structure with chaos, though. I don't tolerate unruly kids, and I don't put up with any disrespect from my children. As a matter of fact, they don't even have their own key to the house, so I know exactly when they come and when they go. So, if you hear a knock at the door in the middle of the night, don't be alarmed. It's not the neighbor looking for sugar; it's just one of my kids coming home.

A typical day in my house is anything but typical. The arts are very important in my home and I encourage creativity. It is very normal to walk into our family room and one of the kids is on top of the table (or the "stage" as we like to call it) singing, reading a poem, or performing in some way. Dominic is a singer, Dia wants to be an actress and Donielle wants to do both, its never a dull moment because even my mother likes to get in on the act. Is there ever a reason not to have a talent show? I don't think so!!

I'll get up early in the morning to workout with my trainer, and Jay works from home so you'll usually find him behind the desk in his office. Being newlyweds, we like to spend as much time together as possible even if it means me bringing him his meals to his office and sitting with him while he eats.

My girls get themselves up and dressed and will grab something to eat in the kitchen before my mother takes them to school or their activities. My oldest, Dominic is a night owl, so he usually wakes up pretty late. By the end of the day, one by one, each of the kids comes in to tell me how their day was- I love that part.

We have a full house, and although everyone takes care of themselves, it's filled with love, respect and laughter. I encourage you to be fearless while you're here, and when it's time to put on a show, bring your best performance and you'll fit right in!


HOUSEHOLD ROLES
Jay and I are newlyweds, so settling in to this household and our new roles as husband/wife and stepfather/stepmother is an ongoing process. The dust has finally settled after the whirlwind wedding and Jay moving in with us, but our daily routine is still being worked out. Having a strict schedule was never my thing even before Jay, but with him I am really looking forward to setting the stones for the rest of our lives.

We both have the same goals and belief systems, in life even though our personalities are very different. I'm more animated, while he is a more linear thinker. I encourage him to be more creative and he encourages me to separate my emotions from certain situations. We don't argue very often, and we laugh together all the time.

Jay is an electrical engineer and mostly works from home. He is there almost 100% of the day unless he is out meeting with clients. My job is not a conventional 9-5 to say the least. I may be shooting a show, reading scripts or taking meetings to find my next project. Even though it doesn't seem like work, getting ready for the red carpet definitetly is a job. There is science to picking out the right clothes with my stylist in combination with the perfect hair and makeup, to keep from being a fashion faupaux on the red carpet; but all work and no play is not an option so I have to find time to recharge by connecting with my girlfriends or spending time at the spa, whenever I can combine both, its heaven.

Artistic expression is very important in this house. I don't put the pressure on my kids to be straight A students, all I ask is that they always do their best. Trying their best is more important then any letter grade. I feel that being book smart is only half the equation, if you cant effectively express yourself then I feel like I missed the mark.

I am not going to try to fix anything around the house. I'm the one who is like, "Are you having a bad day? Let me give you a makeover." I leave the fix-it stuff to Jay. He is the man so he feels that he needs to be the fixer, but if it is a large project he definitely calls in a professional. I am not into the outdoors, even though Jay tries to get the family involved in these kinds of activities. Let's put it this way, Jay planned a fishing trip and I bought a new cute fishing outfit, but once we got on the boat, I was puking off the side the whole time. The outdoors are just not for me! I don't particularly like outdoor "elements" like wind, bugs, heat and more bugs!

My mother plays a big role in our household, too. She lives in our guesthouse and helps with everything. She is the strongest woman I know and I love her for it. She is opinionated, supportive and loving. I feel blessed she is able to be a daily, constant part of our lives. My mom helps with cleaning around the house, she helps me with the kids, and she does the cooking. I could learn to cook, but with her around I don't really need to, so I just leave it to her.

Jay knew coming in that my mom lived here, and he welcomed that relationship with open arms. They really get along well, which is fortunate for all of us!


OUR KIDS
Dominic is our 19 year old. He has been the man of the house until recently and is having a hard time giving that up. He wants to be a singer, and we are looking in to enrolling him in to the Music Institute this year.

Donielle is our 16 year old. She is your typical teenager, sometimes angry and sad for no reason at all. She wants to be an actor and regularly writes and recites original poems.

Dia is our 11 year old. She is sassy, she is funny; she is me! She has been wearing heels since she was 4 years old and is always strutting her stuff. Dia also wants to be an actor like her sister.

COOKING AND EATING HABITS
My mother, Margaret, does all the cooking in the house. I need to learn how to cook, but I just haven't gone there yet. Mamma typically makes a lot of home-style fried foods. There are no rules about eating in my house, I want the family to eat healthier, but since I don't cook what can I say?

The only meal I can cook is breakfast, but most of the time my mom will beat me to it. On a typical day I'll drive around the corner to a restaurant and grab him something like oatmeal and bring it up to him at his desk. The kids will find whatever they want in the kitchen before heading off for their day.

For lunch, I will bring Jay something up to his desk or we will go out to lunch so we can spend some time together and talk about our day. The kids usually grab a sandwich, if they are home, or will find something while they are out. When they get home around 4pm-5pm they'll all grab a snack. Dia loves sweets and you'll probably find her in the kitchen with a piece of cake after school. That girl loves her cake!

For dinner, you won't find us eating around the dining room table. Mamma usually cooks a full dinner, and leaves it on the stove for everyone to dig in when they are ready. Once again, I'll make a plate for Jay and bring it to him. The girls will usually come down to make a plate, but then head right back to their room. Dominic, and his friends will usually eat what is left before they leave to go to the gym and once he returns home around 12:30 am, Dominic might want seconds.
CLEANING
We do not live in a spotless house, but it is kept clean and free of most clutter. We used to have a housekeeper that came once a week, but I fired her right in front of the children. They seemed to think that she worked for them and were getting upset when she didn't clean their rooms. So, I decided that we needed to get rid of her so that they would take their responsibilities more seriously.

Jay isn't the cleanest person, but he will keep his space tidy. His philosophy on cleaning, "If you can't see it, then it's clean." I help keep the house clean, but my Mamma does most of the cleaning in the common areas. The kids are required to keep their room and bathroom clean and to wash the dishes. Also, they all do their own laundry. I am not going to send my kids out into the real world without knowing how to wash their own clothes! I don't call household duties chores but instead I call them responsibilities, if walk into one of their rooms or bathrooms and find it a mess they know I will not be happy; there will be consequences because after all they are living here rent free!


APPEARANCES
I encourage my children to be themselves and be creative thinkers, so I don't care what they wear. Just as long as there isn't too much skin showing, I can roll with it. I don't require them to conform to anyone else's standards. My daughter might walk around looking like a cross between a homeless person and Punky Brewster, but if that is what she feels expresses who she is then that is fine with me. I'm sure people in public think it's crazy, but it is my way of fostering their individuality and creativity.
DAILY ROUTINE
On a typical day, I'll get up at 5:30am to work out with my trainer for an hour. Jay will sleep in until 7:30am. Once I am done with my trainer I will drive around the corner, to grab him something for breakfast (there is no walking, even though I could, I am a LA girl through and through) and bring it to him in his office. Then, I'll get myself ready to head out to a meeting or a shoot that is scheduled for that day. If I don't have any work that day I may go get my nails done or go see my Pilates instructor.

I make sure I am home to have lunch with Jay. If he can get away from work we will go out to eat, but if not I'll make him (or buy him) a plate of food and take it to him.

My girls will get themselves up, dressed and fed. Then my mother will take them to school. My son stays up late, so you will find him sleeping in his room, unless he has work that day. I do try and require that he gets up and is dressed by 9AM no matter how late he goes to bed.

While the kids are at school or work, my Mamma will clean up around the house and I'll help if I am around. Then the kids return home around 3pm- 4pm. They will grab a snack and then head straight to their rooms and shut the door. Mamma starts dinner and leaves it on the stove for everyone to eat when they are ready. At 5pm, Dominic's friends descend on the house. They head up to his room to watch movies, play video games and who knows what else. They play video games on one T.V., watch a movie on the other T.V., listen to music on the radio, and surf the web on the laptop, all simultaneously, anything and everything that sucks up my electricity!

I'll head up to my room when I get home from work and one-by-one the kids will come into my room and we'll have a chat about their day. If one of the kids is working on a new song, play, or project, we will all go into the family room and watch as they put on their performance. This is my favorite part of the day! I love to see how creative my kids can be and how talented they are.

Jay finishes work around 7pm. I'll make a plate for myself and Jay and head up to his desk to talk about our day and eat dinner together. Dominic and his friends will head out to the gym around 10pm. He will then come home to eat his dinner at about 12:30am. He'll stay up till 2 or 3 in the morning. The girls will be in their rooms for the rest of the night they are usually in bed by 9:30- 10pm Besides Dominic, the whole house is usually asleep by midnight.
DISCIPLINE
There is not a lot of conflict in our home. The kids are older and I trust them to do the things that they are responsible to do. I am what you might call a hands-off mother. I like to give my kids space to do their own thing and figure things out on their own. Although, I am very involved in my kids lives and check in with them daily, I am not one to push my children to do something they aren't ready for or that they don't want to do. I allow them to figure their life out, instead of guiding them on the path that I want them to be on. Jay has a bit of a different approach. He feels that you need to mentor your children to make sure they stay on the "right path," whereas I feel like giving them space will allow them to make the right decisions.

They don't have a curfew, but they also don't have keys to the house, so they know what is an appropriate time to come in and what I will tolerate. My kids are well mannered and well behaved because I do not put up with back talk or any disrespect. They were taught this from a young age and take that with them when they go out into the world.
POLITICS and RELIGION
Jay and I are Democrats. We think Barack Obama was handed a rotten bag of apples and asked by America to make that into a sweet apple pie, its going to take a lot of hard work but we support him 100%.

We are Christians and go to church every Sunday. My ex-husband was a Pastor, so faith is a large part of my life.
OUR RELATIONSHIP
Jay and I are newlyweds. We got married two months ago and dated for about two years. We have the same values, beliefs and goals. We are in that honeymoon stage and want to do everything together. I've waited years for a man like Jay, so I want to make sure we do as much together as possible. We recently bought bikes and whenever time permits we like to sneak off for a ride.

I enjoy getting breakfast for Jay and sitting with him in the morning and chatting. We try to have lunch together everyday, and Jay makes sure every evening we sit down and download each other on our days, so we stay in sync. Our personalities do differ, but that is why we fit together so well.

I hope you enjoy my children and my new hubby, Jay! But no matter how much you like them; they're mine, so keep you hands off !!

-Niecy Nash