Household Manual for Tracey Gold's family.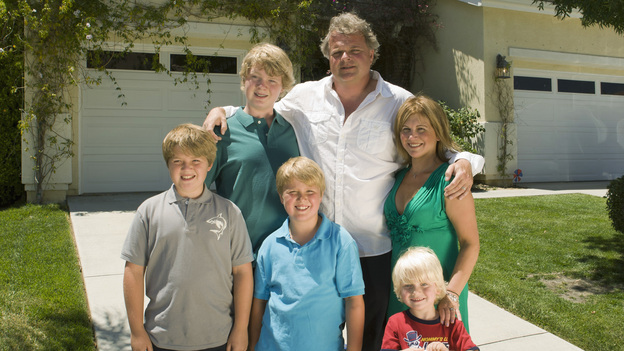 Wondering how Tracey's family operates? Take a look at her household manual below to find out.
WELCOME TO OUR HOME
Welcome to our home - where everything has a place. My husband, Roby and I have four very well behaved sons: Sage, 14, Bailey, 12, Aiden, 7 and little Dylan is 3.

You are probably wondering how the house is not overflowing with chaos, but that is because I run a very tight ship. We stick to a very regimented schedule and my husband is home a lot to help me. This daily routine keeps us all on track and ensures that everything gets done on time. I hate being late to anything!

Roby and I have been together for 22 years. We do everything together. Even when he and I go to the grocery store (which is at least once a day) we consider it a date. We have "date night" every week where we go out-- just the two of us -- to a nice restaurant. Even though we spend almost every waking minute together we still enjoy going out by ourselves.

I'm the first one up in the house and wake at 7:00AM. I take 10 minutes to get myself together and then I wake Roby up. While he puts on his work out clothes, I wake up the boys for our morning walk. While they are dressing, I make up the two younger boys beds and the two older boys have to make up their own. I can't stand an unmade bed. It makes the whole room look messy.

By 7:30AM, the family is ready and out the door for our daily exercise. We walk for about an hour every morning. Sometimes the 3 older boys ride their bikes and Roby pulls Dylan in the wagon. It's a great way to start the day!

Back at home, I fix breakfast for everyone. Several months ago we decided to start eating healthier. The kids groaned about it at first but after a while they didn't even realize we were still eating better. For breakfast I'll use egg whites instead of the whole egg and my kids can eat all the fruit they want. When Roby and I go to the grocery store now we skip the cookie aisle.

Education is a top priority for us. All of our boys are expected to go to college. This is not an option in our household. As soon as the kids get home from school homework must be done. Although it is summer, we still have tutoring for the boys so they can keep up with their studies and prepare for the next school year.

The boys also help out around the house with chores. They pick up their toys, they take their dishes to the sink, they take out the garbage and recycling and they have to help keep their rooms clean.Lastly, no eating anywhere but the kitchen!

You may experience some growing pains at first but I have a great family and, as long as you stick the schedule, I believe you'll enjoy them as much as I do!


HOUSEHOLD ROLES
Roby and I have been married for 22 years and have always shared in the responsibilities of the household together. We are fortunate not to have conventional 9 – 5 jobs, where we are both gone all day. For the most part we are both there to cook, clean and take care of the children jointly. Since we've been together we've never gone a day without talking.

We have very similar belief systems and a shared interest in raising our kids away from the Hollywood spotlight. We moved to Valencia to give the kids a more normal life. Living in LA, Roby didn't even feel safe taking out the garbage. Now the kids can ride their bikes around the neighborhood, we can go to the grocery store without being hounded by paparazzi and the kids can go to a good, public school.

During the day, Roby and I take our roles of parents very seriously, but we also look forward to the end of the day, when the kids go to bed, and he and I can go into our bedroom, close the door and have some alone time.

Roby works selling ads for a local newspaper but only has to go to the office a few days a week from about 11AM – 3PM. He never lets work keep him away from one of our kid's school events or extra curriculum activities. Missing a family event is not an option. Being there for the kids is Roby's priority -- his job is not. So he simply tells his boss he is leaving for the afternoon or that he won't be in at all.

We do not have a nanny and feel fortunate to be able to take care of the kids ourselves. In fact, we don't have any help. We very much lead a normal life.


OUR KIDS
Sage – 14
Bailey – 12
Aiden – 7
Dylan – 3
COOKING AND EATING HABITS
As the mom, I have the traditional role of cooking for the family and cleaning, doing the laundry and making the beds, But Roby helps me with all of it and now that the boys are getting older, they share some of the responsibility, too. We don't have a full-time housekeeper or cook and prefer to do it all by ourselves.

I love to cook but I am not the best about planning ahead, so Roby and I go to the grocery at least once a day (if not two or three times). They know us very well at our local grocery store,and, if on the rare occasion one goes without the other, the clerk always ask where our "buddy" is. They always expect to see us together.

Roby doesn't love to cook but he makes a great sous chef and is always in the kitchen helping me.

We eat every meal together as a family. This is very important to both Roby and me. With everyone in school and participating in different activities, mealtime is a time for us to be together and connect. Practicing good manners is imperative in our household and mealtime is a great place to impart these traditions on our kids.

We try to eat healthy and watch our junk food intake. We do not eat fast food anymore. We used to do it out of convenience but now, no matter what kind of hurry we're in, we make healthier eating choices. I try to always have fruit on hand and the kids are allowed to snack on that whenever they want.
CLEANING
Roby and I do all the cleaning around the house. We like a very neat, uncluttered house. Everything has its place. I'm sure what I consider messy some people would consider very neat and tidy, but I am particular how my house looks.

There is absolutely no eating outside the kitchen. The boys are not allowed to have food or drink on the couch or in their rooms. Like I said, everything has it's place and food does not belong outside the kitchen.

Now that the boys are a little older, they have chores to do and are responsible for picking up their toys and keeping their rooms clean. They have to make sure their dirty clothes go in the hamper every night. It's also their shared responsibility to take out the garbage and recycling.

Roby and I share the laundry responsibilities and,with 4 boys, I feel like I can't keep up with it. Roby (or I) is constantly throwing a load in to the washer or folding a load fresh from the dryer.


APPEARANCES
I pick out all the kids clothes (although my 14 year old has started insisting on picking out his own). I've tried to let my kids choose their own outfits in the past, but as soon as they walk downstairs in something that doesn't match, I march them right back upstairs and pick something different.

I usually pick out their outfits the night before and lay them out so there is no question about what they need to put on the next morning. I like my kids to look well put together. How they look and act is important to me. I don't want anyone to think we are distasteful or ill mannered.


DAILY ROUTINE
From morning to night, our lives are all about the kids and having a regimented, daily routine. My kids thrive on it and it's the only way I know how to function.

Once we're all up, we take a morning walk to get exercise. We are usually out for an hour. Sometimes the boys ride their bikes and Roby pulls Dylan in the wagon. We are a very active family and love the outdoors.

I am the first one up in the morning and our schedule is timed to a "T". I take a few minutes to get myself ready and then wake up Roby. Then I wake up the boys. I make up the two younger boys beds as soon as they get up and the two older boys make up their own. It's the first thing everyone in the family does. No bed goes unmade in our house!

Once we get back from our walk I make breakfast while the boys clean up around the house. Since we started eating and cooking more healthily, I make breakfast burritos using egg whites a lot.

During the school year, the boys get ready for school, put on the clothes I've picked out for them, and both Roby and I will drive them to school. This requires 2-3 trips because our sons go to different schools. (We could split up the duties, but Roby and I like to do it together.)

Once we are done driving the kids to school, Roby and I usually go to the grocery store and buy food for dinner and anything else we might need. Even just going to the store feels like a date to us.

Back home, Roby will go to work for a few hours and I may do some work on the show I am producing about anorexia. Sometimes it requires driving to the city but Roby and I always make sure we are home in time to pick the kids up from school.

After school, nothing happens until homework is done. We are strict with the kids about their schoolwork and have high expectations for their grades. Roby graduated from college and expects all of our boys to, as well.

The boys then can play a little bit until dinner, when we all sit down together around the dining room table. After dinner, the boys clear their plates and Roby and I clean up the kitchen.

After dinner, the boys can pick out a movie to watch. We don't really care what they watch as long as it is fiction. We don't want them watching the nightly news because they are true stories. They can watch all the scary movies they want and we don't really monitor the rating of the movie. What we do care about is them watching anything that is real and true.

Bedtime is 9PM and then Roby and I have the rest of the night to ourselves.
SUMMER ROUTINE
During the summer time, our schedule is much less strict. We don't get up until 7:30-8AM and we don't always make the boys go for the morning walk (but Roby and I usually do). Instead, we'll wait and take the family out in the afternoon or after dinner.

After the walk, I fix breakfast as usual, everyone gets dressed in the clothes I've picked out. Roby and I have to be out the door with Aiden at 8:45AM to drop him off at summer school. Then at 9:55AM, we take Bailey to summer school and pick up Aiden. We have the boys tutored in the summer to prepare them for the next school year. It's important to keep up their studies even when school isn't in session.

While they're in school, Roby and I may go to the grocery store or take care of things around the house.

At 12:15PM, Bailey's tutoring session is over, so we pick him up and rush back home to make lunch and feed everyone before Aiden's drum lesson at 3PM.

At 3:30PM we're done with Aiden's drum lesson and we're back at the house to get Dylan ready for his swim lesson. At 4:15PM, we take Dylan to swim lessons. If it sounds like it's a busy day full of drop-offs and pick-ups it is, but we love it and wouldn't have it any other way! After Dylan's swim lessons, we have let everyone have a little down time before we go out for our family walk/bike ride along some of the great paths


DISCIPLINE
Roby and I equally discipline the kids, although Roby seems to have more impact on them. I can ask the boys to do something 4-5 times whereas, when Roby asks them, it only takes once!

We are not militant and we don't yell at the boys or spank them. If they disobey, we have a pink chair in the dining room for time-outs. The amount of time they sit in the chair correlates to their age – one minute for each year. This method works for us and our kids are very well-behaved.
POLITICS AND RELIGION
Roby and I are extremely liberal. We believe in human rights and can't stand anyone that is super closed-minded. It's just not a way to be. We are not very religious people. Many times we feel these so called "Christians" to be the most judgmental of others and it drives us crazy.
OUR RELATIONSHIP
Roby and I have known each other forever and have a very mutual respect for one another. We have the same values and beliefs and want to raise our children the same way.

We are very good at balancing our lives. We pride ourselves on it. We aren't one of those couples who complain that we don't have enough time for each other. We enjoy time with our kids but we also make sure we have a date night once a week. Having dinner together (just the two of us) is extremely important, even after 22 years!

My family is great! We love and truly appreciate each other. I feel very lucky. Enjoy your time with them and take good care of my family for me.