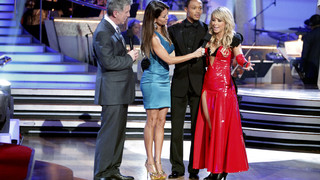 S12 E16 Results Show: Week Eight
---
The show begins with an encore Argentine Tango from Kirstie & Maks. It's another fine performance that's capped with the exciting news that these two are definitely headed into the semifinals along with Hines & Kym.

DanceCenter is back with dancing machine Kenny Mayne, football great Jerry Rice and the legendary Len Goodman. They give us a compelling (i.e. confusing) breakdown of Kirstie and Romeo as dancers. After that, old friend Michael Bolton takes to the stage. And no, he didn't come out of a doghouse. He does, however, give a fine performance of "I'm Not Ready" with Delta Goodrem.

Delta returns to the stage to pinch-hit for Adele, who will still appear later in the show. She belts out her rendition of "(You Make Me Feel Like) A Natural Woman" with very little rehearsal time.

Believe it or not, Delta's rush performance isn't the top story when DanceCenter returns. Instead, the oddball anchors critique Ralph, Hines and Chelsea in typically disturbing (yet funny) fashion.

As promised, Adele takes to the stage to perform "Rolling in the Deep." Afterwards, Ralph & Karina and Romeo & Chelsie learn they are in jeopardy. That means Chelsea & Mark will be dancing in the semifinals for sure.

When the final results are revealed, it's a total shocker. Ralph & Karina are moving on which means Romeo & Chelsie are heading home. Told ya it was a shocker!

This particular Results Show just goes to prove anyone can win the coveted Mirrorball Trophy this season. We'll see what happens next week when the remaining dancers take part in a Winner-Takes-All Cha Cha!
Continue Reading