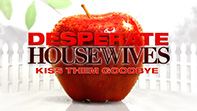 It's Only in Your Head
Season 5 | Episode 24 |
Aired 05/17/09
We gasp as the two cars collide, but let out a sigh of relief when we see that MJ's okay. "Dave told me to get out of the car," he tells his grateful mother. Mike hugs them both and then kisses Susan.

The next glimpse we get of Dave? Behind bars at a mental institution. Justice.

Two months later, we see Mike at the altar with his bride, but we don't see the face under the veil.
Gabrielle Solis
Susan Delfino
Mike Delfino

Played by James Denton