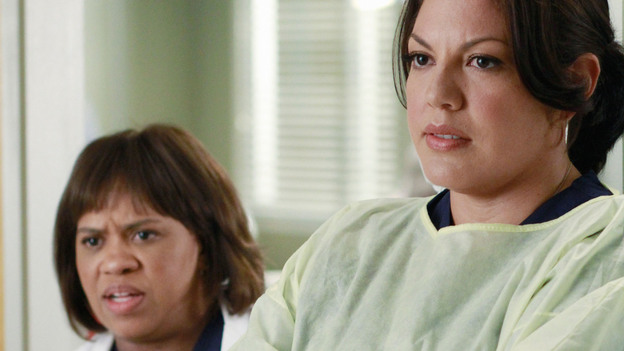 Free Falling; She's Gone
Season 8 | Episode 1 |
Aired 09/22/11
With Derek in surgery, Meredith tries to find out the worst case scenario from the adoption counselor. She fears they may take the baby away. The social worker doesn't want to discuss the matter until Derek is there, too. Meredith says she'll go find him. Instead, she runs to get Zola. Meredith looks completely unhinged as she carries the baby down a corridor. She mutters softly, "What did I do? What did I do?" We're kind of wondering the same thing right about now.



Grey's Anatomy – 802 – "She's Gone"

Bailey and Callie are given the go-ahead to do a Gunther, which is a team building exercise. The hospital does it when folks aren't working well together. It's named for a doctor who rose up above his peers to take charge in critical situation. Cristina, April, Alex and Jackson work Susannah, the women who was trapped in a sinkhole. Who will the Gunther be? Guess we'll just have to wait and see!

There are many complications during Susannah's surgery. Cristina appears to take the lead in the quest for Gunther-dom. She's doing well until she accidently gives Alex an injection that stops his heart. Cristina brings him back, but is he ever ticked. As for the patient, Jackson takes control of the situation. He's the Gunther.

Meredith is MIA. She has baby Zola and she's not answering her cell or pager. Eventually, she calls Cristina for help. They need a plan as to how to explain Meredith's disappearance. Cristina ropes Alex into helping. He's more than willing, as he needs a way to get back into the good graces of his friends.