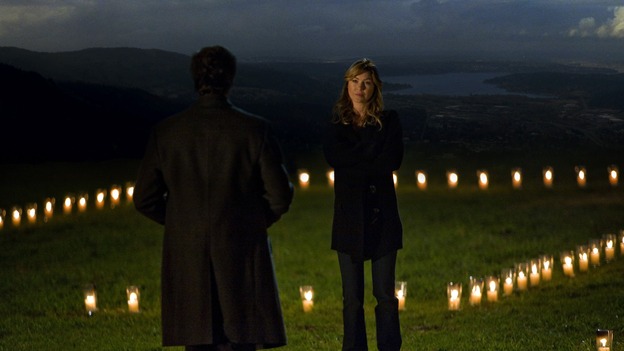 Freedom
Season 4 | Episode 16 |
Aired 05/22/08
Meredith sees from the x-ray that Beth's tumor is shrinking. Finally, they saved a life! Rose congratulates Meredith on the medical breakthrough by saying, "It's the stuff of legends." Rose encourages Mer to find Der. Sounds like a plan.

Mer-Der search for each other everywhere. They finally meet at Derek's patch of land. Meredith set up a dazzling array of candles outlining where their house will be. Mer tries to convince Der that'll she'll try to trust him. He shuts her up with a passionate kiss. It's a great scene. Things don't get more "happily ever after" than this.

Finally, Meredith has a breakthrough in therapy. She realizes that her mother really didn't intend to kill herself. As a skilled surgeon, she knew exactly how to hurt herself without dying. Meredith also realizes that when her mom told her to be "extraordinary," she wasn't talking about surgery.

It's kinda how we feel about Season Four of Grey's Anatomy. Extraordinary!