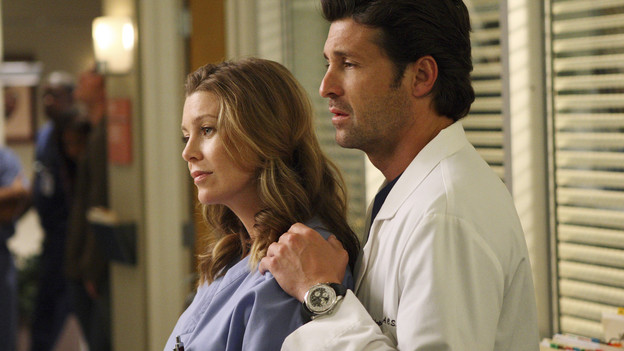 I Always Feel Like Somebody's Watchin' Me
Season 6 | Episode 3 |
Aired 10/1/09
Izzie shocks us all by showing up for work! In a voluptuous long red wig, no less! She insists she's fine and even aids Derek in a five-hour operation. Alex tries to get her to admit she's not up for such an intensive procedure. He finally relents, but insists on interrupting to make sure she gets her meds and food. She lasts through the surgery—after doffing the heavy wig—and later tells Alex, "For a few hours, I forgot I had cancer and i forgot George was dead." He urges her to keep doing what she loves, but says, "You've got to pace yourself, because I can't be your nurse."

Lexie is freaking out that she's going to be cut and Mark urges her to calm down. "You deserve to be here, act like it," he tells her. She volunteers to babysit a paranoid schizophrenic and then, when he bolts, worries she's sure to be fired. But when he's found and she's allowed to help repair his spleen, she gushes about it to another intern. She's crushed when the intern tells her his wife, who's expecting a baby, has just been fired. Mark finds her crying and assumes she's been cut as well, but she's just upset to see most of her class lose their jobs.

Meredith, Cristina, Derek, Owen, Alex, Izzie and Mark's jobs are all safe for now, but there's another round of cuts coming soon.