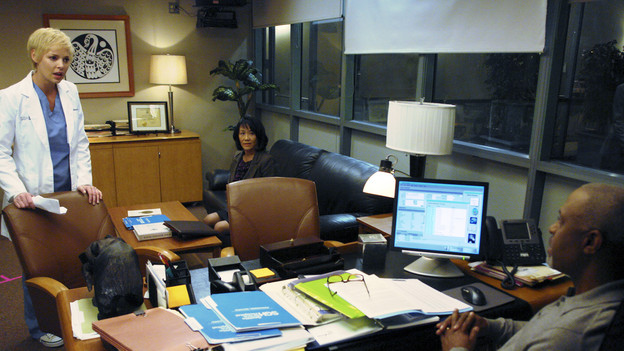 Invasion
Season 6 | Episode 5 |
Aired 10/15/09
Cristina is upset when Owen awards her surgery to newcomer Jackson while she's at lunch. She goes to Meredith, sobbing about how much she misses the days when Burke was there and she actually got to operate. We don't give her relationship with Owen much more time!

We can't believe it when Callie's father shows up with a priest! We're so proud of Callie for telling him,"You can't pray away the gay!" It's not until Arizona assures him that his daughter is "who you raised her to be," that Mr. Torres relents and Callie says there's still a chance for a wedding and kids. We're relieved we can laugh when he asks Callie, "She's not a vegetarian is she? Because i don't know how much more I can take."

We're furious with Charles too, but we're horrified to realize that, Izzie, in her anger, has misdiagnosed and nearly killed a patient. And we're shocked when Richard fires her! She begs to stay but Richard tells her there were concerns about her "emotional stability." He starts to mention Alex's plea to keep her on, but Izzie misunderstands and think that Alex spoke out against her! Alex returns to his locker to find a note from Izzie that says she's leaving him! And we have no idea where she's gone!