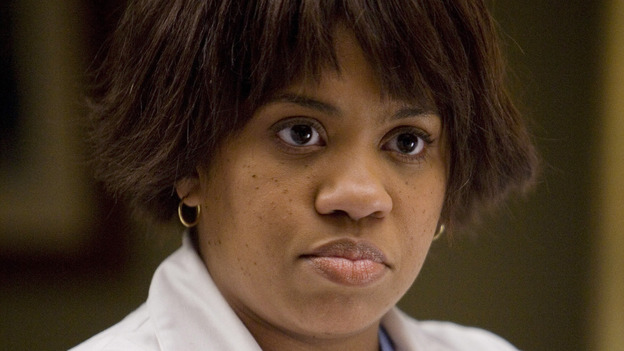 Lay Your Hands on Me
Season 4 | Episode 11 |
Aired 01/10/08
Bailey bursts into the room as the team operates on her son. We knew she wouldn't stay away. What mom could? But she's an unwelcome guest in the OR and Hahn refuses to continue until Bailey is gone. Cristina offers to hold Tuck's hand. This makes it easier for Bailey to clear out so her friends can save her baby. Guess Izzie was wrong about Cristina.

Izzie was also wrong about herself. She's been envious of Cristina's unwavering faith in her abilities. Alex ropes Izzie into doing the heart procedure walk-through on Elizabeth the faith healer because she's an optimist and he's a skeptic. Izzie is confused but agrees. Alex's parting words to Izzie are, "Yang's got nothing on you." Nice.

Tuck's surgery is a success but there's still fluid around his heart. Richard convinces Miranda to let Elizabeth lay her hands on the baby. Tucker and Miranda are still angry with each other but follow Elizabeth's order to hold hands for the sake of their son. Miraculously, Tuck's condition dramatically improves. Guess it's true. You gotta have faith.