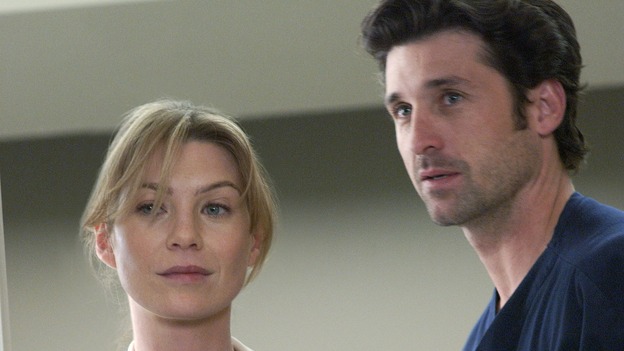 No Man's Land
Season 1 | Episode 4 |
Aired 04/17/05
When the couple chooses the surgery, Meredith tries to convince the wife to change her mind but the wife says (Warning: you are going to cry. We did.), "It's his decision. If it means 10 bad years, that's what I'll give him because I love him."

When Cristina asks Nurse Fallon why she didn't tell her they weren't going to do the ""Whipple"", she quips "But where's the fun in that?" You can tell she's growing on Cristina. They're so much alike. In the middle of their moment, Nurse Fallon starts crashing. Cristina jumps to save her but Burke tells her that she's DNR (Do Not Rescusitate). Cristina won't give up and Burke has to pry her off. Cristina calls time of death for the first time.

Meredith finally meets Derek for a date, a real one involving a meal. She wishes there was a guidebook for intimacy so you know when you've crossed the line, but maybe there are no rules. Maybe she has to define her own.