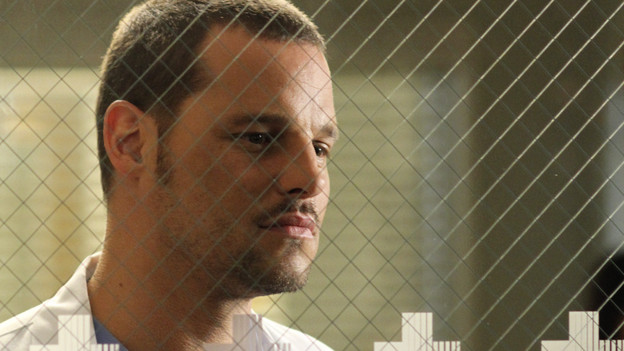 Something's Gotta Give
Season 7 | Episode 8 |
Aired 11/11/10
Jackson doesn't think anyone wants to work with him. When a patient takes a bad turn, an unavailable Bailey orders him to get her into an OR and start cutting. You heard us. She wants Jackson to operate solo. The patient dies on his table. When Bailey arrives, Jackson screams that it wasn't his fault. He won't let Bailey get a word in. That's too bad because Bailey later tells the Chief that Jackson was great on the case.

It seems like everyone is at Cristina's housewarming party except for Cristina. Derek warned her that she was about to be bombarded by a bunch of folks asking her to come back to work, so the two of them hide on the roof to chat about home improvements. Seriously, they're drinking wine and discussing bathroom tiles. Meanwhile, down at the party…

A wild-haired Callie asks Mark if she can move in with him. That'll work. And when Jackson finds out what happened with April, he punches Alex in the face. Then he punches him again. And again. Later, Meredith learns that Alex didn't go to Vegas at all. He was in Iowa having his schizophrenic brother committed for trying to kill his little sister. It was rough. So, now you know how this episode got its title.