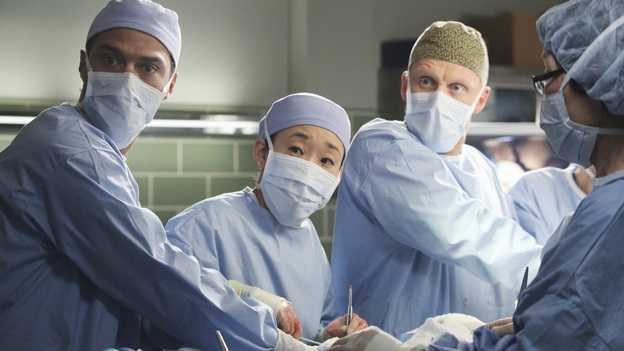 Song Beneath the Song
Season 7 | Episode 18 |
Aired 03/31/11
Derek works the brain while Cristina works the heart. Callie is crashing again. Addison has to get the baby out now. The extremely premature little girl isn't breathing. All attempts to save her seem to be failing. Mark knows there's one person in the room who can help. He gives a slight, confident nod to Arizona. She's ready. Moments later, the baby miraculously takes her first breath. A few feet away, her mother's heart is getting stronger with each beat.

Only time will tell how Callie will recover from her significant injuries. As for her friends, they'll also try to bounce back from all that's happened. Jackson doesn't want to wait for Lexie if she's still in love with Mark. She takes him by the hand, asking if they could just go home. Derek promises Meredith that somehow, someway, they WILL have a baby. And Teddy tells Cristina that she can no longer be her teacher.

Mark apologizes to Arizona for his outburst. Many hurtful things were said in the heat of the moment. Callie's still not out of the woods. Arizona waits by her side, hoping the woman she loves will come back to her. Callie does just that. She opens her eyes, struggling to speak. Arizona finally understands what she's trying to say. The answer is yes. Yes, she'll marry her.