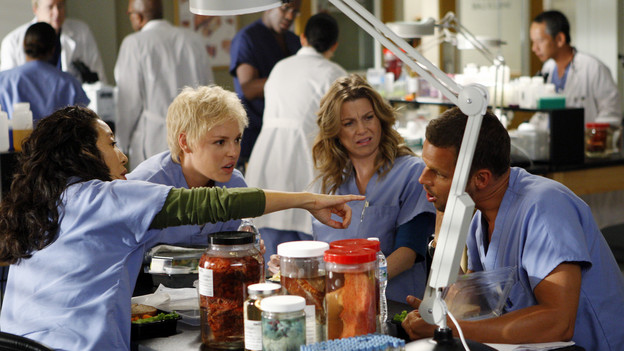 Tainted Obligation
Season 6 | Episode 4 |
Aired 10/8/09

Cristina overhears that a surgery is "high-risk" and volunteers without knowing that it's for a penile implant! We all have a good laugh at her expense, but it drives her to confront the chief with an unexpected ultimatum: She asks to be cut! We're shocked, but we know Cristina well enough to know she means it when she says she'd rather lose her job than her gift.

Izzie persuades Owen to do a risky surgery on a cancer patient who only has a 13 percent chance of survival, and is devastated when the man dies. Owen is furious, saying he was wrong to put her on the case. "You weren't ready. You cannot be a patient and a doctor here. You have to choose."

Callie has been working herself up to ask the Chief for her job back but before she even asks, he tells her to show up to work tomorrow.