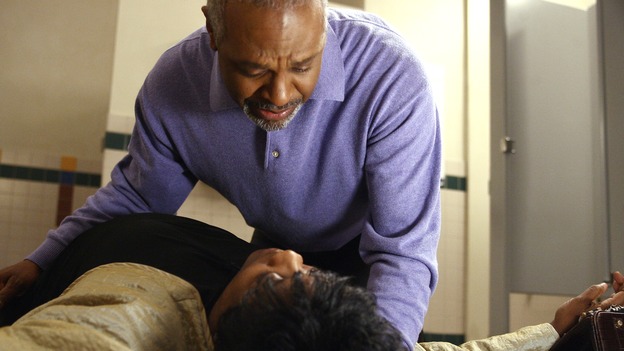 Testing 1 2 3
Season 3 | Episode 23 |
Aired 05/10/07
With just one day until the wedding, Burke's best man can't make it. Derek is called in to pinch hit, which means throwing the bachelor party at Joe's. Derek asks Burke if Cristina's written her vows and he says he'll find out tomorrow. In turn, Burke asks how Meredith is. Derek has no idea. A pretty woman approaches Derek. She asks to buy him a drink but he declines. Think we'll see that mystery woman again?

Richard spots Adele going into the ladies' room and tells her she doesn't have to hide. He finally barges in and finds her passed out on the floor. Meanwhile, Walter shows up at the bar with Rina, who complains of heartburn and faints dead away. The fourth climber is brought into the hospital barely alive and with an ax in his head!

So, is anyone else as pumped as we are for the Season Finale?!