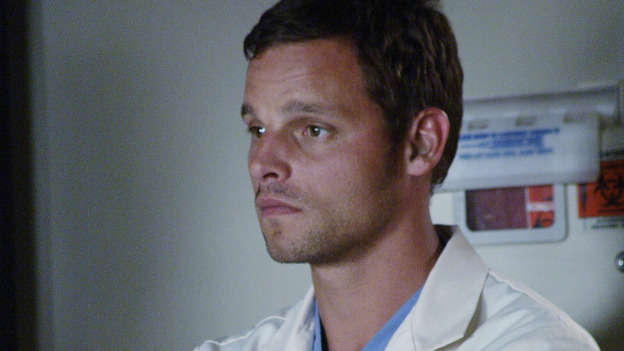 The Self Destruct Button
Season 1 | Episode 7 |
Aired 05/8/05
McDreamy has a talk with George who immediately apologizes for being out of line. But McDreamy tells him, "No, I was. You did the right thing." McDreamy asks George if he saw him leave the house this morning. He tells George that he's not using her. Yeah, it's hard to hate McDreamy.

Meredith has complications with Gastric Bypass Girl's surgery. Her bowels explode all over Mer. (Ew, ew, ew) The girl will struggle with nutrition problems for the rest of her life. Mer tells the girl that life isn't supposed to be this hard. She is calling social services on her parents.

Alex's gunshot patient crashes. The infection from a previous tattoo has spread too far and he dies. Alex is crushed. He was the first guy he met from back home.

Izzie doesn't want any explanations from Meredith about her relationship with Derek. Why would she throw away her respect and credibility over this fling? She realizes that Meredith is falling in love with him and isn't quite so upset. She teases Mer, "You're all mushy and warm."

Cristina is hiding in the bathroom holding TWO pregnancy tests. She doesn't look happy. You knew it wasn't the flu.