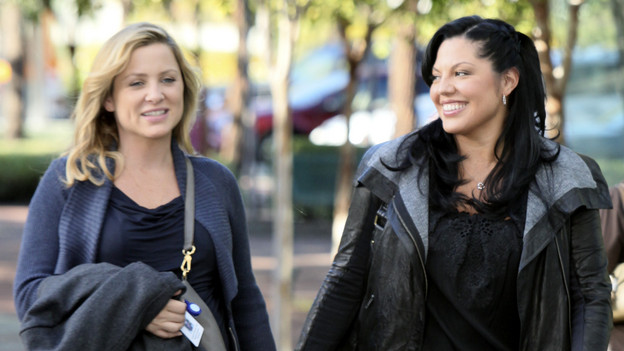 These Arms of Mine
Season 7 | Episode 6 |
Aired 10/28/10
The documentary film team returns four weeks after initial filming. Things have changed. Zack's new arms are healing nicely. He added another tattoo under the one that read "Nicole." This second message says "thank you." As for Lily, she went back to school and was asked to share the best part of her experience at Seattle Grace Mercy West. So she brought Dr. Alex Karev in to meet her fourth grade class.

Arizona and Callie worked out their differences regarding the move to Africa. Oh, Arizona is still going. Only now, Callie's going with her. You heard us. Both Dr. Torres and Dr. Robbins have resigned. The other jarring news of note is that Bailey's patient, Mary, took a bad turn after her procedure. She never woke up after surgery and she probably never will. The Chief says, "It's hard to imagine someone surviving a crazy gunman and then not to survive such a simple surgery."

The documentary ends with the filmmaker's final question to Cristina. She's asked if there's any one thing she'll take away from all this. Cristina responds, "Being a hero has its price." SMASH TO BLACK.