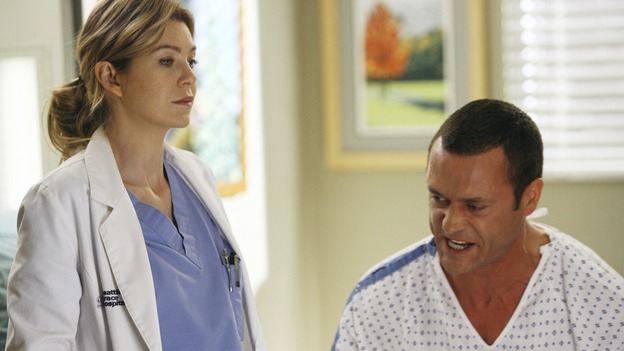 Where the Wild Things Are
Season 4 | Episode 12 |
Aired 04/24/08
As bad as we feel for the guy with the tumor, our hearts go out to his wife. She felt so fortunate that such a great guy would marry a girl like her. She despondently asks Meredith if she's a symptom of her husband's tumor. Meredith responds, "You're the only one who can know that for sure." There are some wounds even doctors can't heal.

Meredith's medical mystery gave her enough points to win the surgical contest. Her prize—a sparkly new pager. For the next three months, the other residents must page Meredith anytime they get a surgery. As the winner, she gets first dibs.

The victorious Dr. Grey is less-than-enthused about the contest win but more-than-inspired by the research she does regarding her tumor patient. She wants to do a clinical trial because she thinks she can "save lives." But she needs a neurosurgeon to oversee it. PAGING DR. SHEPHERD!