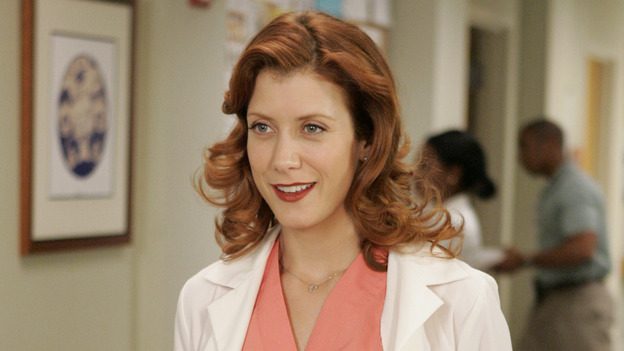 Who's Zoomin' Who?
Season 1 | Episode 9 |
Aired 05/22/05
During the surgery, Burke discovers that his friend could not be the father of his wife's baby. Burke confronts his friend's wife about it. "What Bill doesn't know won't hurt him." Burke is going to tell him—he's a doctor and his friend. How do you break the news to your best friend that you have an ovary and you're not the baby daddy?

Bailey, Cristina & Izzie tell the autopsy patient's family that he had a genetic heart condition and the daughter might have it too. Bailey convinces the family to retroactively sign the consent form. Whew, it all worked out.

Olivia apologizes to George for giving him syphilis. George finds out that she got it from Alex but it was before she and George were serious. George beats the crap out of Alex and the other interns have to pull them apart. Maybe George will shed his beta-boy rep.

Meredith meets McDreamy in the lobby but he has something to tell her before they leave. A beautiful redhead woman shows up and he immediately tells Mer, "I'm sorry." Mer is confused, especially when the woman introduces herself as Addison SHEPHERD and says "You must be the woman screwing my husband." What a bombshell! And all McDreamy has to say is "I'm sorry." Really??? Oh, we were pissed. So pissed.