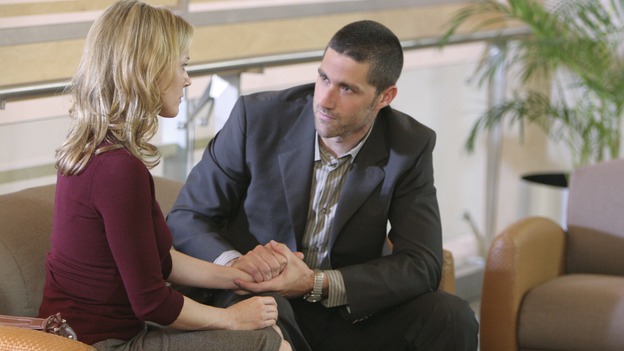 A Tale of Two Cities
Season 3 | Episode 1 |
Aired 10/4/06
In the past, Jack has trouble with his divorce. He can't let go of Sarah without knowing for whom she left him. He attempts one last reconciliation, but it fails when he demands the name of Sarah's new love. He even goes as far as cold calling numbers from an old cell phone bill of hers, trying to identify the new man. Unfortunately, he discovers one of the numbers to be Christian's, his father. Jack immediately assumes the worst that the new man in Sarah's life is his father.

Sawyer works out the gizmos in his cage and gets a reward: a fish biscuit, water and grain. Mr. Friendly locks Kate in the nearby cage, mocking Sawyer on his way out. Sawyer throws the biscuit to Kate, and they reconnect over their meal.

Jack is again visited by Juliet. Beginning to get an idea of what kind of situation he's in, he decides to play by her rules. He sits with his back against the far wall so she can enter his "room" and bring him food. When she enters, Jack jumps her, threatening to cut her neck with a shard from a broken plate and demanding to be let go. Henry appears and tells Jack if he tries to leave through the door Jack's trying to open, they will all be killed. Jack throws open the door anyway, unleashing thousands of gallons of water. Henry escapes into a room before Juliet can make it. This forces her and Jack to work together. They fight their way into another room and hit an emergency button that begins to drain the water. Once safe, Juliet immediately punches Jack and knocks him out.