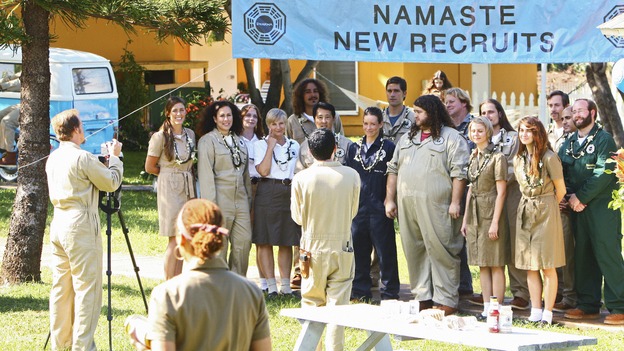 Dead Is Dead
Season 5 | Episode 12 |
Aired 04/8/09

Suddenly, a light goes on in one of the rooms of a house. Ben says it's Alex's old room, and he goes inside. He walks to Alex's room and flings open the door -- and Sun is inside. She startles. Lapidus runs in behind Ben. He asks what they are doing there, and Lapidus shows him the picture of the new Dharma recruits from 1977. Ben is shocked to see Jack, Kate and Hurley in the photo. He asks who gave it to them. Sun says an old man named Christian who told them to wait for John Locke, but Lapidus says since he's dead they aren't holding their breath. Ben tells them to look outside -- and they see Locke, who offers a friendly wave.

They meet inside Ben's living room. Sun doesn't understand. It's impossible for Locke to have died but now be alive. Locke agrees but there he is. Lapidus thinks the whole thing is crazy and just wants to go back to the plane. Maybe they can get the radio working. Locke tells Sun if she leaves, she'll never find her husband again. He has some ideas of how to find Jin and the others. Sun decides to stay. Locke says they'll get started -- right after Ben does what he has to do.

Ben swings aside a bookshelf and goes inside his secret room. He slides the fake wall away and we see the large stone brick with runic symbols on it. Ben pushes it backwards, revealing a dark stairway down to a tunnel. He crawls through the narrow tunnel to a pit with a dank pool of standing water. Ben reaches into the water, grabs a hold of something and twists it. The water drains out of the pool down a darkened hole. Ben says he'll be waiting outside.

WHOOSH to Ben pushing three year-old Alex on the swings. Richard Alpert comes over and says it's time. Ben goes to the dock where Charles Widmore is being escorted to the sub. Ben says he came to say good-bye, but Widmore says he's there to gloat. Ben tells Widmore that he brought it all on himself. He left the island regularly. He had a daughter with an outsider. He broke the rules. Widmore asks what makes Ben think he deserves to take away what's his, and Ben says because he won't be selfish. Ben will sacrifice everything to protect the island. Widmore reminds him he wouldn't sacrifice Alex, and Ben fires back that it was Widmore who wanted Alex dead, not the island. Widmore says he hopes Ben is right because if the island wants Alex dead, then she'll be dead. And one day Ben will be the one who's being banished.