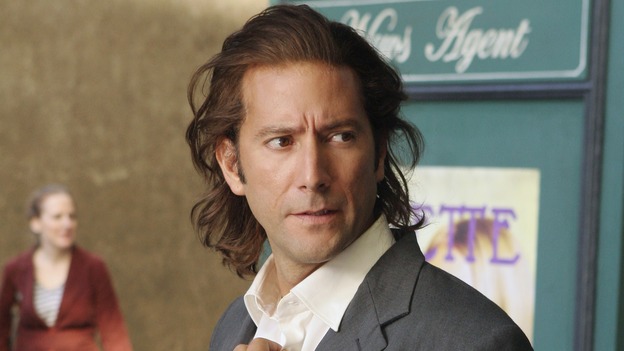 Flashes Before Your Eyes
Season 3 | Episode 8 |
Aired 02/21/07
Desmond is blasted by a white light quick snippets of his life on the island flash before him and he wakes up lying in a pool of blood. In a room. Of his flat. In London. But it's not blood it's paint. Disoriented, Desmond tries to get his bearings. A woman runs to his side to help him it's Penny! She's moving in with him, and he fell off the ladder while painting the room. Desmond's happy to see her but can't shake the feeling something's wrong

Later, Penny helps Desmond with his tie. She tells him he doesn't have to go to the job interview with her father, but Desmond insists. He wants Widmore's respect. Then Beep. Beep. Beep. A sound so hauntingly familiar of a time pushing a button every 108 minutes Desmond tenses but is drawn to it. He follows it to the kitchen where Penny stops the beeping. It was just the microwave heating his tea. However Desmond can't help feeling a strange moment of déjà vu.

At Widmore Industries, Desmond checks in with the receptionist. A delivery man walks up and says he has a package for 815. Desmond reacts, sees flashes of a computer, an execute key, and the numbers 4 8 15 He can't shake the feeling those numbers mean something to him.

During the interview, Desmond confesses he isn't there for a job. He asks Widmore for Penny's hand in marriage. Widmore is impressed with the noble gesture, but tells Desmond he's not a great man. Desmond isn't worthy to share his whiskey, so how could he ever be worthy enough for his daughter?