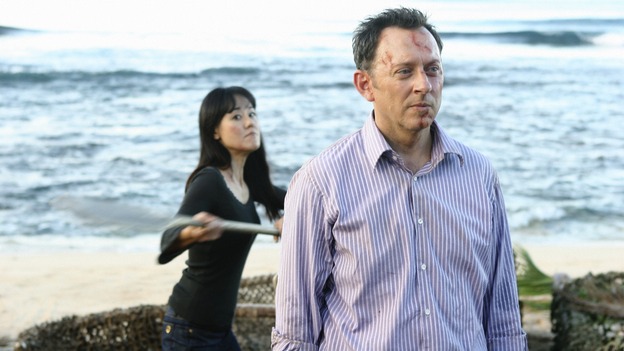 Namaste
Season 5 | Episode 9 |
Aired 03/18/09
WHOOSH to Hydra island where Ben uncovers three outriggers. Sun asks Lapidus to come with them, but he says he has those people to take care of. Ben agrees and says he needs to take care of his people, too. He explains where the dock is on the main island -- but THWACK! Sun smashes Ben in the head with a paddle and knocks him out. Lapidus thought she trusted him, and Sun says she lied.

It's night by the time they paddle over to the dock at the main island. Something black and ominous scurries through the bushes. Sun says it's just an animal. They continue into the empty barracks. No one is there. It's abandoned, a ghost town, and it's eerily quiet. Suddenly they are surrounded by disembodied whispers that fill the night air. As the whispers fall silent, a single light flicks on in a building. The door opens, and in the doorway stands a man. It's Christian Shephard. Sun asks if he knows where Jin is, and Christian tells them to follow him.

Christian leads them into the old processing center and over to a wall of framed photos. He points out the one from 1977 and says her husband is with their friends. Sun and Lapidus look at the washed-out old photo of new recruits in their Dharma jumpsuits and see Jack, Kate and Hurley in the group. Christian tells them they have a bit of a journey ahead of them.