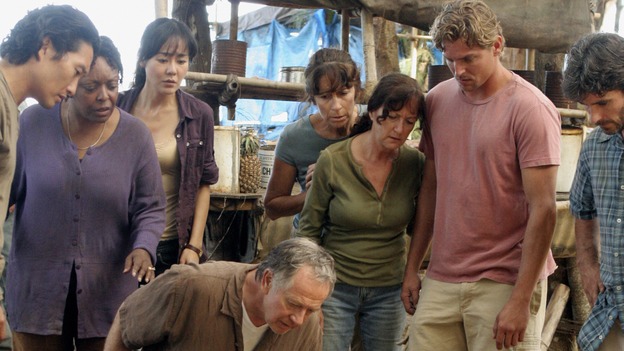 Something Nice Back Home
Season 4 | Episode 10 |
Aired 05/1/08
WHOOSH to Jack reading Alice's Adventures in Wonderland to Aaron as he falls asleep. Jack tucks Aaron in and quietly shuts the door. Kate stands in the hallway smiling. Jack's a natural. She likes seeing him with Aaron. She's glad he changed his mind. She's glad he's there. Jack picks Kate up and takes her into the bedroom.

WHOOSH to the beach where Bernard helps prepare a surgery table. Rose is concerned why Jack got sick. Bernard says it's just bad luck, but Rose isn't convinced. The day before they're supposed to be rescued, the guy they count on suddenly comes down with a life threatening condition? Bernard says people get sick. Not here, Rose reminds him. Here they get better.

As Juliet preps Jack for the surgery, Jack says he wants to talk her through it. He doesn't want to be unconscious. They can numb the area with lidocaine and Kate can hold a mirror up so he can watch. Juliet suggests Bernard since he's a dentist and has medical experience, but Jack insists on it being Kate. Juliet says okay.

WHOOSH to Jack in his doctor's offices as he walks a patient out. Another doctor comes up and asks for his opinion on an x-ray, and Jack catches a glimpse of a man sitting in the reception area who looks a lot like Christian Shephard, Jack's father. But Christian is dead. Before Jack can get a second look, the man is out the door and gone. Then the receptionist gets Jack's attention. A doctor from Santa Rosa needs to talk to him.