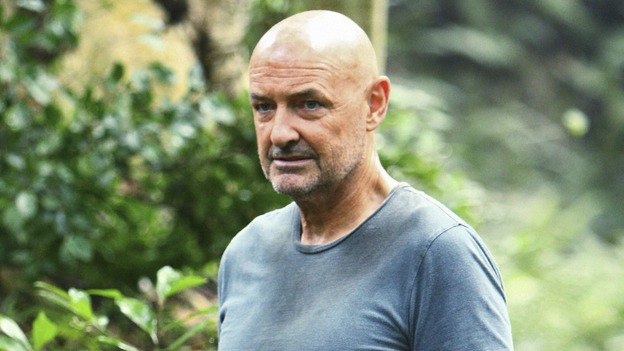 This Place Is Death
Season 5 | Episode 5 |
Aired 02/11/09
At the well, Jin tells Locke to not bring Sun back. Locke says he has to bring them all back, but Jin says no. The island is bad. He makes Locke promise not to bring Sun back, not to bring their baby. Jin tells Locke to say he died and gives his wedding ring as proof. Locke agrees, and he rappels down the well and slips into darkness. Everyone is watching when they hear the rumbling hum and realize there's going to be another flash. Sawyer yells down for Locke to hold on when --

FAAZAAM! The rope in Locke's hands goes slack, and Locke crashes to the bottom of the well with a loud SNAP! His leg breaks, and Locke screams. Up on the surface, the well is gone and the rope Sawyer clutches goes straight into the ground. Sawyer starts digging, but Juliet stops him and calmly says they can't help Locke.

In the underground chamber, Locke cries out in pain. There's a burst of light, and Locke can glimpse the bone sticking out from below his knee. Then Locke hears someone moving down there with him. He asks who's there. The person lights a lantern and turns around -- it's Christian Shephard. Locke asks him what he's doing down there, and Christian says he's there to help him the rest of the way. When he told Locke he had to move the island, he meant Locke himself had to do it. Christian tells him to visit a woman who lives in Los Angeles. Once he gets all his friends together, this woman will tell them exactly how to come back. Her name is Eloise Hawking. Then Christian explains that on the other side of the column is a wheel that's slipped off its axis. All Locke has to do is give it a little push.