Nic Robuck Q&A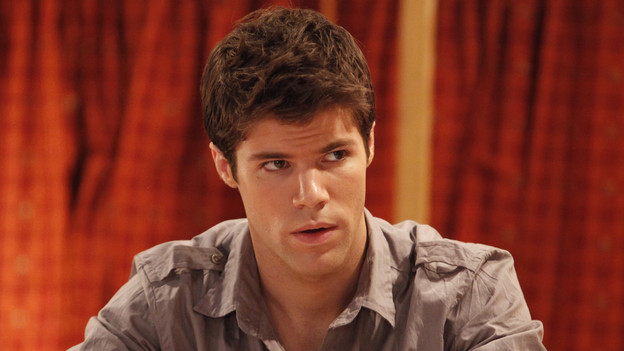 If you're anything like
One Life to Live
's Starr Manning, you've become somewhat fascinated (obsessed?) with new guy James Ford. From the moment he sprang onto the scene and took Starr on a high-speed getaway, we've been really interested in what makes James tick. One thing we know is that the actor behind James is Nicolas Robuck. We were able to talk to Nic and ask him about James, Starr, his career, and a lot more.
Before One Life to Live what other projects did you do?
"I did a couple of guest-starring roles on the Nickelodeon series
iCarly
, and then I did a web series for Disney called
My Date
. I did some work on
The Young and the Restless
; I played a waiter. Right after, I booked
OLTL
-- before I started I got a guest starring role on
CSI Miami
."
What was the CSI Miami part?
"The [episode] was called
Mommy Deadest
, and I played the boyfriend to Alicia Roulie, who is from
High School Musical
. Her mother was abusive and winds up dead in the episode, and I'm in question to be the murder."
How did you end up on OLTL?
"I got the audition from my agent. I was really excited about it because I've auditioned for other soaps as well, and I've been [on] the same ones a couple of times. [It] was my first time [auditioning for
OLTL
]. I was like, 'Great. A new, fresh start.' I had a good feeling about it. I got the callback and then went on camera. I got a call a week later from my agent saying they wanted to screen test me in New York. So, I came out for the screen test, and Kristen (Alderson) and I kind of clicked immediately. She gave me a couple of pointers during my audition, and the rest is history."
Are you secretly related to David Gregory (Ford)? The resemblance is really strong.
"I was just brought on to be new love interest in Starr's life. It wasn't intentional for me to be Ford's brother. When they noticed how much we really did resemble each other, they said, 'Let's make him Ford's younger brother.' The resemblance is astonishing. Even my dad has confused us. He was looking through a magazine of another interview I had done, and he said, 'Oh, here you are.' I said, 'That's not me. That's the guy who plays my brother.'"
Was it intense to be thrown into a major storyline right away?
"It was a little scary. Soaps are a family. These people have worked together for a while, so I was a little nervous about that. I was also worried about the amount of dialogue and blocking. I just wanted to do it all right. The second week that I was working I got vertigo. It's a frequent thing for me; I'm a little off-balanced! So, I got vertigo -- and there were two days when Kristen and I had 60 pages [of dialogue] each. I was feeling very overwhelmed. I got through it, but it was a real test for me. It turned out great. The scenes were fantastic, and it's been easy since."
Next page>>