One Life to Live: Week in Review for July 18, 2011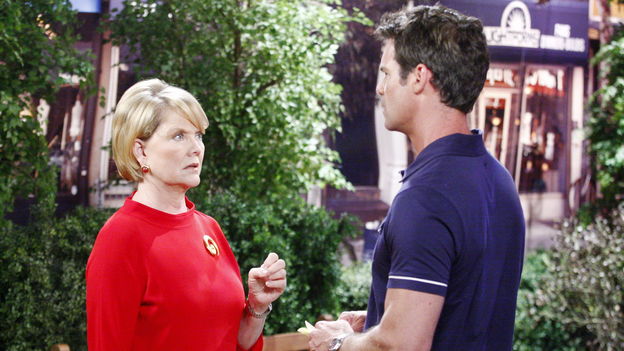 When it comes to looking back on the best, craziest, most dramatic moments on
One Life to Live
this week, we know what we think. But what we really want to know is what YOU think? What were your picks for this week's funniest moment? Or best performer? We've got some talking points to get you all started, but give us your own picks in the comments below!
Funniest Moment:
David freaking out about Dorian's absence, combined with Viki trying to calm him down. The best moment came when Viki became momentarily interested in David's plans to keep Echo at bay, Hannibal-Lecter-style: "Frankly, the image of her jaw wired shut behind a goalie mask is a very appealing one."
WTH? Moment:
Spider-Sam! Not only did Sam find his Great Aunt Dorian in Echo's hotel room, but he was also able to rescue her AND detain Echo, all with the use of his store-bought web-slingers. Highly implausible but totally entertaining!
Best Moment:
Todd Manning comes face-to-face with...Todd Manning. It was like watching something out of a fantasy story -- something you thought you'd never see. Great work by Trevor St. John and Roger Howarth, and totally worth the wait.
Performer of the Week:
John Paul Lavoisier and Michael Easton as Rex Balsom and John McBain, for their tense scene where John told Rex he knows about the Origami Cogs ruse, and Rex unloading his hostility at the justice system all over John.
Why We Love One Life to Live This Week:
Okay, that guy Baker is suddenly REALLY scary -- you can see why the Todds wouldn't want to mess with him.
Now tell us YOUR favorite
OLTL
moments this week!
Photo Credit: JPI