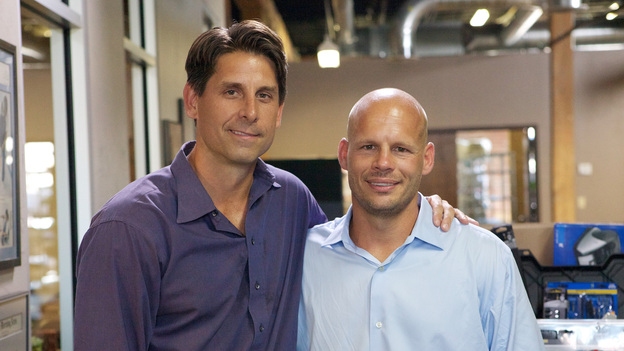 Chuck Runyon & Dave Mortensen: Oklahoma City
Season 2 | Episode 5 |
Aired 06/10/12
Chuck Runyon has distinguished himself as a leading authority in the field of fitness. He and his business partner/best friend, Dave Mortensen founded Anytime Fitness, the fastest-growing fitness club franchise in the world. Chuck and Dave leave their Minnesota homes to head off to Oklahoma City. They set up shop in a run-down house with about $71 spending money for the week. After an eye-opening trip to the grocery store, take a walk around town undercover as Secret Millionaires.

OKC Youth Wrestling Organization
The OKC Youth Wrestling Organization is an organization that was developed by Tyler Williams to keep kids in the gym and off the streets. He works with a wrestling coach named Shelby. This organization is right up Dave's alley, as wrestling is one of the reasons he got into the fitness world. Tyler lets the guys know that 10 kids in his group had to go into state custody because they were in danger of being hurt or killed.

Chuck and Dave engage in a workout session with a few kids. They let the coaches they've met know that they've turned them into warriors. Dave chokes up as he recalls how much of a difference his own wrestling coach made in his own life. He then tells everyone they are millionaires who would like to give the OKC Youth Wrestling Organization a check for $39,000. Tyler says that's a year's worth of fundraising right there.

Chuck lets Tyler and Shelby know that the two of them are like he and Dave. That's why he hands them the key to their very own Anytime Fitness franchise. Chuck and Dave are investing $150,000 to get this thing started. Tyler has dreamed about having a club. It's going to take awhile for it to sink in that his dream is actually coming true.

Limbs for Life
Limbs for Life is an organization dedicated to providing essential prosthetics for people who otherwise could not afford them. Chuck and Dave meet a woman named Amy, who volunteers her time to help keep costs to a minimum. The guys learn that most insurance companies don't cover more than one prosthetic for a person in a lifetime. That's bad news for kids as they keep growing.

The guys meet Charlie, who is a sitting volleyball player. He's been using prosthetics his entire life. This guy reminds Chuck of his brother who passed away at the age of 18. This was extraordinary since he was only supposed to live past the age of 5.

Chuck and Dave are invited to play volleyball with Charlie and a few friends. They get down on the floor to play a hard fought game. Believe it or not, Chuck and Dave's legs actually get in the way of their play. They meet a young boy named Connor whose family could have never afforded his prosthetics without Limbs for Life.

Pam, at Limbs for Life, says her heart hurts because they can't provide enough prosthetics fast enough to those in need. Chuck shares the story of his brother who never gave up. Then he lets them know they have a check for $100,000 that they'd like to provide for Limbs for Life. Pam says this will help with their waiting list of 200 people. For many of them, the wait will be over very, very soon.