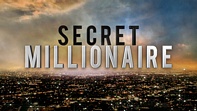 Steve Kaplan: Chicago
Season 2 | Episode 6 |
Aired 07/1/12


Steve Kaplan is a self-made multi-millionaire and has made over 100 additional people millionaires in their own right. He is one of the world's leading experts on success and achievement. Recently, Steve completed a climb to the peak of Mount Kilimanjaro. It's this infectious passion and determination that has impacted every individual and business he's touched. Steve travels locally via the famous "El" from his luxury home and lifestyle to the south-side of Chicago, an area stricken by gang violence, poverty and despair as the "Secret Millionaire."

Kids off the Block Youth Center
Steve meets Diane Latiker (call her Ms. Diane), the founder of a youth center designed to keep kids off the rough streets of Chicago. It's where gangs can come together in a safe place. There's a project involving stones that represent young people who have been murdered over the last few years. There are hundreds of stones on dozens of shelves. Diane says they sadly must add many more. Steve knows that if this type of violence were happening in a different neighborhood, people would take more notice.

Steve takes part in another project that involves painting murals out on the streets. It's extremely important that the graffiti surrounding the murals isn't touched. Doing something like that could get someone shot. Steve meets a young volunteer named James who was on the streets with a gun at the age of 10. Now he's armed only with a paintbrush thanks to Ms. Diane. You can't help but feel welcome in her group. Steve certainly does. That's why he presents Ms. Diane with a check for $100,000 and the promise to build them a great new street basketball court. Steve considers Ms. Diane a true hero.

H.O.M.E. (Housing Opportunities and Maintenance for the Elderly)
Steve meets Bruce Otto, head of an organization that helps low income seniors in Chicago maintain their independence. Students and volunteers give assistance to seniors who live in three different apartment buildings. Steve meets an elderly gentleman who has been part of the organization for seven years. The people around him are his family. Speaking of family, Steve recalls the emotional time he went through as his mom died from cancer. He knows she would have truly appreciated an organization like H.O.M.E.

Steve heads out on a maintenance call with a gentleman named Andre as they visit an elderly widow named Pauline. They fix up anything that's broken and clean up anything that needs tidying. At the end of the week, Steve breaks the news that he's a secret millionaire. He really believes in what H.O.M.E. is doing. That's why he presents them with a check for $50,000.

Bin Donated
Judson Kinnucan started Bin Donated, a charity that puts barrels throughout Chicago so they can collect items for other charities. Jud appreciates the help Steve offers since he usually lugs the big heavy barrels of donated items all by himself. He's put his life savings into this effort. Steve thinks this is such a great idea that he may see Bin Donated all over the country one day. Judson's fiancée, Jami, is a resident physician at Northwestern, so she gets a firsthand look at some of the clients her future hubby serves.

Steve and Judson make a delivery to a very grateful homeless shelter. This has Steve believing that one man really can make a difference. That's why he wants to make a difference to Judson. He gives him a check for $75,000. Tears flow from both Judson and Jami as they are so grateful for this generous gift. They've been struggling for awhile, but now they have the means to build a solid foundation for their cause.