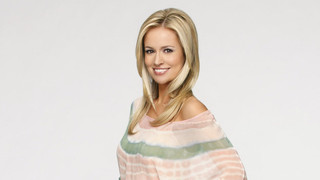 ---
It's time for the Hometown Dates! Emily has picked her final four. Now she must meet the parents!
Chris in Chicago
Chris is psyched to be back in Chicago to introduce Emily to his family. First, they stroll through the streets of the Windy City. They stop at a Polish-American restaurant for a drink at the bar. They chat about the intensity of the last Rose Ceremony. Emily was happy to see how much Chris cared.
Emily is introduced to Chris's dad, John, his mom, Rose, and his two sisters. She believes this family is the sweetest group ever. It explains how Chris became the person he is. Emily asks John if his son is ready to take on the responsibility for becoming a dad. She's more than satisfied with his answer. Mom Rose truly believes that Chris may be in love with Emily, so he needs to go for it.
Chris's sis is worried that her brother may get his heart broken. That's why she wants Em to end things sooner rather than later if he's not the one. As for Chris, he's thrilled when his dad tells him that Emily may be falling in love with him. That makes it easy for him to say that he's in love with her. No question about it. The date ends with some dancing with the entire family on the porch.
Jef in Utah
Jef is excited to show Emily his family's ranch at St. George, Utah. He takes her on a wild ride through the open dirt roads. They do some target shooting in a field. Jef is quite good, but Emily holds her own. She lets Jef know that she may or may not taken gun lessons at home. It's a fun day, but Emily is still nervous to meet Jef's family.
Jef's parents couldn't be there, so Emily meets his siblings. He has a lot of brothers and sisters. Jef's older brother, Steve, has a chat with Emily. He feels like she would be the perfect complement to his brother. Jef's sisters know that their brother is a hopeless romantic. They want to know if she's falling in love with him. Emily says she is, but is a little slow to throw that word out there sometimes.
The family loves Emily. As for Jef, he's falling even harder for her now. He wrote down a few things on the plane ride home from Prague. It's a heartfelt note that details all the things he loves about Emily. He lets Em know how much he's looking forward to meeting Ricki. Emily thinks his words are the sweetest thing anyone has ever said to her. Needless to say, it was a great day.
Arie in Arizona
Buckle up! Emily meets Arie at the racetrack so she can see this huge part of his life. She thinks he looks pretty hot in his natural environment. Arie takes Emily for a spin around the track in a wild ride. Then it comes time to meet the parents. The goal of the day is to win over Arie's mom. Things get a little uncomfortable for Em when mother and son start having a conversation in Dutch. She has no idea what they're saying, but is sure it's about her.
Arie's mom asks Emily what happened with Brad. Em explains that she didn't ask the basic, fundamental things she should have. That's a mistake she's trying to rectify this time around. She then details what she loves about Arie. She also wants to know if this guy is in a place where he can balance a racing and family life. Emily is pleased when Arie's mom says her son is falling for her. Dad tells Arie he sees great qualities in Emily. He hopes he makes it to the end.
Arie feels great that his parents approve of Emily. This was an important day for him. He now knows that he is more than ready to marry this girl.
Sean in Dallas
Emily meets Sean's dogs before his family. She can see Ricki blending in to life in the Lone Star State. Sean talks about the one truly serious relationship he's had in the past. He couldn't reciprocate this woman's love, but feels great about where things are heading now. In Emily's mind, Sean is the perfect guy leading the perfect life. Now she needs to impress his perfect family.
After Emily meets the family, Sean drops the bombshell that he still lives at home. His room is a total mess and filled with stuffed animals. Emily is horror-stuck. Guess this guy isn't so perfect. Thankfully, it's all a joke. Sean doesn't really live at home. Emily appreciates how lighthearted the entire family is.
Sean's dad lets Emily know that his son has told him more about her than anyone ever before. It's a good sign. Mom lets her son know that he needs to be serious about becoming a dad because Emily is the real deal. Sean doesn't see how the day could have gone any better. We hate to say it, but it was "perfect." Sean doesn't want it to end. That's why he chases down the departing car to give Em one last kiss.
The Rose Ceremony
Emily feels this is the hardest ceremony yet, but someone must go home. The men who receive roses are:

Arie
Jef
Sean

That means Chris is headed out the door. He's shocked and wants an explanation. After all, he told her that he loved her. Emily says she needs to follow her heart. Chris is devastated. It's tough to say goodbye to someone you love. This week was hard for Emily. Next week will likely be harder as she and her three remaining men head for the Caribbean.
Continue Reading