6 Pasta Recipes That Are Anything But Boring
By Ellie Sher | Jan 15th, 2014
Love a quick pasta dinner but sick of boring jarred sauce? Here are 6 homemade specialties that give your local Italian restaurant some major competition.
1. Ragu alla Bolognese



A delectable meat sauce of pork, veal, and pancetta make this hearty pasta a regular on your local trattoria's menu. Serve warm with fresh taglietelle and a sprinkling of Parmesan, or store in the freezer for a comforting dinner at a moment's notice. Watch how it's made, above!
Recipe: Ragu Bolognese
2. Trenette with Walnut Pesto


Basil pesto is a usual accompaniment to noodles, but this amped-up walnut pesto takes the simple sauce to another level. A thin, flat pasta, trenette flawlessly holds the sauce and pairs nicely with the potatoes and haricot verts.
Recipe: Trenette with Walnut Pesto
3. Nacho Cannelloni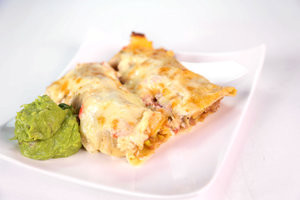 A cross between a burrito and a baked pasta dish, this hefty cannelloni features all the usual nacho toppings. Nacho chips are combined in the pasta dough, while the hearty filling is composed of refried beans, yellow rice, chicken and cheese. Serve with guacamole, salsa, and sour cream for the full nacho experience.
Recipe: Nacho Cannelloni
4. Classic Fettuccine Alfredo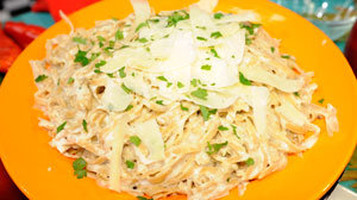 A staple in the pasta realm, fettuccine alfredo shines with just a handful of ingredients and only 20 minutes on the clock. Each noodle is coated in a luscious butter-Parmesan sauce while a liberal sprinkling of parsley adds freshness to the plate.
Recipe: Fettuccine Alfredo
5. Creamy Orzo with Parmigiano and Pimenton


Rice lovers, beware! Similar in size and shape to rice, orzo technically falls under the pasta category. A regular in soups or pasta salads, orzo gets its breakout moment when stewed with chicken stock, paprika, and turmeric and finished with a heavenly portion of grated Parmesan.
Recipe: Creamy Orzo with Parmesan and Pimenton
6. Spaghetti Squash and Turkey Meatballs


This spaghetti and meatball look-alike prides itself on being a lighter pick that it's competition. Made with thin ribbons of spaghetti squash, this dish is coated with a rich tomato sauce and studded with lean turkey meatballs.
Recipe: Spaghetti and Meatballs


EXTRA: Up for a challenge? Forget store-bought pasta and jarred sauces, and spring for these homemade recipes: