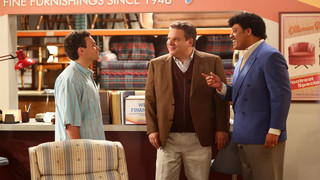 ---
Story One: A Lesson in Money
Murray hires Barry at the store to teach him the value of money. Barry may have taken the lesson too seriously.
Memorable Quotes:
Beverly: "You fired your own son?"
Murray: "Oh boy…"
Barry: "Damn right he fired me. And you know why? Because he's jealous…"
Beverly: "Ok. We're done yelling here. Let's all calm down."
Barry: "Oh I'm done. I'm done with you. I'm done with the store. And I'm done with furniture. Forever"
Murray: "What does that even mean?"
Barry: "I reject all furniture. I'm going up to my room and getting rid of everything. I'll never be comfortable again."
---------------------------------------------
STORY TWO: Adam Goes to a Scary Movie
Adam tricks Pops into going to a scary movie but Beverly ultimately makes him pay the price.
Memorable Quotes:
Adam: "Thanks for sleeping over Pops."
Pops: "I'm sorry I didn't come sooner. No man should have to bunk up with his mom for a week. No Man."
Adam: "But what happens when you leave? You can't protect me forever."
---------------------------------------------------
STORY THREE: Erica Uncovers the Truth
Erica negotiates approval to a party after she catches Beverly playing a trick on Adam.
Memorable Quotes:
Erica: "Why did you take the remote outside?"
Beverly: "It's not what you think"
Erica: "I think you're scaring Adam so he'll give you hugs"
Beverly: "It might be what you think. But is that so wrong?"
Erica: "Yes it's wrong. Very very wrong."
Beverly: "Well it never would have had to come to this if I didn't have to beg for affection from my own children."
Continue Reading