Right in The Middle of Scary
By Robert Klinger | Oct 17th, 2013
Orson, Indiana is always a Heck of a place to be at Halloween. But it doesn't have to be trick-or-treat time for Frankie and family to scare up some laughs. Don't be afraid to check out all of these frightfully funny moments from The Middle.
Halloween, Too: Brick has always been an accessory to Sue's costume ideas come Halloween. When she was a chicken, he was an egg. When she was a hockey player, he was a puck. When she was a dog, he was a fire hydrant. You get the idea.
One Missed Call: Frankie gets upset when Axl doesn't answer his texts. She's missing her number one son now that he's moved away to college. Little did she know that he'd be swinging by the house often whenever he needs things like food, milk, blenders and more. Still, her fear of how long it may take for Axl to actually start missing her comes full circle in the clip below:
Texting Tips from Mike|Mike gives Frankie tips on how to get in touch with Axl.|Mike gives Frankie tips on how to get in touch with Axl.
Children of the Corn Maze: Nothing says fall in Orson like a corn maze. These silent stalks can get spooky when your little brother disappears inside them. The creepy guy Axl comes across during his desperate Thanksgiving Day search for Brick says he lost his brother in the corn maze, too. When the wind rustles the leaves, he can still hear him calling. Maybe Brick shouldn't wear yellow and green to such a place. The kid actually looks like corn!
Die Hard: Sue's gamble that her costume will be a big hit kinda pays off. Her dicey flattop features served as the perfect tabletop for guests to rest their drinks at a Halloween party.
Zombieland: In the Break-Up, Sue and Brick watch a scary movie called Revenge of the Pod Zombies. It's an art film. When Sue later catches Brick staring unflinchingly into a flickering light in a school hallway, she naturally assumes her brother has turned into a zombie. Thankfully, Brick isn't undead at all. He was only trying to memorize the fire escape plan in case the zombies set the place ablaze. The poor kid was wasting his time. Everyone knows zombies are afraid of fire.
Ghost: Brick dresses up as the ghost of Ernest Hemingway. What can we say? The kid is quirky. But he's pretty darn normal compared to the other members of his group. Let's just say that they're a handful that needs to be constantly wrangled in. That's why Frankie links everyone to a rope on the trick-or-treat trail.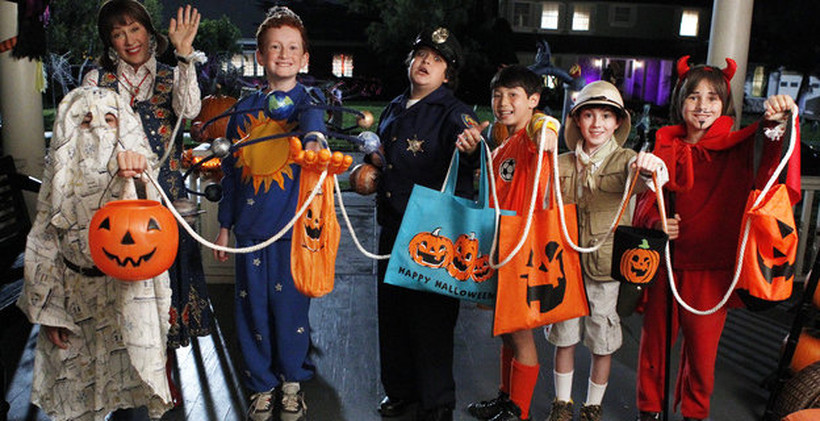 Happy Halloween!