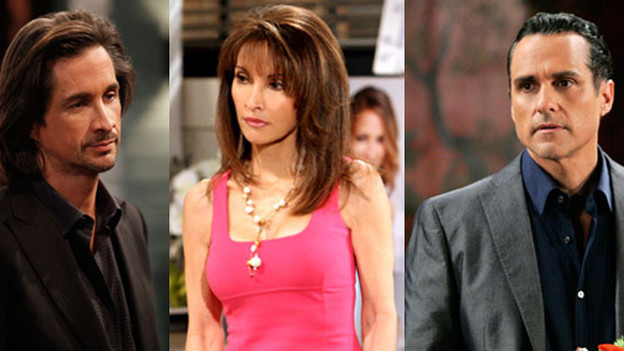 Your Questions - Answered
Ever wonder how many times Erica has been married on
All My Children
? Why Sonny and Carly on
General Hospital
split up? What about where
One Life to Live
's John got that black piece of clothing (side note - have you ever seen John in anything but black?)
When watching
AMC, OLTL
and
GH
, questions naturally arise about the show and characters. So we're here to answer them. Post your questions below and we'll periodically update the site with answers. So start reading - and start posing your own questions!
Q: On All My Children, how come Marissa is referred to as AJ's mother when she's not his biological mom?
A: Marissa adopted AJ -- the son of her sister, Babe -- upon her twin's death.
Q: Why can't Sam on General Hospital have a baby?
A: When Sam took a bullet mean for Jason, it ended up causing damage to her uterus that prevented her from conceiving.
Check out Sam 101 for her complete photo timeline.
Q: On January 24th's One Life to Live, Blair looked at an old wedding photo of her and a guy with long hair. She said it was Todd. But that's not Trevor St. John! What's up?
A:
You mean this guy?
Trevor St. John was not the first actor to play Todd. He was played by Roger Howarth, the man in the photo with Blair. Roger played Todd from 1992-2003. Trevor took over the role in 2003. It was explained that Todd was kidnapped and badly beaten, necessitating plastic surgery (and thus the difference in appearance for the two actors).
If you want the full story on Todd's transformation - and look at some great moments from his past -
check out our Todd 101 gallery.
Post your story and character questions below!