"Don't" from Executive Producer Ryan Reynolds Is Now Casting!
By Jim Donnelly | Jun 17th, 2019
ABC has picked up "Don't," a new original game show with executive producer Ryan Reynolds that was created by Banijay Studios North America. This comedic physical game follows a team of four who must work together throughout five mental and physical challenges with only one rule: Don't. For example, "Don't Slip," "Don't Forget," "Don't Laugh," "Don't Say It," "Don't Scream" and a slew of "Don't" challenges you didn't even know existed. The show is now casting groups of 4 who are up for some fun and a chance for a big cash prize. Visit www.mysticartpictures.com for each of your team members to complete an application.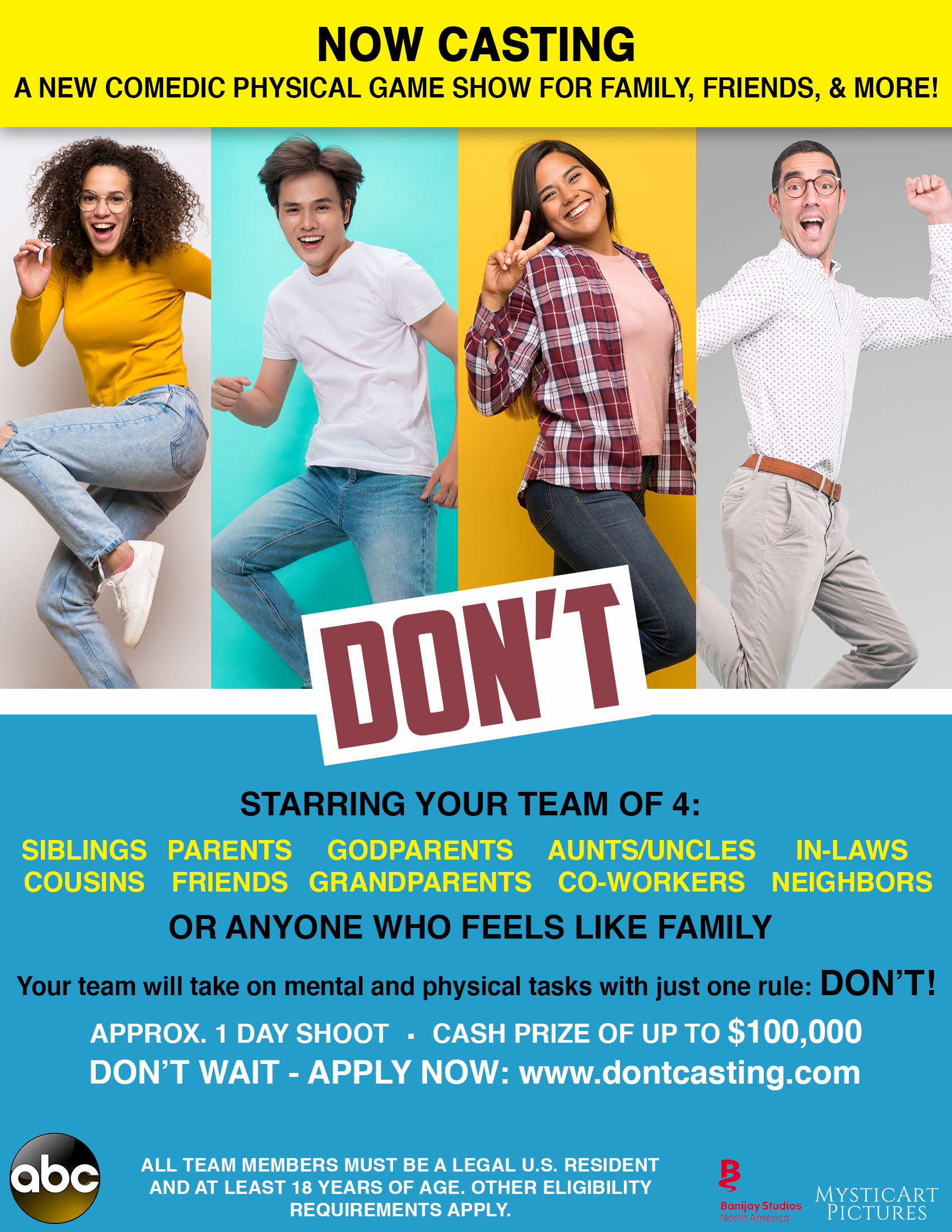 In each episode, one team will have a set amount of time to succeed in each hilarious task and win a cash prize. When they fail a challenge, they don't earn money and one of them will be eliminated from the game. Team members can be eliminated until only one remains. The last standing team member must complete the rest of the challenges on their own to win money for the team. At the end of the final "Don't" challenge, the money they have been able to earn, if any, is theirs to keep.
ABC, Banijay Studios North America, and MysticArt Pictures are now accepting submissions nationwide from TEAMS OF FOUR over the age of 18 who are ready to take on mental and physical tasks with just one rule: DON'T! Each episode will star one team and film for approximate one day this summer. Team up now for the chance to win a BIG CASH PRIZE - DON'T WAIT TO APPLY!
Be sure to watch on the ABC app from your smartphone and tablet (iOS and Android), computer on ABC.com and connected devices (Roku, AppleTV and Amazon Fire TV).