Watch Sneak Previews of Blood & Oil "The Ripple Effect"
By Julianna Jackson | Sep 30th, 2015
Can't wait until Sunday for the second episode of Blood & Oil? Here are a few sneak peeks at the hottest primetime soap around.
Sneak Peek: Dinner Party
SNEAK PEEK: Dream House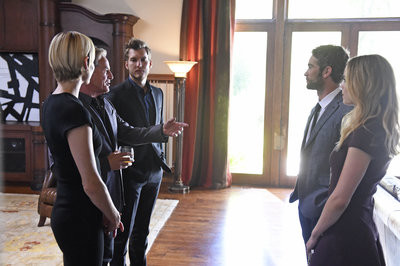 The aftermath of the robbery has suspicions flying as all signs indicate an inside job at Briggs Oil. Wick scrambles to do everything he can to hide his involvement, but his accomplice may prove to be too much of a wild card and expose Wick's part in the crime that nearly killed his father.
Meanwhile, the arrival of Hap's daughter, Lacey, stokes a rivalry with Carla, Hap's wife. Also, Billy continues to be seduced by Hap's world and jumps into another deal with him without consulting his wife, Cody.
Check out these 5 reasons to watch Blood & Oil & tune in to the new ABC drama Blood & Oil, SUNDAYS 9|8c on ABC.
'Blood & Oil' Official Trailer|Preview the new drama 'Blood & Oil' coming soon to ABC.|Get a sneak peek at the new drama series 'Blood & Oil' starring Chace Crawford, Rebecca Rittenhouse, Don Johnson and more. Billy and Cody Lefever dream of a new life beyond their working class roots and move to "The Bakken" in North Dakota, booming after the biggest oil discovery in American history. They're soon pitted against a ruthless tycoon who forces them to bet big and put everything on the line, including their marriage. Coming soon to ABC SUNDAYS 9|8c THIS FALL.
ABC's new series Blood & Oil stars Don Johnson as Hap, Chace Crawford as Billy, Rebecca Rittenhouse as Cody, Delroy Lindo as Tip, Amber Valletta as Carla, Scott Michael Foster as Wick and India de Beaufort as Jules.