Back to the Future's Marty McFly and Doc Brown Visit Jimmy Kimmel
By Jimmy Kimmel Live | Oct 22nd, 2015
Jimmy Kimmel had special "Back to the Future" visitors last night during Jimmy Kimmel Live in Brooklyn. Marty McFly (Michael J. Fox) and Doc Brown (Christopher Lloyd) appeared on stage in the Delorean time machine. Doc believes they're in the year 2015, the future. Jimmy greets them on stage to tell them about what's changed in the last 30 years.

Doc's first question was "Where is Johnny Carson?" Jimmy has to inform them that he's passed away. Doc believes everyone now drives flying cars but Jimmy informs them that they haven't been invented yet. Jimmy tells them about the many inventions that include the cronut, selfies on the smart phone.


Jimmy took his smartphone out to take a selfie with them. Immediate after, Doc confiscates Jimmy's phone to inspect it. Doc finds other apps such as grindr being used on Jimmy's phone.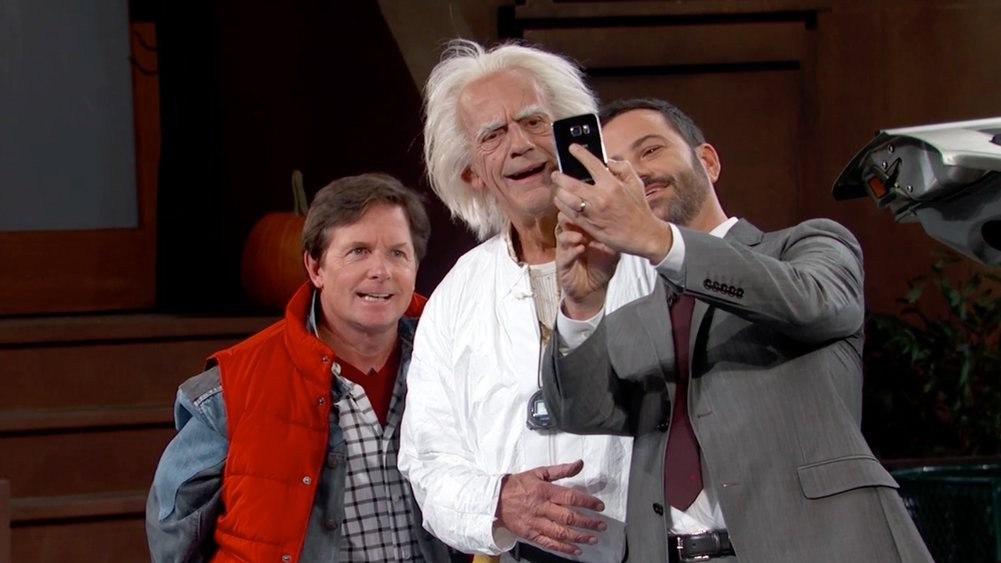 Marty kept asking Jimmy what happened to Biff. Jimmy pointed out that Biff from David Letterman's team was just off stage. Marty goes on to ask where "the guy from 1985 that became a rich maniacal casino owner and ruined the world." Jimmy then figured out who he's talking about and informs them that guy is running for President right now (Donald Trump).

Doc told Marty to stay while he goes to find out where it all went wrong. Before he left, Jimmy asked Doc "do you know how I'm going to die?" Doc informs him that it will be next week. He continues to tell him "a bunch of little children will tear you into shreds when you tell their mothers to eat their Halloween candy."

Watch the past Jimmy Kimmel Halloween Pranks

Jimmy also interviewed Michael J. Fox following the Back to the Future reunion. Jimmy compared the 30 years in the future Marty McFly to 30 years older Michael J. Fox. Michael described the schedule he had during the filming of the movie when he had to shoot Family Ties during the day and go straight the Back to the Future production at night.



Michael J. Fox also gave the first demo of Nike's self-tying shoe that will be auctioned off with all proceeds going to The Michael J Fox Foundation for Parkinson's Research.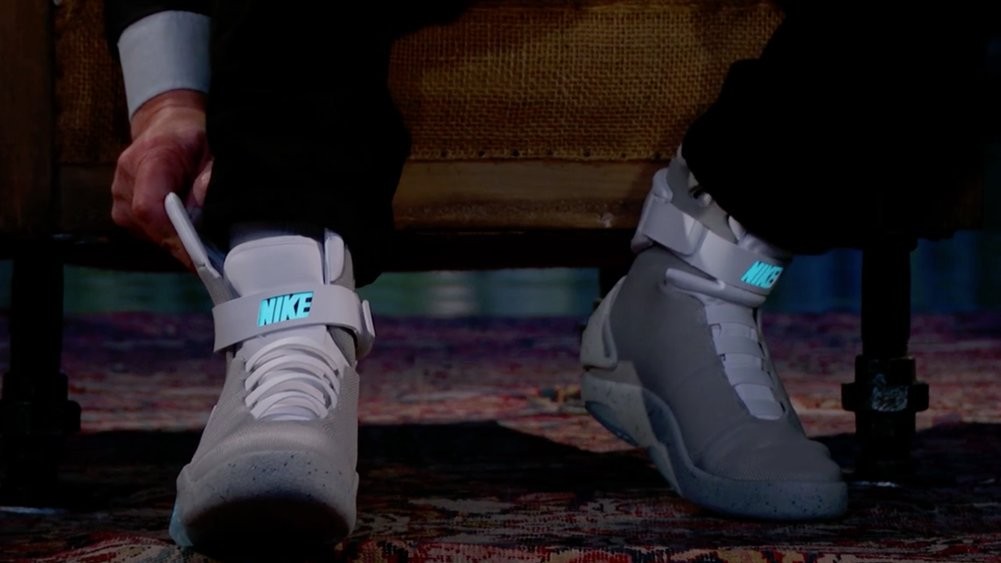 From the October 21st Episode of Jimmy Kimmel Live with guests Michael J Fox, Bernie Sanders and Music from Big Grams. See this week's Brooklyn guests.


Celebrate "Back to the Future Day" with The Goldbergs


Don't forget to check out Bill Murray's Interview and Jimmy and Guillermo's Ballet lesson from Misty Copeland from Jimmy Kimmel in Brooklyn
Watch Jimmy Kimmel Live ABC WEEKNIGHTS 11:35|10:35c.