HAIM
By MusicLounge | Nov 4th, 2013

Scene from Revenge #306 "Dissolution" featuring "The Wire" by HAIM
Watch Revenge SUNDAYS @ 9|8c!
Click here to read a commentary from Revenge Music Supervisor Season Kent on the use of "The Wire" by HAIM.
---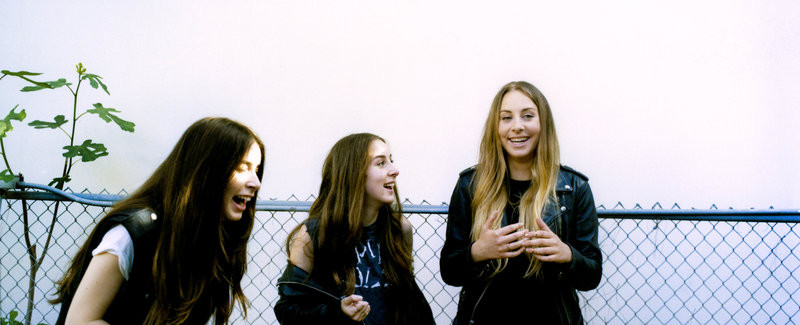 Talent, excitement, chemistry, laughter, and style – this is HAIM. The LA sisters have butterflies for a reason; Danielle, Este and Alana Haim have waited years to set their R&B, pop radio and classic rock inspired songs free. Electric talent, fiery resolve and sparkling character have helped these three Valley girls battle setbacks, insecurity, bitchiness and doubt to ride a surge of acclaim and sign to a major label. "It's so exciting it makes me want to vomit, we've spent years trying so hard to do this together. Actually, like, God dudes I hate you now…I'm kidding!" guitarist and singer Alana (aka Babyhaim) says, pointing at her sisters.
A journey that passed by Destiny's Child and The Spice Girls via Harry Styles and a series of salacious club shows, started with Rockinhaim, the Haim family covers band. Mr and Mrs Haim hoped it would channel and develop the sisters' bubbling, inexorable rush of creativity, attitude and synchronicity. It succeeded. But their parents can't have envisaged what would eventually happen.
Alana references a song they've been sitting with for a long time. "We've had 'The Wire' since the beginning. We keep it close to our hearts; it's like our crown jewel. Finding a good recording of it is like our life mission." Danielle calls it the "first song that made us realize we were songwriters," but HAIM have always found it difficult to be happy with their recordings. "If I find myself wanting to show someone a song it's a good sign. We want to be proud if somebody plays our song and says 'this is HAIM' but usually I can't even listen to us myself, let alone show other people," explains Danielle. "But if it was easy it wouldn't be a job," Alana counters.
This combination of serious work ethic and goofy humour has been consistent since HAIM had the conversation that conceived their band. Having played in Rockinhaim for more than a decade, learning chords from tapes, covering Fleetwood Mac and The Eagles, listening to "oldies music or Spanish radio" and "honing our love for the Iglesias family" (they can launch into their favourite jingles without thought), HAIM decided to break away from their parents. Danielle had finished high school, Este was a "weird loser who stayed in LA to go to college" and Alana was "still a baby" when HAIM started.
"We all assumed we'd start a band, it was already in our brains, but it was like, can we actually do this? Is it dorky? How do we figure out how to actually write our first song?" Alana says. That song was 'Figure It Out', a raunchy, slow-burning blues track. Alana remembers, "It wasn't a good song at all, but we thought it was next level shit, like wow, if we write five more like this we can play a show. The world is gonna love this shit!"
HAIM's first show was a pay-to-play on 07/07/07 ("we thought that was poetic"). It was packed with their friends who would soon depart California for college, leaving HAIM with just two fans at their next show. Years of writing, recording and scrambling around for gigs followed. As the Echo Park scene took off around them and kids flocked to punk clubs like The Smell every weekend, HAIM felt left behind and isolated. Danielle toured as a guitarist for both Jenny Lewis and Julian Casablancas in between writing and playing with HAIM. "Making friends with other LA bands was slow and steady," Este says, letting Alana continue. "We're a group of Jewish Valley girls, we were different, and we were the outsiders. I was too young, but Este and Danielle would go to all these epic parties around LA and they had the balls to jam with dudes. A girl playing an instrument was a big thing."
But HAIM weren't hustling, they remained certain they'd be spotted, and a fairytale, movie-like chance meeting would see them sign to a major. They rarely sent recordings or demos out before their manager (who approached them after a show) encouraged them to work with Swedish producer Ludwig Göransson. Still despondent, HAIM sent Göransson 'Forever' and as the ideas flew between them, what eventually came out of the collaboration changed their lives forever.
"First of all, Ludwig – awesome name! Second, the hex was lifted! We went into the studio with him and realized we could get a good recording," Alana says, citing sub bass and Göransson's hip hop style as huge positives. Their friends were always encouraging and supportive, but for HAIM, it was the best thing to happen to them so far - Este was so happy she leaked the release a day early on Facebook.
"We were giving it away free, but we all planned to post it at the same time, and she did it a day early, me and Danielle called each other and we were both like, 'Este!'" Alana says. "We just knew it was her straight away, we always seem to know what each other will do," Danielle adds. HAIM's sisterly synchronicity fills everything they do, especially their already-infamous live shows, with knowing excitement and sentiment. They may be different and alternate between the role of "the matriarch" – Este is "off the wall crazy," Danielle is "always seen as the serious one" and Alana the "babbling baby" – but HAIM's bond is unbreakable. "I'll always be the baby, if our parents have another kid I'll have to hide that brat away, like Leonardo Di Caprio in The Man In The Iron Mask!" Alana smiles "I saw that movie when I was underage!" Este adds. "Seriously, we never have to worry when we're together, onstage or anywhere else, we trust each other so much and there's nothing any of us could say that would make someone say 'That's it, I quit!'"
Their unique dynamic has strengthened as HAIM have found their creative footing. Ever since their parents encouraged their attention-seeking, loud, eager daughters to perform in school plays, HAIM have done everything together, from nail art and sneaking into festivals to writing and playing live.
Everything about HAIM is a labour of love. Danielle, Este and Alana won't do anything if they don't feel totally comfortable with presenting it, Valley girl tics, snorting laughter and all, and saying the one thing they've always wanted to – "This is HAIM".
Following a massive surge of media attention, HAIM's highly anticipated first full-length album Days Are Gone has debuted at #6 on the Billboard 200 album chart. In the UK, Days Are Gone has debuted at #1, surpassing sales of new albums by established artists like Justin Timberlake and Dizzee Rascal.
Featuring crowd favorites, "Falling," "Forever," "Don't Save Me," and "The Wire," as well as title track, "Days Are Gone," co-written with Kid Harpoon and Jessie Ware, HAIM's debut album has been released to tremendous critical acclaim. Touted as "instantly likeable" by The Associated Press, "irresistible" by the Los Angeles Times and "slick, confidently and winningly breezy" by The New York Times, Days Are Gone has been declared "one of the most proficient pieces of music to come out this year" by SPIN. The album has been awarded an 8.3 rating and "Best New Music" by Pitchfork, and has been hailed as "the kind of microtriumph you sit up and root for" by Rolling Stone in their 3.5 star review.
The buzz surrounding HAIM's debut release validates Time Out New York's prediction that "2013 is going to be a good year for HAIM." The band has received unprecedented media attention, being named an MTV "Artist to Watch," a VH1 "You Oughta Know" artist, as well as being showcased as Spotify's first ever "Spotlight" artist. In addition, HAIM have been featured on NPR Weekend Edition, have played a headlining slot at this year's iTunes Festival and have received early support from Sirius XMU.
HAIM's addictive, percussive songs and blistering live shows (a flirtatious mass of flailing hair and drumsticks) have spent 2013 pursued by a wave of industry attention. The girls have made festival appearances at Lollapalooza, Bonnaroo, Austin City Limits and Made In America. Their captivating sold-out show at New York City's Webster Hall led the New York Post to proclaim "when it comes to performing live, they already sound like masters of the art." The band recently headlined sold out shows at Los Angeles' Fonda and San Francisco's Treasure Island before wrapping up their Fall 2013 tour with a performance at Las Vegas' Life is Beautiful Festival.