NYCWFF Recipe: Carla Hall's Hot Chicken
By Marisa Dabney | Oct 19th, 2015
"The View" co-host Whoopi Goldberg hosts the Chicken Coupe each year at the New York City Wine and Food Festival. Check out the Hot Chicken and Potato salad recipes below from "The Chew" co-host Carla Hall who particpated in this year's competition.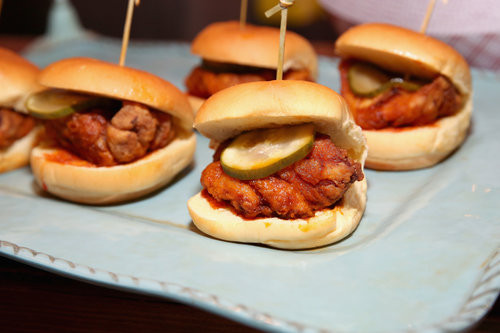 "Hot Chicken"
Makes 8 pieces

Hot Brine

1 quart water
½ cup dill pickles slices, including juice
1 habanero
1/4 cup Kosher salt
1/4 cup sugar
8 boneless chicken thighs with skin

Hot Oil

1/4 cup canola oil, plus more for frying
1 tablespoon cayenne pepper
½ teaspoon smoked paprika
½ teaspoon ground cumin
¼ teaspoon garlic powder
½ teaspoon sugar

½ teaspoon Sea salt
1 teaspoon finely ground black pepper
2 cups all-purpose flour

1. Brine the chicken: In a blender, combine water, pickles, habanero, salt, and sugar. Blend until smooth. Submerge the chicken in the liquid and refrigerate for at least 1 hour and up to 6 hours.

2. Prep Hot Oil: Heat the oil in a small saucepan over medium heat until shimmering. Add the cayenne, smoked paprika, cumin, garlic powder, sugar, and 1 teaspoon salt. Cook, stirring, until fragrant, about 30 seconds. Transfer to a small bowl and reserve.

3. In a large resealable plastic bag or paper bag, combine the flour with salt and black pepper. Add the chicken in batches and shake well until all the pieces are evenly coated. Let sit for at least 1 hour. Just before frying, toss quickly in flour mixture a second time.

4. Time to fry: Add enough oil to a cast-iron or other heavy skillet to come 1/2 inch up the sides. Heat the oil over medium heat until it reaches 365°F. The oil's ready when a little flour dropped in bubbles and sizzles steadily.

5. Remove the chicken from the flour, shaking off excess. Carefully place the chicken in the oil, skin side down. Cook in batches. Don't crowd the pan and maintain oil at 365°F. Continue cooking and turning to evenly brown each piece until cooked through, about 10 minutes total.

6. Drain chicken on rack. Repeat with the remaining chicken, replenishing and reheating the oil between batches. Toss chicken with the reserved spice oil. Serve hot.


Sweet and Yukon Gold Potato Salad
Serves 6

1 pound Yukon Gold potatoes, peeled and cut in 3/4-inch cubes
1 pound red sweet potatoes, peeled and cut in 3/4-inch cubes
Kosher salt and freshly ground black pepper
4 large eggs
1/2 cup reduced-fat mayonnaise
1/2 cup sour cream
1/2 cup sweet relish
1 tablespoon Dijon mustard
1/2 teaspoon cayenne pepper
2 celery ribs with leaves, minced (3/4 cup)
3 scallions, finely chopped
1/4 cup chopped mixed fresh herbs, preferably a combination of parsley, thyme, tarragon, and basil

1. Place the potatoes in a large pot and add enough cold water to cover by 2 inches. Generously salt the water and bring to a boil over high heat. Reduce heat to simmer until just tender, about 15 minutes. Drain well, then spread in a single layer on a half-sheet pan to cool.

2. Meanwhile, put the eggs in a small saucepan and add enough cold water to cover the eggs by 1 inch. Bring the water to a boil. Cover the saucepan and remove from the heat. Let stand, covered, for 10 minutes. Don't overcook! Peel, then coarsely chop the eggs.

3. In a large bowl, stir the mayonnaise, sour cream, relish, mustard, cayenne, and salt & pepper to taste until well mixed. Add the celery, scallions, herbs, potatoes, and eggs and gently toss to combine. Season to taste with salt and pepper. Serve room temperature or chilled.


RELATED RECIPES:

NYCWFF Recipe: Root and Bone Stuffed Chicken Wings Filled with Shrimp and Bacon
NYCWFF Recipe: Genuine Superette Buttermilk Battered Chicken Sandwich
NYCWFF Recipe: Crispy Coq Au Vin
NYCWFF Recipe: Buttermilk Fried Chicken with Blueberries, Balsamic and Garlic Confit