NYCWFF Recipe: Buttermilk Fried Chicken with Blueberries, Balsamic and Garlic Confit
By Marisa Dabney | Oct 19th, 2015
"The View" co-host Whoopi Goldberg hosts the Chicken Coupe each year at the New York City Wine and Food Festival. Check out the recipe for Buttermilk Fried Chicken with Blueberries, Balsamic and Garlic Confit from Chef Angie Mar of The Beatrice Inn featured at this year's competition.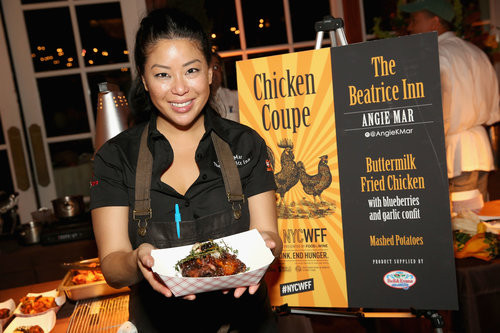 Buttermilk Fried Chicken with Blueberries, Balsamic and Garlic Confit
Serves four
Ingredients:

2 chickens, skin on, quartered and breasts de-boned

For Chicken Brine:

2 gallons, water
2 cups kosher salt
15 bay leaves
5 cloves
2 bunches of thyme
½ cup + 2 Tablespoons clover honey
1 head of garlic, halved through the equator
5 lemons, halved

For Chicken Dredge

4 cups all purpose flour, divided
2 tsp cayenne pepper
2 tablespoons kosher salt, divided
1 quart buttermilk

For Garnish:

1 pint blueberries
¼ cup good balsamic vinegar
5 cracks black pepper
Garlic confit

Place all ingredients for chicken brine in a large pot, cover and bring to a boil. Stir to dissolve salt, then chill uncovered. When brine is cold, submerge chicken and refrigerate for 14 hours. Remove chicken, pat dry and discard brine.

Using a heavy bottom pot, heat canola oil to 325 degrees Fahrenheit.

While the oil heats, set up a breading station. Divide flour into two bowls. Season one with cayenne pepper and 1 Tablespoon salt. Season the other with just the remaining salt. Pour buttermilk into a third container. Start by dredging the chicken in flour with the cayenne, then buttermilk, then finally the four seasoned with just salt. Lay on a cookie sheet as you repeat with the rest of the chicken. Fry in batches, browning on all sides until it's cooked through, about 8-10 minutes. Remove to a plate lined with paper towels to rest for five minutes.
While the chicken rests, heat a sauté pan over medium heat, adding about a tablespoon of good olive oil. Add blueberries, garlic confit and black pepper, just to heat through, and blister the skins of the blueberries. Add balsamic and let reduce by 1/3. Spoon over fried chicken and serve immediately.
RELATED RECIPES:
NYCWFF Recipe: Carla Hall's Hot Chicken
NYCWFF Recipe: Root and Bone Stuffed Chicken Wings Filled with Shrimp and Bacon
NYCWFF Recipe: Genuine Superette Buttermilk Battered Chicken Sandwich
NYCWFF Recipe: Crispy Coq Au Vin